Hello everyone,
It's time for Pinterest to do my work for me and take over the "writing" of my blog, at least for today. I love the fact that there are already inspiring and beautiful pictures available with a click of a mouse.  How simple and easy is that?
Last month, I started a new series called "Interior Designing with Pinterest," which was a huge success. Today I want to try something creative and use this series to write my blog and use Pinterest to tell the story.
My hope is that it will inspire you to use these creative ideas in your own home. There are so many interior design tips that Pinterest offers! I must admit that I've become an avid follower and "pinner." Not only do I upload story boards, I search and re-pin pictures that I admire and I follow many other inspiring "pinners." I spend hours going through interior design story boards for inspiration.
One very exciting discovery I made while researching this series was HGTV's "color of the month."  I enjoyed it so much that I adapted the idea with my own flair. For my debut in August, I chose the color white.  This month, I'm choosing a color that doesn't immediately come to mind when contemplating a home interior design project — emerald green!
HGTV describes this color as "moody, deep green with a hint of blue undertones and it makes an amazing impact when used in decorating."  This "moody" tone is probably why it is not used often.
Just to refresh your memory, here's a color swatch of emerald green.

Back to my "pinning" post! Emerald green is considered a jewel tone because its color is bold, rich, deep and bright. It is a daring and dramatic color choice for decorating. You have to carefully blend it with other colors so that it won't overpower your existing interior design. This is something to remember if you're considering painting a wall or your room in emerald green.  Another consideration is that this color can make a room look darker and smaller. However, if you have a lot of natural light and a large enough room, painting your space in emerald green can be an excellent choice.
In decorating, emerald green works best when you do a good job of integrating it into your overall design.  It looks marvelous when matched with equally vibrant tones or set against neutrals, such as gray and black. An advantage of this rich color is that it can showcase your room's best qualities and deflect the flaws. Emerald green can be a great accent color. If a wall is to be the focal point of your room (for example if it contains a fireplace), emerald green can be a great color for this wall. To offset the brightness of the color, paint the remaining walls in a lighter shade, such as a neutral tone. When accessorizing, use solid colors rather than patterns, this will tone down the color instead of making the room look busy.
To see how HGTV took emerald green to an awesome level of interior design, click on the board and you will get some ideas how you can incorporate this jewel tone in your own home. You may be inspired to go green!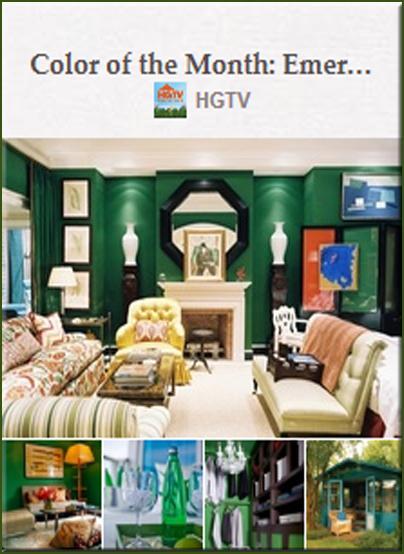 I found some pretty amazing pictures from other pinners who happen to love emerald green as much as HGTV. I created my own board using their images. Click on it to see what I found.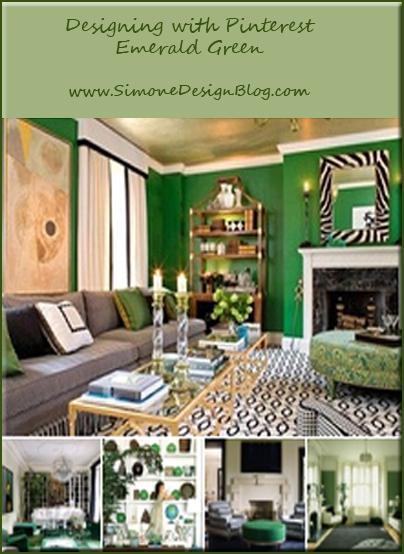 What do you think? Can you see yourself using this jewel tone in your home? Or do you already have it? I'm ready to try using it as a color in some of my accessories.
I'm anxiously awaiting the announcement of the October color of the month from HGTV. I'm enjoying exploring all these colors and the many different ways to use it.
Simone