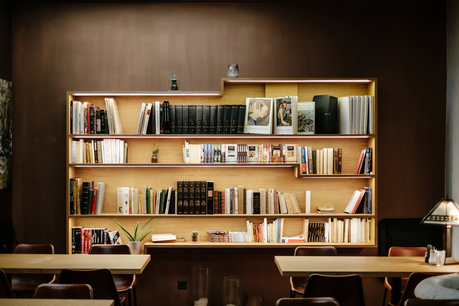 Reading room (image via Unsplash)
Setting up shop can be a complicated process. If you ever decide to start your own company in life, you may find that you want to do it in your own way. And it's always a good idea to put your own spin things. Uniqueness can be a huge selling point in business, and if you have a niche business idea, then looking to get really personal with your entire approach is a great idea. Maybe you're selling collectable books or comics or movies? Maybe you're setting up a club or a media service? Either way, you may find that you need business premises that suits your unique business idea.
To do this, you'll need some inspiration. But because you're looking to be different, unique, and interesting, then you need ideas that are exactly that. Here are a range of sources that you can get inspiration from for that.
Movies
A great place to start is with movies. Because they're visual, and you may find that there are great pieces of inspiration that you can take from seeing different locations, buildings, interiors, and décor. If you have any favorite movies, then definitely look to them for ideas on what you can do to bring your business location alive in a unique way.
Fantasy Fiction
If you're big into your books, you may find that there's a certain office space in a novel that inspires you. While there may be a range of fictional office locations you could consider here, you'll want to find inspiration from somewhere that suits your style. If you're into fantasy, then you'll want to see what kind of weird and wonderful locations, buildings, or areas that might inspire you to create the office of dreams.
Historical Buildings
Another idea that you can turn to for interesting inspiration, is historical buildings. Because you may find that looking at different buildings and seeing how they were made, then taking architecture inspiration can help you. For this, something like the City Hire timeline can be the best place for you to start. You may even find that there's a historical building with a free office to rent in it, which solves your search for it.
Art Work
And, of course, you can definitely look at a piece of art for inspiration too. Maybe there's a particular scene or pattern that you love? Maybe there's a theme or a message that you can work with? Sometimes, this is a subtle but impactful way to create the office design of your dreams.
Travel
Finally, you may find that you can get a lot of inspiration when you travel. And you can get a range of different kinds of inspiration that gives you different ideas for design, layout, or even the style of the building overall. Whether it's the architecture in Paris, the colours in Marrakech, or the culture in New York City, it can be really interesting to take ideas when you travel, to then see where the inspiration might take you.