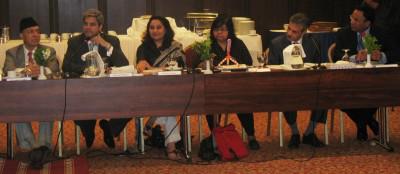 P@SHA roundtable on digital IPR (Photo: CIPE Pakistan)
Intellectual Property Organization (IPO) of Pakistan
As a result, Pakistan continues to rank poorly in international indices when it comes to IRP and patents protection as well as copyright piracy. One highly affected segment of the economy is the technology sector where success and profitability depend on being able to protect one's inventions.
To address these issues, back in April 2009, CIPE in partnership with the Pakistan Software Houses Association for IT & ITES (P@SHA) organized a roundtable on "Digital Intellectual Property Rights Issues and Their Impact on Business." The key recommendation at the roundtable was to enact a legislation that gives better protection to intellectual property.
Following the roundtable, P@SHA and other stakeholders remained in close contact with the IPO. After two years of regular deliberations with the policymakers and the private sector, IPO has now finalized a draft law – the IPO Ordinance – to provide legal coverage to enforce the trademark, copyright and patent infringement laws.
The new ordinance is likely to be approved in the next meeting of the Federal Cabinet. It is expected make the law enforcement agencies legally bound to protect IPR. The ordinance would also allow for revision in the trademark and patent fee structure, establishment of IPR facilitation centers in major chambers of commerce, and a nationwide awareness campaign for IPR protection that would explain its benefits for the economy and private sector.
Announcing this, IPO Chairman Hameed Ullah Jan Afridi informed that Federal Investigation Agency (FIA) has already established a dedicated IPR Cell and Police and Customs are in the process of creating IPR Cells to improve enforcement. The ordinance also proposes that the federal government empower IPO to become an enforcement agency and to function independently without seeking help from other law enforcement agencies, following the model adopted in Mexico.
More and more intellectual property is being created in the digital domain in Pakistan – not only by IT firms but also by production houses, photographers, health professionals, education professionals, artists, musicians and all other types of businesses. In pursuing successful advocacy in support of the IPO Ordinance, P@SHA recognized the fact that the needed reform in the legislation dealing with IPR will not only safeguard the rights of its member IT companies, but also protect and encourage innovations that are taking place throughout Pakistan's economy.