Insulating and shading your home:
"The hold no punches, no BS guide to Insulating, shading and weatherproofing your home.
Taking the time to insulate, address the shading and paying some attention to weatherproofing your house can save a great deal of money off your heating and cooling costs. Many sources in Australia claim anything up to 45 per cent overall savings. Making an effort to minimise the amount of heating or cooling energy you spend keeping your home comfortable in our extremes of climate will also naturally reduce your contribution to global warming.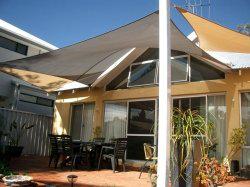 Shading is vital in the summer months.
Well thought out placement of trees, both deciduous and evergreen, and often most suitable of all, fast growing natives to shade the north western side of your house in summer can save a great deal of energy. There are many inexpensive and attractive ways to make your home more comfortable and all you need to do is look around for ideas."
To read the rest of this no nonsense guide head over to my Squidoo lens:
http://www.squidoo.com/insulating-and-shading-your-home