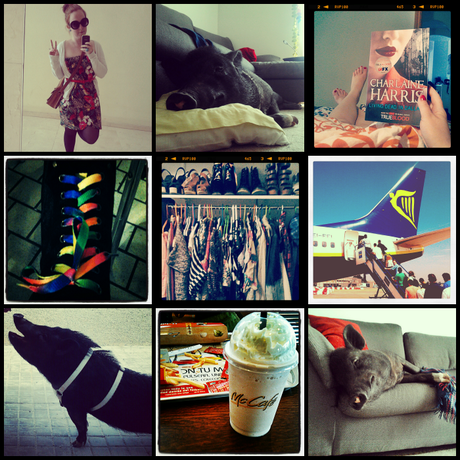 Few snapshots of my life (and Paris' too!)
1. Our building entry hall witnessing me being silly (full outfit post here!)2. Paris stole this pillow from our bed, carried it into the sitting room, put it on the rug and layd on it to have a peaceful nap. Little monster!3. Snatched this book (Living dead in Dallas) at a charity shop in Chester and enjoyed a good read over the weekend.
4. My beloved Jeffrey Campbell Litas are now decorated with some bright neon laces.
5. Spent a few hous organizing a couple pile of clothes that had gone out of controll.
6. Boarding our flight to Manchester with Ryanair.
7. Paris looks like a crocodile in this photo!
8. Yummy frappé from McDonalds.
9. Paris is such a happy piggy.


Like us? Find us on Google Friend Connect,

Bloglovin', Twitter, Pinterest, Instagram and/or Facebook!!!!