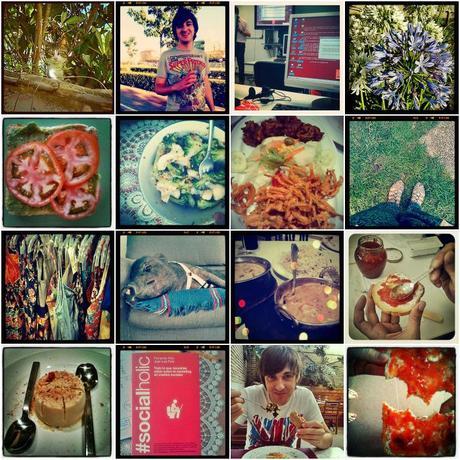 Can't imagine a life without internet, mobile phones, laptops...

crazy

!I am totally

hoocked

onto Instagram! Just about to reach photo 100!!Find me here: @TheMowWay 

if

you want to see loads of photos of food,

feetshots

and cute Piggy Paris :)
This is what I have been

upto

these past couple of weeks:
1.

Cat

spying

us from the top of a wall2. Nino in the park 3. At Community Management class (miss it)4. Beautiful blue flowers
5. Green pesto and tomato on toast6.

Steemed

brocoli

and cauliflower with mustard seeds for lunch. Yummy!!!!7. Indian food:

pakoras

!8. Gladiator sandals with my beloved Primark

maxiskirt


9. Flower print dresses10. Piggy nap11. More

indian

food12. Goat cheese & tomato marmalade on toast. (The marmalade is homemade by my friend Jesus' Sands mum!)
13.

Kulfi

14. Just finished reading it.15. Vegetarian lunch16. Barefoot having toast


Completely unrelated topics:


♥ Today I got my Mac

BookPro

,

yay

!!!

It was a great special offer, so here I am trying to find out how it words! :) I am

soooo

happy!!!!!

♥ Love how Lily from Llymlrs does her hair here. I have been considering getting a curler like this one....

anyone

with long thick hair can

recomend

a good one? ♥ I really like everything related

with

paint by numbers...

Awsome

project by A Beautiful Mess.♥ My

favorite

outfit of the week by Kaylah from Dainty Squid. 


ove

this DIY skirt by Smile and Wave. And love the whole outfit!!!


Like us? Find us on Google Friend Connect,

Bloglovin

', Twitter, 

Pinterest

, Instagram and Facebook!!!!