Are you not able to select between Instapage and LeadPages? These two offer the most prominent services for the creation of high converting landing pages, so the confusion is bound to happen. But, I assure you by the end of the article, you will be able to select between both according to your own requirements Instapage Vs LeadPages..
But before comparing, let us look at what Landing Page Builder is. We will learn about these two services too later then.
What Does Exactly The Landing Page Builder Mean?
In Digital Marketing, a landing page refers to a standalone web page, made solely for marketing and advertising.
It's a page a user lands upon or redirects to after they click on an Ad, an email, etc.
Landing pages ought to be attractive and well-made to keep the customers reeled in.
Several software programs help you in building these landing pages. Such software programs or services are landing page builders. We are here comparing the two best landing pages Instapage Vs LeadPages.
InstaPage vs Leadpages 2020: Overview
About InstaPage
InstaPage is one of the world's best landing page builder services available. It has a reputation for serving more than dozens of thousands of customers. InstaPage's clientele includes brands like Udacity, Spotify, and many more.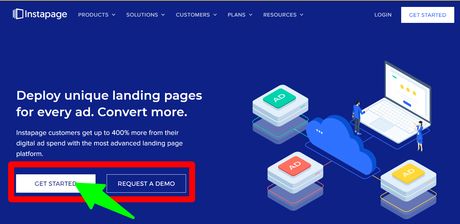 Some of the notable features of this service are -
Prehosted landing pages - Landing pages made with InstaPage are pre-hosted.
Free templates - InstaPage provides around 200 free templates along with thousands of paid ones.
Integration flexibility - Landing pages can be easily integrated with CRMs, Emails, etc.
Drag and drop editing - Creating pages is very easy thanks to the drag and drop editing feature.
InstaPage Review 2020 (Special Discount Coupon 25% Off)
About LeadPages
LeadPages is another top player of landing page building service. It provides you with the same tools which they used to grow their website. LeadPage has helped over 40,000 small businesses to stand on their feet and make a name for themselves.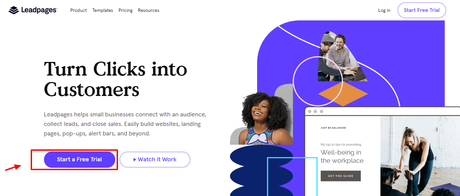 Some of the notable features of this service are -
Drag and Drop editing - Easy drag and drop features and visual previews make building landing pages a cakewalk.
Easy Tool-integration - It is easy to integrate Apps, CRMs, and Email with the page.
Hosted Landing pages - Just like InstaPage, LeadPages also provide pre-hosted landing pages.
Comparison of InstaPage and LeadPages
Our parameters for comparison are
Now you might be wondering that if both of them have some powerful features, then which one is better? Even though both are perfect in the job they are doing, one might fit better to your use-case than the other.
This comparison will judge both the services on the grounds of some features. You will thus get a fair idea of what suits you and why. Keep in mind that in general, this comparison does not mean one is better than the other. This comparison shows the compatibility of both with your work profile.
So let's start comparing InstaPage vs LeadPages in detail below
Pricing
Pricing is the first decisive factor to choose any product. As a business, you have a limited budget for everything. You would not want to spend too many bucks on just one element. That's why pricing makes an important choice to consider before choosing any of those.
InstaPage
InstaPage has two plans, namely Business and Enterprise. The business plan has a price of 149$ a month for one year or 199$ if subscribed monthly.
Enterprise plans have custom prices depending upon your requirements and size.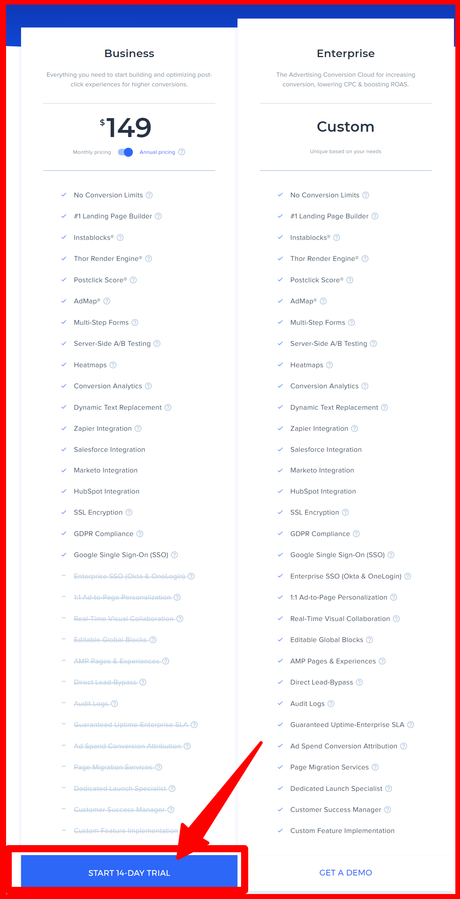 Enterprise plans come with added benefits tailored for all your enterprise needs. These services include special audits, custom features, Real-time Visual collaboration, among many others.
These plans come with a 14-day free trial.
LeadPages
Unlike InstaPages, this service comes with three different plans. Every membership has various perks and prices.
The cheapest of them is the Standard membership which costs 25$/month for annual plans or 37$/month monthly plan. This plan is the most basic one having only the basic features.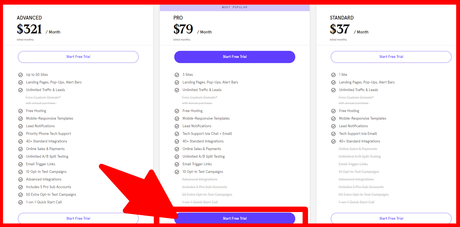 The slightly pricier one, Pro membership, costs 48 $/month billed annually or 79$/month for the monthly bill. This membership gives support for up to 3 sites. Pro membership provides some perks over the Standard one such as Email trigger links and extensive testings.
The last one, Advanced membership, costs 199$/month for an annual subscription or 321$/month for the monthly subscription. This membership has all the features the site has to offer, such as working for up to 50 sites. Several notable features such as Advanced integrations, Quick Start Call support and many others are available only in the Advanced subscription.
If you are short and budget and have a medium-sized business, then LeadPages would be a good option for your pocket. It has all the necessary features available in the less expensive membership.
Though if you are working on an enterprise-level, then InstaPages may seem like a way better option. It has all the features as LeadPages in a much pocket-friendly package.
We do suggest that you take free trials of both the services to get a better understanding of what suits you and your work.
Onboarding
Onboarding refers to how easily you can learn these services when you are a total newbie.
Were you guided a few steps before taking on the task, or you were given the feature to use and implement.
If you are making a landing page for the first time, of course, you need knowledge and experience. You can't just make a half-baked landing page and expect the customers to get attracted by the landing page.
InstaPage
InstaPage straightaway starts guiding you in your first steps. InstaPage provides you with various popup hints depending on what you are doing at the moment.
Right on the start, it will start guiding you in how to build your team by adding members. If skipped, InstaPage will take you directly to creating a landing page.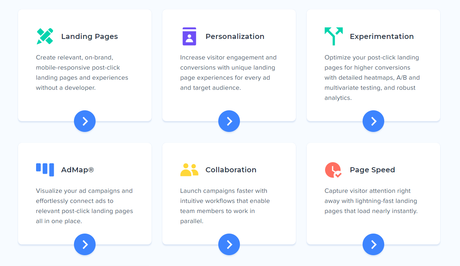 The page will show a "create my page" button which takes you directly to the templates for the landing page. After you pick up one, it will take you to the editor.
Upon reaching the editor, a popup will spawn, explaining all the imperative editor sections.
These tutorials are skippable if you don't plan to learn from them. These tutorials and hints make the editor an intuitive one to use.
Furthermore, when you encounter any complex feature or such, hints will appear. Moreover, they can be in the form of GIFs too.
InstaPage will also email you a link as an invitation to ask questions and provide useful help resources too.
All this means that the onboarding experience on InstaPage is gripping and intuitive for even newbies. Newbies will not have any problem in their first landing page building experience.
LeadPages
LeadPages provides a different experience in onboarding. Unlike InstaPage, LeadPages will directly take you to the subdomain registration page. This is the place where the landing pages are published.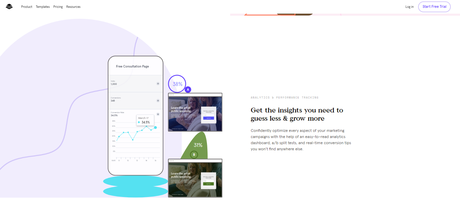 After that, LeadPages will give you the option to choose your brand color, which is also accessible from the editor.
Finally, you can select templates for the landing page from the selector to choose a theme for the landing page.
And this concludes all that's for the LeadPages onboarding experience. If you are a newbie, you may feel confused and a bit irritated by the lack of information.
In layman terms, if you are new to this building field, consider InstaPage as you go. InstaPage's onboarding menu is enough to fill your appetite.
The Building Process
The building process is the part by which the landing page is made and deployed. InstaPage and LeadPages both provide landing page building tools, which means that the ease and effectiveness of the building process is the key difference between them.
Choosing a template
Then customize the template according to your requirements
Add a Call-to-Action(CTA)
Finally publishing your landing page
The four main steps in building the page are -
Let us dig deep into the both below:
InstaPage
InstaPage's landing page builder has five prime menu options in your account.
Pages
The first option is "pages" where the creation and editing of landing pages are done.

Clicking on the "create a new page" under the "pages" section opens up the template selection menu. Here you will find many templates to opt from for your landing page. This page includes more than 200 different templates to select from. A switch between desktop view and mobile view is also available while previewing.
After selecting a template, you will land on a drag and drop editor. This editor is very intuitive. It is made so that you can add elements to your landing page, along with the fundamental elements such as title, images, and many other interacting factors that can be used. These elements include -
InstaPage also offers a unique element by the name of "Instablock".
Instablock is preset of elements that you can add instantly whenever you make a new landing page. Instablock also features some ready-made blocks for you to opt from.
The editor has a few other tricks up its sleeves.
Content personalization
Custom HTML,CSS,JS
Custom mobile page
Capturing Leads
This saves you much time which you would have used in adding elements from scratch. You just need to keep a set you made and apply it to any new landing page in only a few clicks.
Upon double-clicking any form to add to a page, a separate form menu appears.
InstaPage collects all the lead details for you to view and download by default. However, you can also use several marketing automation integrations from this menu.
Whenever a potential lead fills that form, you can choose where to redirect them.
After editing and decorating your landing page, clicking the publish button is the next step.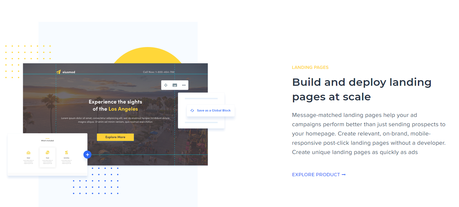 The demo option will let you preview how the page will look on your subdomain to the visitors.
LeadPages
You can use the InstaPage plugin to publish on a WordPress site directly.
For the editor part, both the services are very similar. However, there are some differences here and there such as -
LeadPages has a bit less number of templates to opt from when compared to InstaPage. However, it still has a large menu to choose from.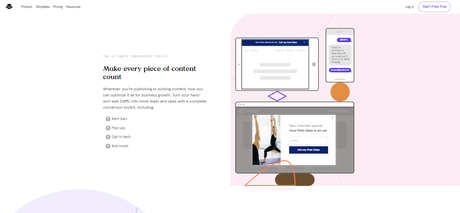 InstaPage does have a better variety here but not significantly better.
Even though the drag and drop of LeadPages are like InstaPage, it still has some advancements.
The editor on LeadPages is a bit cleaner than that of InstaPage.
Checkout widget which includes many features in a single strip.
It allows custom HTML and CSS but not JS.
The rest of the features are the same in both.
Along with these, LeadPages have some more aspects to its editor such as -
This part is also similar in both the services. You can capture leads, interact with them just like InstaPage. Just like InstaPage, it is easy for you to determine where to redirect the user after filling the form.
Just like everything else till now, publishing is also mostly the same in these services.
By default, your page will be published in the subdomain. However, using an HTML script, you can push your page on your WordPress site.
So choosing between any of them here depends on the UI you look to work on. InstaPage has a more attractive menu, while LeadPages has a cleaner menu.
Apart from this, both editors are equally capable and won't matter to you. Just the fact that InstaPage has more options in the template category may affect your decision. Rest assured everything is a print between both the services.
Split testing
The latest landing page building tools include some kind of split testing. This is done to be useful to marketers.
Both the services we are looking at today have this feature. So let's see how it differentiates them.
InstaPage
InstaPage will not hold you only at A/B tests. You can make several variations in the landing page editor of a particular page which you would wish to test.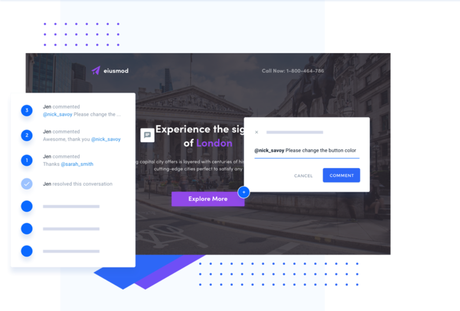 You can make changes you like in the page editor, and they will stay on the same landing page.
By default traffic between different variations will split even. However, you can tailor the traffic split as well.
This is all that someone might consider when testing out their landing pages.
LeadPages
Just like InstaPage, LeadPages also enables you to create different variations of a landing page to test.
Though this option will be available in the dashboard rather than in the page editor like InstaPage, a "create split test" option in the menu is there to do so.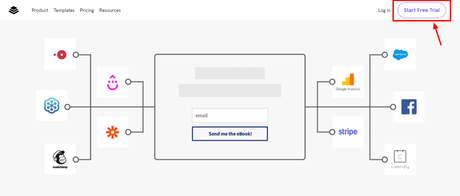 Multiple variations can be given unique names to identify them easily. You can edit them individually in the landing page editor.
Just like InstaPage, traffic split customization is possible here too.
The major difference in both of these editors is the variations identification. In InstaPage, you can create different variations, but they all are considered the same landing page. While in LeadPages, every variation is a separate name.
LeadPages can take additional time in finding and editing. Still, it removes the possibility of accidentally editing the wrong instance. The probability of editing a wrong variation is very high in InstaPage in comparison to LeadPages.
Integration Flexibility
Both tools are pretty similar with respect to integration flexibility. They offer more than 40 integrations, including almost all the major software you would like to integrate with your landing pages. The only difference is on the InstaPage dashboard you have a distinct "integrations" tab to connect to marketing services. In contrast, on the LeadPages dashboard, you find a user icon on the top right.
This factor won't be affecting you at all when you are trying to choose a tool between these two. Both have enough integration flexibility to make your page grow as it should be. Integration won't pose a problem when selecting either of these services.
Marketing Support
When it comes to marketing support, both InstaPage and LeadPages lend live support. They provide various help articles and tutorials to help you learn more.
InstaPage
InstaPage provides a help icon on every page when you log in. On the landing page editor, it opens a live chat. To make things easier, a search pop comes up on account pages. This lets you look for a tutorial article. Besides, you can also get email support whenever you need it. You can see a live chat bubble on the bottom left. This can get your guidance from someone.
LeadPages
Like InstaPage even LeadPages provide support on each page, but it isn't clear at first.
As you open your editor, you can see a question mark on the left side menu at the bottom. Hitting on it gets you a help menu on the right side of the screen. Here you can look for a help article. You can also start a live chat or get a support ticket. On other pages, you can find the same help icon located on the top menu that opens the same menu. It is not as intrusive as that on InstaPage.
Marketing support is almost the same on both. However, if you don't like intrusive boxes on your screen, LeadPages would be better for you.
Analytics And Reports
Both of these tools don't provide an extensive amount of data. Still, if you need more, you can integrate it with Google Analytics.
InstaPage
You can segregate your reports on different parameters with InstaPage. The segmentation can range from desktop or mobile traffic to date. The performance of multiple variations against each other can be seen on the same graph. You get to see basic parameters like visitors, conversions, and conversion rates.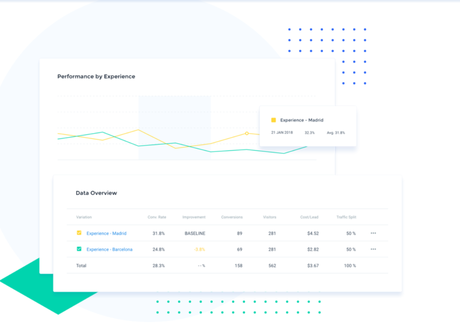 The top tier plan comes with heatmap recording software for your pages. All this can prove out to be extremely useful to carve out a conversion strategy.
LeadPages
LeadPages let you sort reports by dates, but it doesn't segregate mobile or desktop visits. You can still get basic data like views, conversion, and conversion rates.
Even though both sites are not that much into analytics and reports, InstaPage is the winner here. No matter what your use is, InstaPage is a better option. The use of heatmap is exclusive to InstaPage, making the analytics more interactive and knowledgeable.
InstaPage Vs LeadPages: Pros And Cons
Both LeadPages and InstaPage have their own set of pros and cons.
InstaPage
No limit on traffic
Built-in tools for analytics
Integration with other software systems
Text-replacement for PPC
Best templates and page designs
Direct WordPress integration
More than 200 editable templates
User-friendly interface
Pros
Number of in-built icons, shapes, and images are less
The basic plan doesn't provide split testing
Unsuitable prices for some users
Cons
LeadPages
Precise countdown timer
Progress bar widgets which are pretty useful
Visitors can join events by clicking the link in their inbox due to the Lead links feature
You can create popups on any of your pages
Pros
Autosave feature can be buggy at times
Limitations on customization options
Complex editor tool
Cons
FAQs InstaPage vs Leadpages
Instapage Review
Testimonials & InstaPage vs Leadpages
Leadpages Review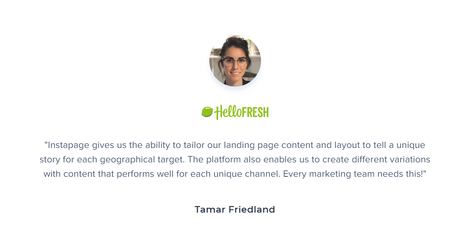 Quick Links:

Conclusion: InstaPage vs Leadpages Comparison 2020
After reading the article, the only thing you must be thinking is about which tool you should take.
Both services are commendable in the job they are doing. You can't choose anyone based on just features. Both are neck-in-neck with each other concerning the features.
Choose InstaPage if :
You need a grid-based editor.
Don't consider not having a tutorial for using the tools.
Going to be solo designing the landing page.
Planning to build entire websites rather than just a landing page.
Choose LeadPages if :
Not on a tight budget and can shell out a few bucks extra for quality.
Like a free-form editor.
Want control on your mobile version landing pages.
Need valued analytics like heatmaps.
Working as a team rather than being solo.
So we will mark some points to help you out.
All in all, InstaPage is more beneficial for bigger advertising campaigns having a big team. In contrast, LeadPages is for smaller campaigns and a small group.
Both tools provide a 14-day trial before charging money so you might want to try out both before considering what you should be paying for.
Whatever service you go with, it is important to know what your needs are and what will suit you.