This post may contain affiliate links. Please read my disclosure.
This Instant Pot Tomato Soup is creamy and delicious with the perfect amount of subtle spice. Less than 75 calories per serving it's a healthy, hearty and easy to make classic recipe.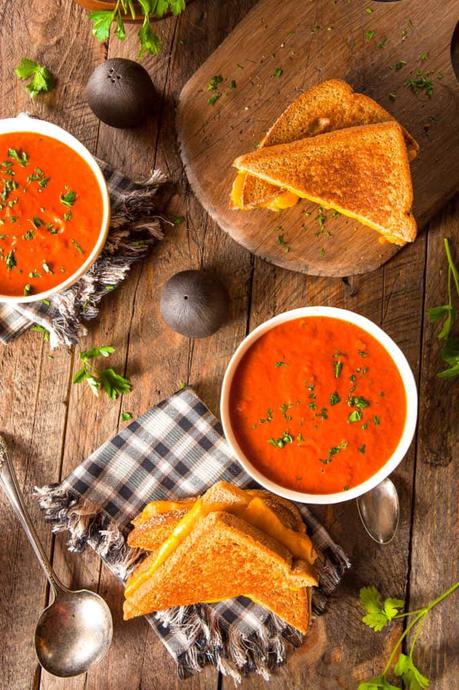 With the cold winter months upon us warm fireplaces, fuzzy socks, and healthy one-pot-meals become my go-to's. I make soup every week during this season for a few reasons. It's super easy and has minimal clean-up, and it's a great way to get a ton of veggies into one meal.
This easy, creamy, rich, healthy tomato soup has been a staple in our house for the past few weeks. Smoked paprika and cumin round out the sweetness of the tomatoes, and a touch of milk is substituted for traditional cream.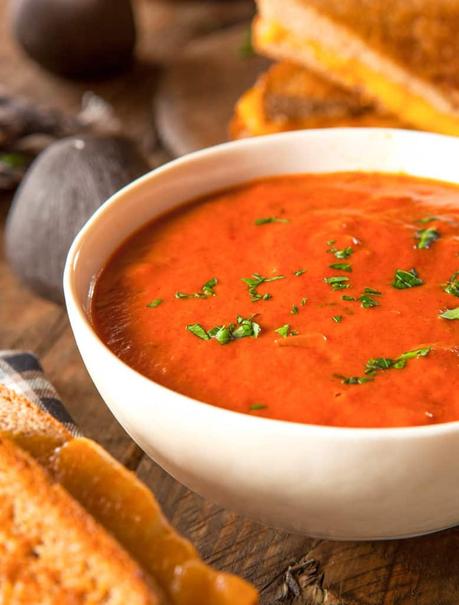 Kitchen Tools and Equipment You'll Need to Make This Recipe
How to Make Instant Pot Tomato Soup - Step by Step
Step 1: Turn your Instant Pot to the sauté function. Add 1 tbsp olive oil, add 1.5 cups chopped red onion, 1/2 tsp ground cumin, 3/8 tsp salt, and 1/4 tsp hot smoked paprika. Sauté for 8 minutes, stirring.
Step 2: Add 4 minced garlic cloves, sauté an additional minute. Deglaze any brown onion from the pot by adding the vegetable broth and scraping the sides with a spatula.
Step 3: Add 28 oz can diced tomatoes, undrained, and 1/2 cup vegetable stock (add more if you want a thinner soup). Set to HIGH pressure for 15 minutes. Naturally release pressure for 10 minutes.
Step 4: Stir in 1/4 cup whole milk. Use an immersion blender to blend the soup to the consistency you like.
Optional: Top with fresh parsley, shaved parmesan cheese, and black pepper.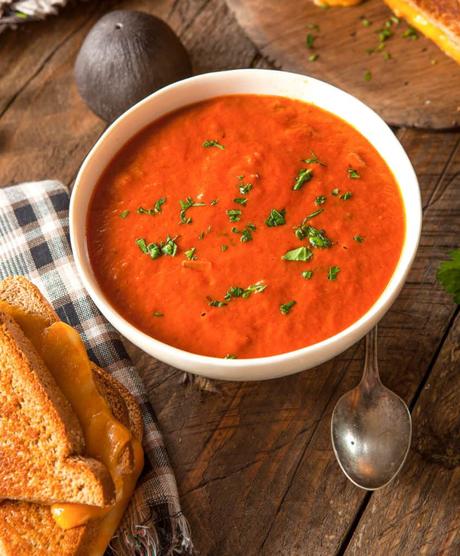 What makes this Instant Pot Tomato Soup healthy?
High in Vitamins and Minerals: Tomatoes are a good source of several vitamins, minerals, and antioxidants, such as vitamin C, potassium, vitamin K, folate, and lycopene
Promotes Healthy Digestion: Recent studies have demonstrated that cumin helps to promote healthy digestion.
Low in Fat and Calories: This soup clocks in at under 75 calories, with only 0.4g of saturated fat!
Will kids enjoy this Instant Pot Tomato Soup?
A light and creamy tomato soup - has to be one of the most kid friendly soups around! It has a lovely smooth consistency, with a robust creaminess from the whole milk. You can dial back the garlic and paprika if you want it milder. But really it's such a lovely smooth flavor I doubt you'll want to change much at all!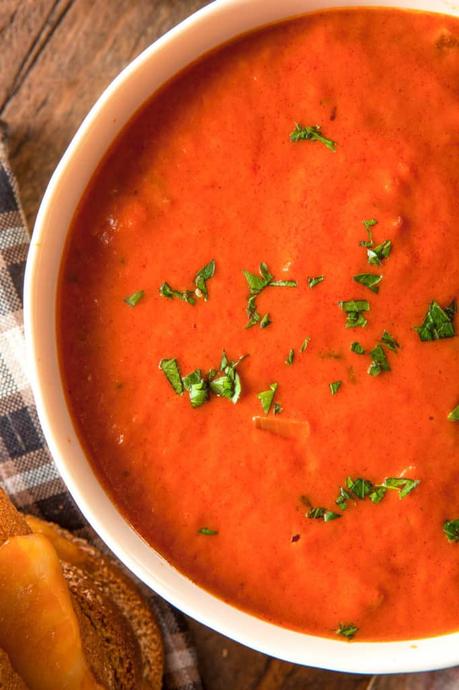 What type of tomatoes should you use for Instant Pot Tomato Soup?
I love Organic, Non-GMO canned tomatoes (in BPA free cans) because they're quick, convenient, and actually have more antioxidants than fresh tomatoes! They work perfectly in this soup and cut the prep time down considerably.
Is tomato soup good for weight loss?
Tomato soup is a healthy low calorie and low fat soup that is full of vitamins and nutrients. If weight loss is your goal, tomato soup is an excellent meal to add to your dinner rotation.
Can you freeze This Instant Pot Tomato Soup?
If you would like to freeze this soup leave the milk out of the recipe, and then add it in when you're ready to defrost and serve. Soups that contain milk don't freeze well because the milk or cream separates when it defrosts and is reheated.
What to Serve With Tomato Soup
A crispy grilled cheese sandwich on sprouted wheat bread is perfect for dunking, or you can have some toasted whole wheat pita strips. You can also serve this with some asparagus sautéed with lemon and pecorino and goat cheese crostini (two very easy side dishes). A peppery arugula salad or a hearty kale salad would make a nice addition. Top the soup with fresh parsley, Parmesan and black pepper.
Top Tips For A Light and Creamy Tomato Soup
Use the best quality tomatoes available
Use more vegetable stock, if you want a thinner consistency.
To make it vegan, substitute the whole milk for your favorite non-dairy milk, or leave it out, and add a bit more vegetable stock.
Stick with canned tomatoes. Especially if you're making this soup in the winter. Canned tomatoes have a consistent flavor. They're canned while fresh, which gives them a sweet flavor year round.
Top with fresh parsley, black pepper, and Parmesan.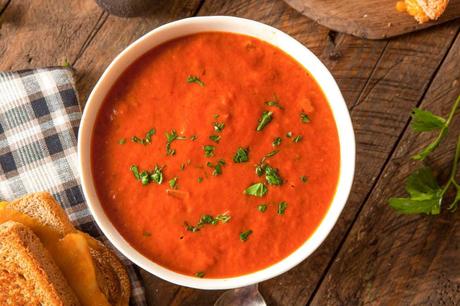 If you have tried this Instant Pot Tomato Soup recipe, or any other recipe on my blog, then please rate it and let me know how it turned out in the comments below! You can also FOLLOW ME on
FACEBOOK
,
TWITTER
, INSTAGRAM and
PINTEREST
to see more delicious, healthy, family friendly food!
Check Out These Other Delicious Soup Recipes
Instant Pot Tomato Soup