This post may contain affiliate links. Please read my disclosure.
Thick and creamy Instant Pot risotto with artichoke hearts and red peppers is bursting with Italian flavors. This simple and quick risotto will become one of your go to weeknight family meals.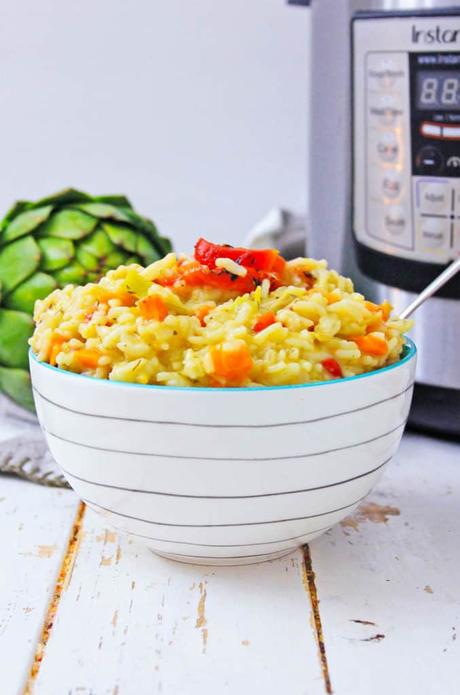 I love risotto but it takes a lot of time, energy and patience. And honestly, it's always been a little bit intimidating to make from scratch. But when I learned you could make risotto in the Instant Pot, I was thrilled! The complicated technique of adding broth and stirring in order to get that perfect risotto texture has been eliminated. In 45 minutes you end up with a complete, hearty meal with this delicious, homemade Instant Pot risotto. It's full of vegetables and has a creamy finish!
Kitchen Tools and Equipment You'll Need to Make Instant Pot Risotto with Artichokes and Red Peppers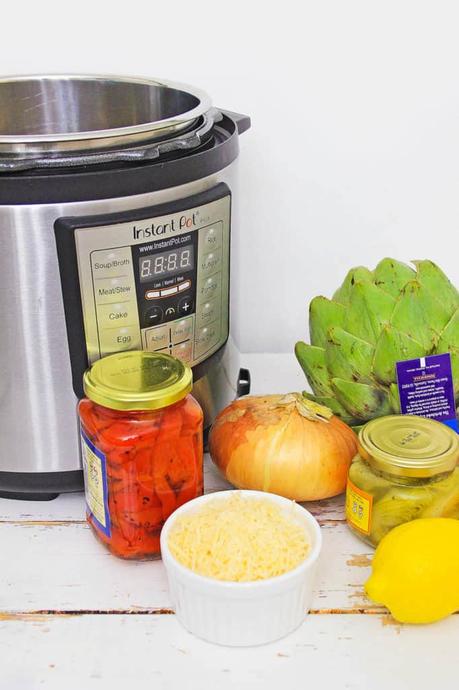 How to Make Instant Pot Risotto with Artichokes and Red Peppers - Step by Step
Step 1: Rinse the fresh green beans, and the carrots. Peel and chop the carrots. Chop the green beans and onion, and set aside.
Step 2: Place the butter and olive oil in the Instant Pot, and press the sauté button. When the butter melts, add the onion, mushrooms, carrots, green beans, and peppers, and sauté until golden brown, about 5 minutes.
Step 3: Turn off the Instant Pot, and add the broth, and de-glaze the bottom of the pot, scraping the bottom with a spoon to loosen any bits of sautéed vegetables (this will give your broth a delicious flavor).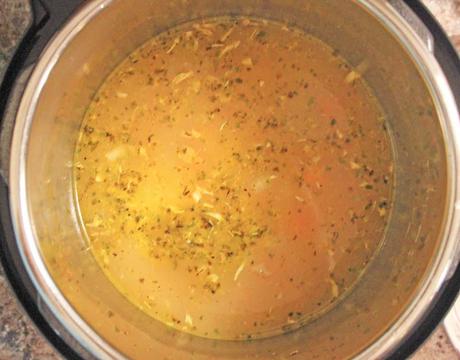 Step 4: Once all the little bits are off the bottom of the pot, add the Risotto, minced garlic, parsley, garlic salt, seasoned salt, seasoned pepper, Italian seasoning, and brown sugar, and stir well to combine all the ingredients.
Step 5: Make sure all the Risotto and vegetables are covered in the broth. If they are not covered, add a little more broth. The artichoke hearts go in the dish after it's cooked - they do not go in the Instant Pot with the other ingredients.
Step 6: After you've stirred the Instant Pot ingredients, Place the lid on the Instant Pot, and turn it until it beeps and locks. Make sure the pressure valve is set to 'Sealing'.
Step 7: Press the Manual Button, and set the time to 6 minutes. When the Instant Pot is done cooking, allow it to set for 2 minutes, then do a quick release, releasing all the pressure.
Step 8: Once all the pressure is released, and the float valve is down, remove the lid. Stir the Risotto, if all the liquid has not been absorbed, continue to stir the Risotto.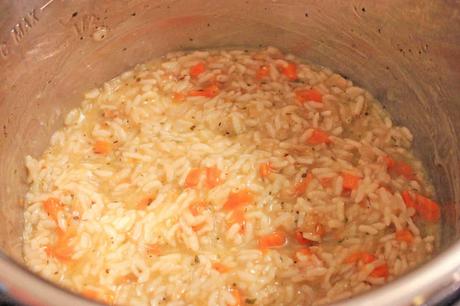 Step 9: It will begin to thicken. Leave the Risotto in the Instant Pot, and open the artichoke hearts. Slice them, add them to the Risotto, and gently stir them into the dish.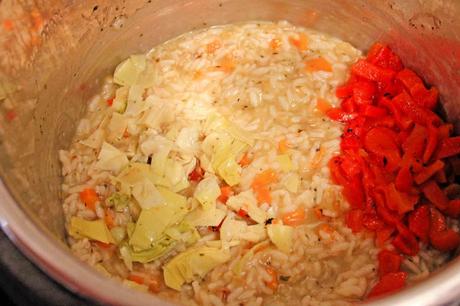 Step 10: Add the Parmesan Cheese, and stir. You can save a few of the artichokes to top the Risotto when serving.
Step 11: Plate or dish up the Risotto into bowls, and serve with a few roasted red peppers, and sliced artichokes, and Parmesan Cheese on top. Enjoy!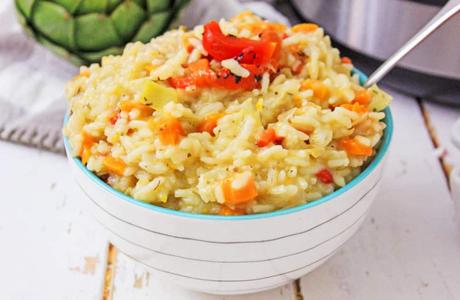 What makes Instant Pot Risotto with Artichokes and Red Peppers healthy?
Vitamins and Minerals: This risotto is packed with vegetables including onions, carrots, green beans, mushrooms, garlic, artichokes, and roasted red peppers. All of these vegetables are heart healthy, and full of vitamins and minerals.
High in Fiber: This risotto is high in fiber, especially if you choose to use farro as the rice. Farro is both high in fiber and plant protein. It contains vitamins B3, and minerals such as magnesium, zinc and iron.
All Natural Ingredients: This recipe uses all natural whole food ingredients.
Low in Fat and Calories: The traditional risotto recipe calls for much more butter and cheese. This risotto is still creamy and delicious with reduced butter and cheese making it a low fat and low calorie alternative.
Will kids enjoy Instant Pot Risotto with Artichokes and Red Peppers?
Most kids love rice, and risotto is just a "dressed up" version of rice! Kids will love the creaminess of this risotto, and you'll be thrilled they're getting a lot of veggies, vitamins, and minerals. If your kids aren't a big fan of artichokes or red peppers, scoop a serving for them out of the instant pot before adding the artichokes and red peppers. Alternatively, you can chop up the artichokes and red peppers super fine and stir them into the dish so they're hard to see. A little extra parmesan cheese on top always helps my kids get excited about this dish and clean their plates.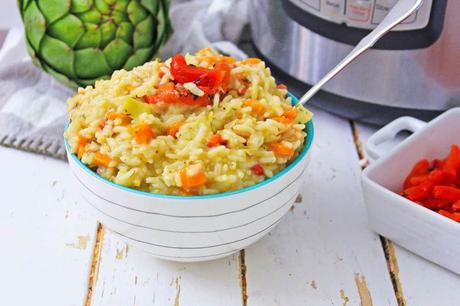 Is it safe to eat reheated risotto?
It all depends on how you store the risotto. You can get food poisoning from eating reheated rice, but it's not the reheating that is the problem, it's how the rice or in this case risotto was kept prior to refrigerating. If you leave cooked rice out at room temperature for too long it can quickly grow bacteria that causes food poisoning. However, if you allow the rice to cool within an hour and immediately store the leftovers in the refrigerator, it is safe to reheat and eat the next day.
Here are some tips to avoid food poisoning from leftover risotto:
Store risotto for 2 days max.
Store in the refrigerator after it has cooled completely.
Do not leave out for more than 1 hour after cooking.
Freeze the risotto to reduce the chance of bacterial growth.
Reheat the risotto evenly on low heat.
Make sure it smells and looks fresh before reheating.
Store risotto in an airtight container.
Do not refreeze the risotto after you have thawed it.
Do not eat risotto that hasn't first been reheated.
How do you reheat risotto?
Microwave Method: This is the quickest method to reheat risotto. Transfer risotto to a microwave safe bowl. Add water, or broth. Heat for 4 minutes, stopping to stir the risotto 2-3 times. If you're not careful this method could result in a dry risotto. Add a little butter to maintain the creaminess if it's too dry.
Stovetop Method: This method works best. Take the risotto out of the refrigerator and allow it to come to room temperature. Place in a saucepan with a little added stock or water. Reheat on low and stir constantly until heated evenly. Add butter to bring back the creamy consistency.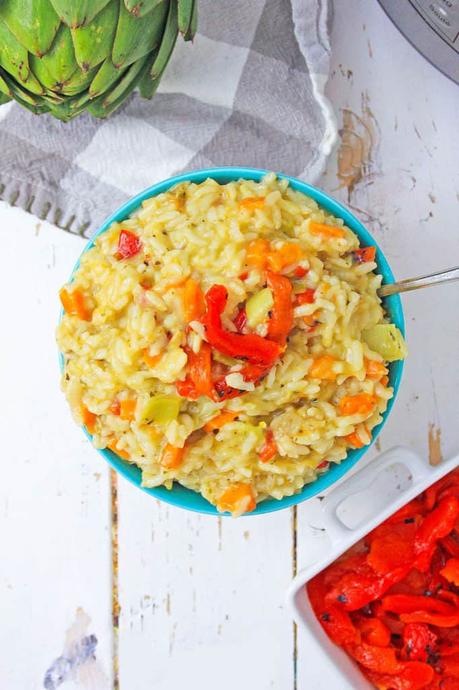 What goes well with Instant Pot Risotto with Artichokes and Red Peppers?
This risotto is filled with veggies and heart healthy whole grains making it a complete meal all on it's own, but here are a few ideas of some side dishes you serve with it.
Steamed Asparagus
Mixed Green Salad with a Citrus Vinaigrette
Sautéed Mushrooms
Sautéed Spinach
Roasted Brussel Sprouts
Kale Salad with Cranberries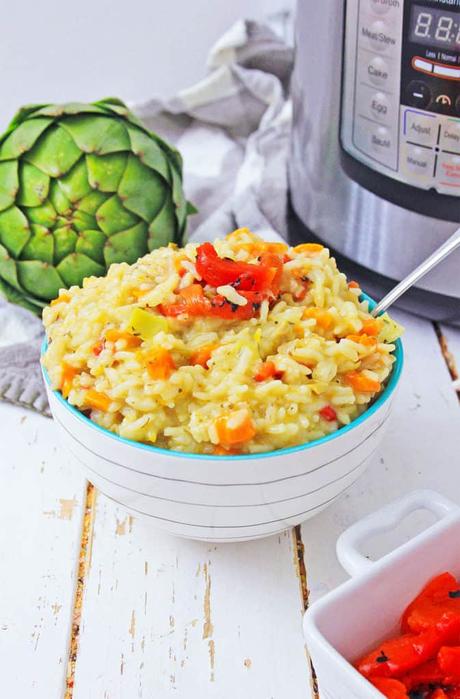 Use the sauté feature to cook the vegetables prior to adding the broth.
Turn off the instant pot and then deglaze the bottom of the instant pot by scraping all the vegetable bits off the bottom of the pan. This adds a rich flavor to the broth.
Do not add all the artichokes or red peppers until the risotto has cooked in the instant pot. You will stir these in after the risotto is done cooking.
If you use pre-roasted red peppers, you can add them in with the artichokes after the risotto is done cooking. If you're using raw red peppers, add them in with the onions to sauté and cook with the risotto.
Save a few red peppers and artichokes for garnish.
Rice and vegetables should be covered in broth before sealing. If they are not covered in broth add a little more broth until they are completely covered.
Make sure lid is locked in place. Listen for beep.
Make sure the pressure valve is set to 'SEALING'.
When risotto is done allow it to set for 2 minutes, then do a quick release, to release all the pressure.
Before removing the lid make sure the float valve is down.
If all the liquid hasn't been absorbed continue to stir. It will thicken as you stir.
To make this recipe vegan eliminate the parmesan cheese and use olive oil instead of butter.
Use risotto to keep this recipe gluten-free. Farro is not gluten-free.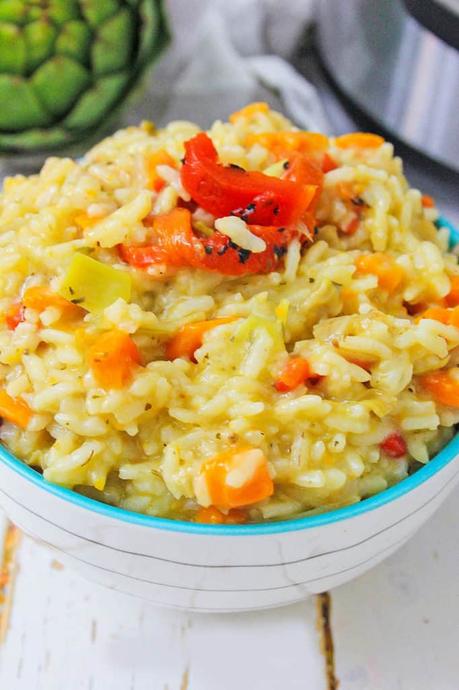 Top Tips for Making Instant Pot Risotto with Artichokes and Red Peppers
BE SURE TO CHECK OUT THESE OTHER HEALTHY INSTANT POT RECIPES!
If you have tried this Instant Pot Risotto with Artichokes and Red Peppers, or any other recipe on my blog, then please rate it and let me know how it turned out in the comments below! You can also FOLLOW ME on FACEBOOK, TWITTER, INSTAGRAM and PINTEREST to see more delicious, healthy, family friendly food!
Instant Pot Risotto with Artichokes and Red Peppers