This easy Instant Pot dal is the ultimate vegan comfort food. Made with red lentils and richly seasoned with Indian spices, it's thick, hearty, and filling. The Instant Pot makes it even easier to make!
This easy red lentil dal has been a popular recipe on the blog, and I'm happy to share this even easier Instant Pot version! The same amazing flavor in less time, and with no need to stir and babysit a pot on the stove.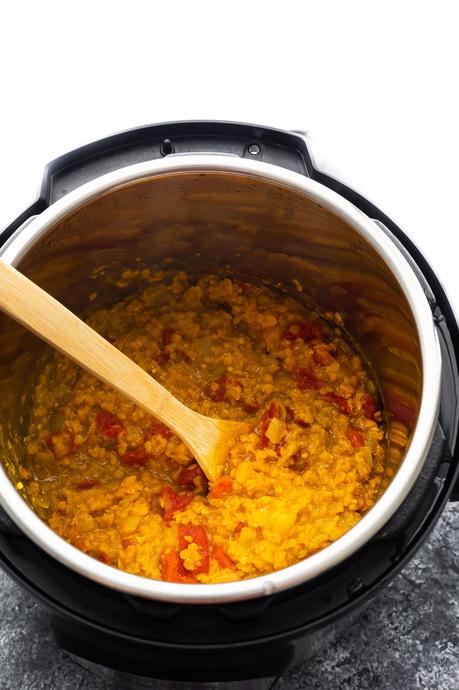 Creamy, hearty, and rich, this Instant Pot dal is bursting with warm flavor and spices. It's packed with plant-based protein and works great for meal prep or easy weeknight dinners. Portion out leftovers for easy reheat meals, or freeze for later.
This recipe is gluten-free, vegan, and made with healthy, wholesome ingredients that you likely already have on hand in your pantry. This red lentil dal is perfect for scooping with naan bread or mixing up with rice! Make this your go-to Instant Pot meal when 5 o'clock rolls around, and you realize you forgot to thaw something from the freezer.
Reasons You'll Love This Recipe
It features warming spices and lots of flavor, for the perfect cozy weeknight meal
Each serving packs 13 g of plant-based protein, making this a great recipe for vegan/ vegetarian meal prep
It's an easy one-pot meal that cooks up quickly in the pressure cooker!
Recipe Video
Watch the video below to see how to cook this recipe! You can find more of my recipe videos on my YouTube channel and Facebook page.