This Instant Pot chicken noodle soup is heavy on the noodles, and is ready quickly thanks to the pressure cooker. With juicy chicken thighs, carrots, celery, aromatics, thyme, and egg noodles, it's classic and so comforting.
Cooking soup in the Instant Pot is so hands off- no stirring or watching for the pot to boil over, simply set it and move on with your day! We love making Instant Pot butternut squash soup, cauliflower cheese soup, and this chicken noodle soup!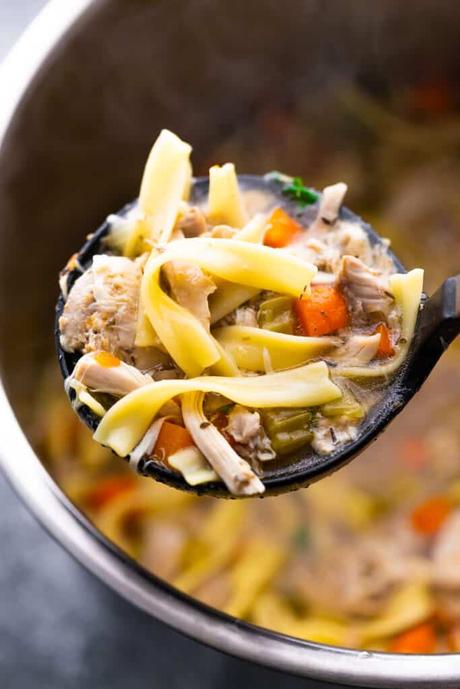 Classic and comforting, this chicken noodle step skips the sauté step but not the flavor! The chicken thighs are fall apart tender and so juicy, and the broth gets flavor from thyme, garlic, bay leaves and (my little secret weapon) chicken stock concentrate (Better Than Bouillon)
I also made sure this soup is heavy on the noodles- feel free to adjust as you'd like.
Reasons you'll ♡ this recipe
it's classic, cozy and will warm you right up
it's heavy on the noodles and delivers big flavor
we skip the sauté step so it's easy to get it cooking
you can assemble it ahead as a freezer pack
Recipe video
Watch the video below for step by step instructions for cooking this recipe. You can find more recipe videos on my YouTube channel.
Continue reading:Instant Pot Chicken Noodle Soup