I dunno guys, but I've never actually found a manga where the main protagonist is a doddering, seemingly worthless, yet misunderstood old man who is not respected by his family, strangers, or, anyone, really, until Inuyashiki was created from the mind of Gantz creator Hiroya Oku.
Just a heads up Gantz fans: he has a character who says Gantz sucks.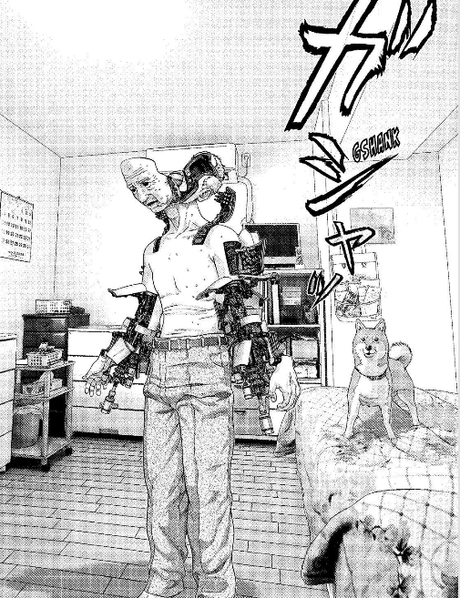 Yo Tony Stark just needs to chill out with his experiments man.
Inuyashiki defies normal convention by making its protagonist an unremarkable old man, Ichiro Inuyashiki, who soon is diagnosed with cancer. In his sadness he's killed in a freak accident, but, as he soon discovers, his body has been changed dramatically by aliens, which has not only cured him of his cancer, but looks to have turned him into a robot. Now as he discovers just what he can actually do in his body, a young man who happened to also be killed in the same spot as Ichiro seems to have figured out what he can do.
We call out manga for being a lot of things — as in, doing the same thing — so it definitely is a breath of fresh air to read something where the main character is not a young, impressible kid who knows nothing of the world. But for something like this to actually keep my attention, it has to be compelling enough. Maybe if it was a comedy following the adventures of the old man and his powers would be cool, but it's not setting itself for that — it's very serious stuff, and I can only think it'll get a bit darker from this point forward.
The art is pretty neat, especially seeing Ichiro and the number of expressions on his face whenever he is told something, in a confrontation, even when getting pelted by fireworks…the allusions to Gantz are definitely funny. This is a work to look forward to, whether you get it in print or read it on Crunchyroll.