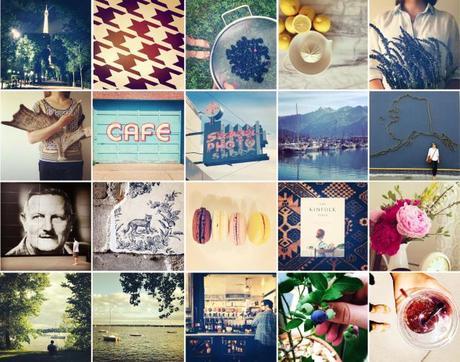 I love the visual patchwork that Instagram profiles create through moments in our daily lives. Instagram makes it so easy to take beautiful, moody photos that even pictures snapped on the fly look like works of art, and the visual texture they create when they all come together in our profiles is such an unexpected delight! Here are some of my recent moments:
Happy Bastille Day! | An abstracted houndstooth snapped at Zumbro Cafe | Mulberry Picking | My new juicer from Fringe & Fiddle! | Lavender | Shots from our recent jaunt to Anchorage | Playing with scale at the Guthrie | Brunch at The Copper Hen for my birthday! | Macarons for breakfast! | A birthday gift from Ken: The Kinfolk Table Cookbook | Birthday Blooms | Summer moments at Lake Calhoun | Brews at Tilia | Blueberries in our container garden | Iced Coffee to-go at Moose & Sadie's
Are you on Instagram? Let's be friends! @francoisetmoiblog.
Also, 3 instagrammers I'm digging à la moment. Check them out:
@lucylaucht: Lucy is the digital & social media director at J. Crew. She self describes as a serial wanderluster, and her images are a true reflection of that. Colorful, travel focused, beautiful shots.
@annariflebond: Founder & creative genius behind Rifle Paper Co., Anna Bond shares sneak peaks of new projects she's working on and insight into her personal everday. I'm a huge fan of her work, so I enjoy a little Rifle eye candy on the daily. PS. have you checked out her new wallpaper line?! It's oh-so-gorge!
@lydiatoll: A Minneapolis based photographer and owner of L&E Photography, I love her modern yet soulful style and point of view.