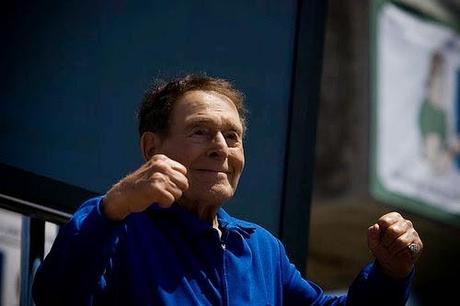 Jack LaLanne, fitness celebrity. Photo by nathancremisino.
I am very inspired by mature athletes. I maintain a post about them. Because so many people are remaining active into advanced ages, I decided to split the post.  
Here is a list of some mature athletes who were active at advanced ages, but who have now passed away. Follow the link for one of them, and then get some exercise today and think about that person's legacy. 
Here's the list (organized by longest living first):
Shot Put, Ruth Frith (b. August 23, 1909 d. February 28, 2014 at 104)
Track, John Whittemore (b. November 20, 1899, d. April 13, 2005 at 104)
Table Tennis, Dorothy DeLow (b. October 5, 1910, d. January 25, 2014 at 103)
Tennis, Roger Gentilhomme (b. May 21, 1909, d. June 18, 2011 at 102)
Marathon Runner, Jenny Wood (b. November 20, 1911, d. December 30, 2010 at 99)
Waterskiier, George Blair (b. January 22, 1915, d. October 17, 2013 at 98)
Rower, Ernestine Bayer (b. March 25, 1909, d. September 10, 2006 at 97)
Fitness Celebrity, Jack LaLanne (b. September 19, 1914, d. January 23, 2011 at 96)
Age of Champions swimmer Bradford Tatum (b. 1922, d. 2012)
Related:
Older Adults Who Are Athletes
Pin Pong Players, 80 Plus