I got my June issue of Martha Stewart's "Living" a couple of weeks ago. And, like usual, I started reading it the instant I took it from the mailbox and didn't stop until I was completely through it.
I find something I love in "Living" every single month, but this month I was instantly inspired by a photo I saw...this is the one...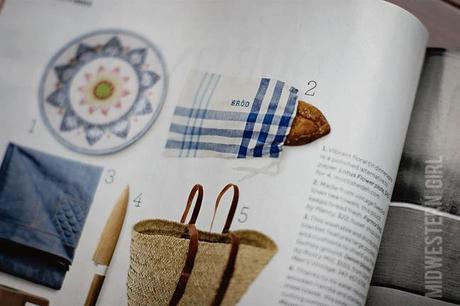 See which one I'm talking about? A bread bag made from vintage Swedish tea towels? So cool!!! But at $22 each, I knew I'd never be buying one.
So, the next time I went to Target I picked up this dishtowel...(I could have just made the bag from fabric, but I figured, this way, a lot of the work was already done for me)...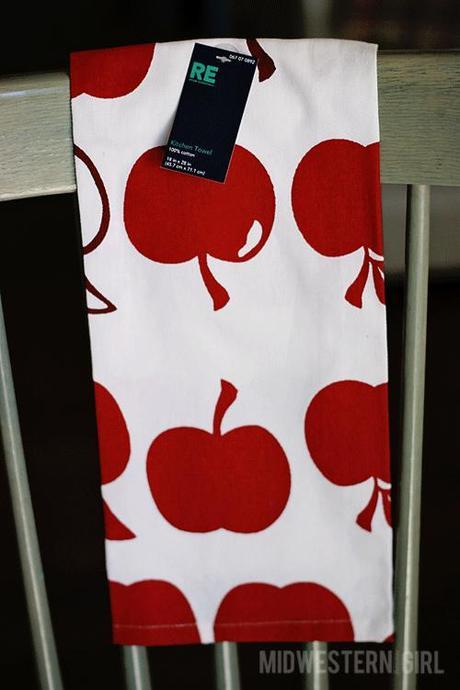 ...and I got to work turning it into a, well two, actually, drawstring bags...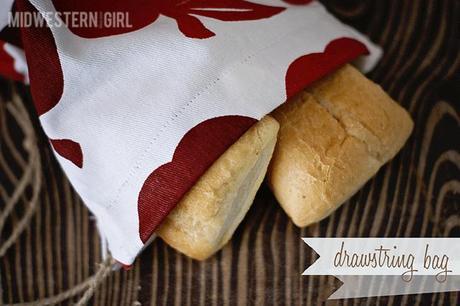 Wanna see how I did it?
Well, here you go...(now remember, this tutorial is for making 2 bags out of one large towel...you can choose to make one larger bag out of the whole towel, just skip STEP 1)...
Here's what you'll need:
*1 large tea towel
*Rotary cutter & mat
*Scissors
*Sewing machine (or this can just as easily be done with hand stitches)
*1 long-ish length of ribbon or cord or rope or jute (about 30" or so long...it's always easier to have     more and cut off the excess)
*Coordinating thread
STEP 1: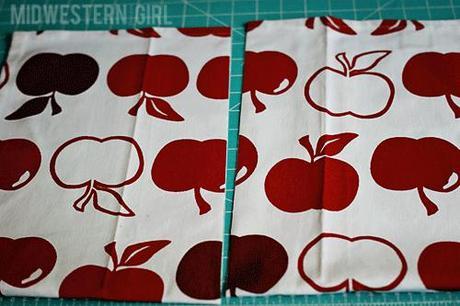 Fold your towel in half lengthwise and cut it down the middle. My towel started out at 18" x 28"...I cut it to become two pieces, each 9" x 28".
STEP 2: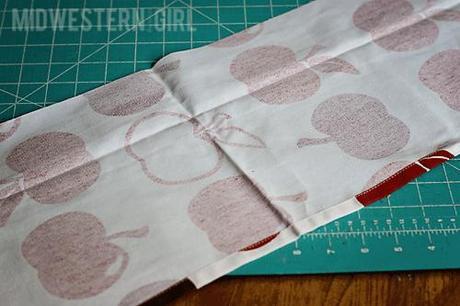 Open up one of your pieces...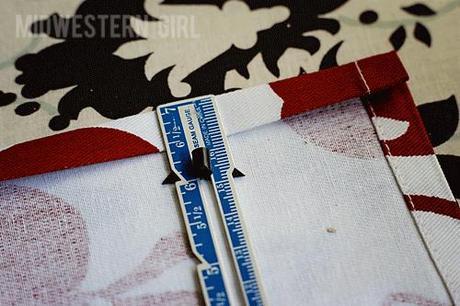 ...and sew a hem into the raw edge. Check your other hem sizes and make sure to sew this one the same size (mine was 1/2").


*****




*To sew a hem, fold the raw edge of the fabric down about 1/4" inch and iron down. Then fold down another (in this case 1/2"), iron down and sew as close to the inside edge as possible.*

*****
STEP 3: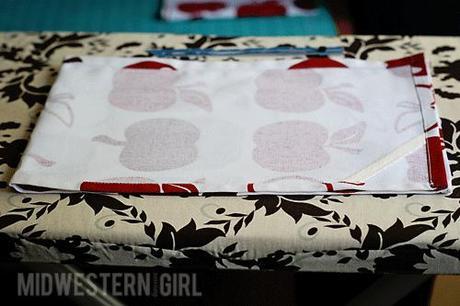 Now, fold your piece in half, lengthwise, with the "right" sides together.
STEP 4: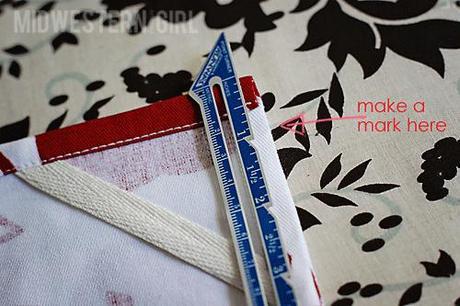 Take your folded piece, and turn it so the open short edge is toward the top. In other words, make sure the top of what-will-be-the-bag is at the top.
Then make a mark 1" down from the top of the bag - along the edge of the right side.
STEP 5: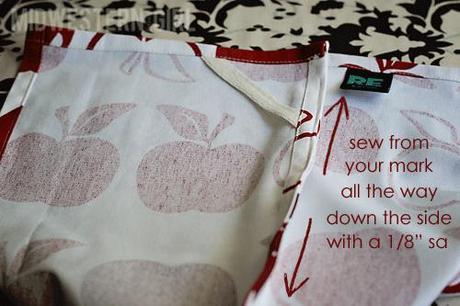 Sew down the long side of the bag, as close to the edge as you can...starting at your 1" mark and finishing at the bottom fold.
STEP 6: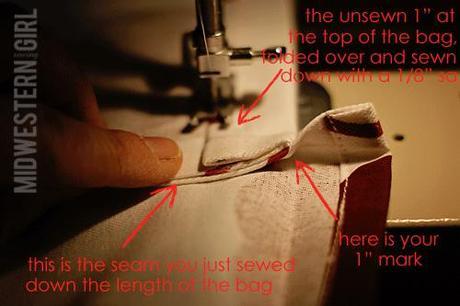 Now, you'll see here that I've missed a photo in the steps...but let me try to explain what happens next.
Unfold your bag along the seam you've just sewn so that it looks like the photo in STEP 5. Fold the top 1" of the bag down and iron. Then sew this piece down as close to the edge as you can (about 1/8"). You are making your drawstring casing here.
Do this on both sides of the bag top. Make sure that you keep your bag open while you are sewing so that you don't sew the top closed. And sew this 1" open casing as close to the side seam as possible...if you can't make it
all
the way to the seam, no worries...just try to get it as close as possible.
Here's what your bag should look like now when you have it open. You can see how the inside ends of the casing are open and almost touching.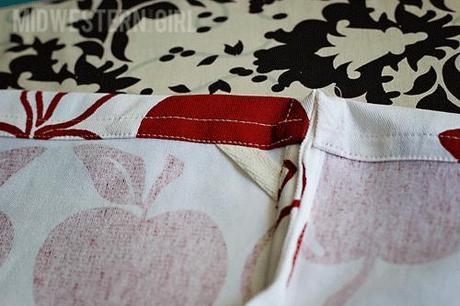 STEP 7: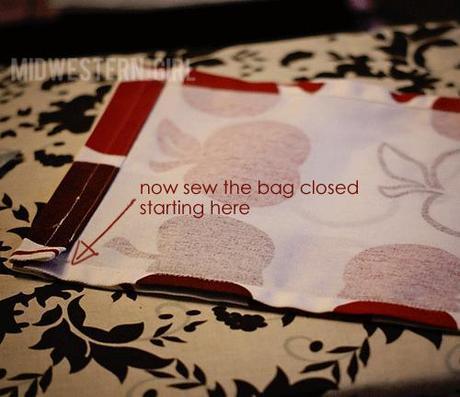 Now fold your bag back up, still with the right sides together, and sew your bag closed with a 1/8" seam allowance. Start your seam at the bottom of your casing (you can see in the above photo that my casing isn't completely sewn down at the end...this isn't a problem, and you won't even notice once the bag is completely put together) and stitch all the way down the bag.
Now, turn your bag right-side-out and iron it flat. Take a length of ribbon or rope or jute (I used jute) and thread it through your casing, starting at the sides of the casing that you just made (in my bag this would mean the side that wasn't sewn down all the way).
*****


*If you've never threaded a piece of elastic or rope/ribbon through a casing before, here's a super-easy way to do it: 

Take a large safety pin (make sure it fits into your casing), and attach it to one end of your elastic/rope/ribbon. Then push the pin through the casing, a little at a time until you get all the way around your casing. Then just pull the pin out of the other side of the casing and your done!******I cut a stencil out with my Silhouette and painted the word "bread" onto my bag. The one in the magazine had the word "BROD" embroidered onto it...I'm assuming that means bread in Swedish...and I really liked that, so I wanted to do the same...sorta.
If you decide to do this, make sure you stick a piece of cardboard or something similar in between the two fabric layers so that your paint doesn't leak through to the back of your bag.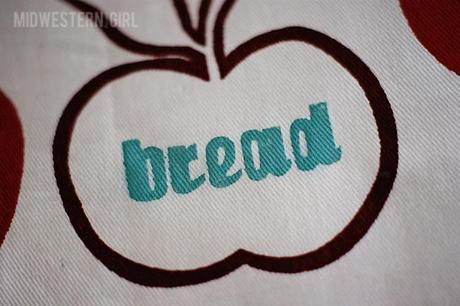 And you're done!Not too bad, huh?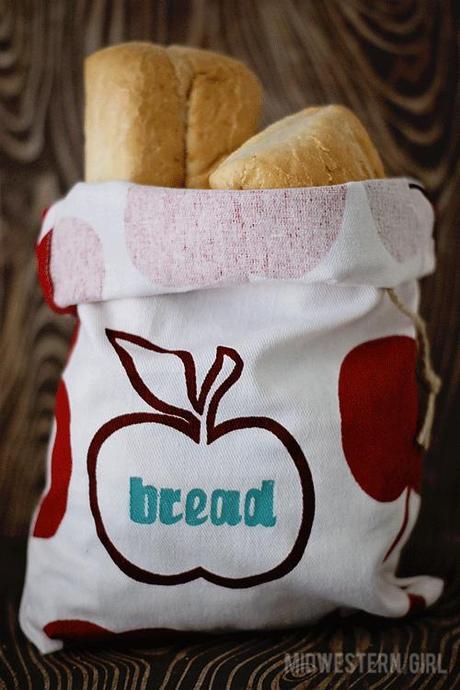 I love these little bags! And they are perfect for just about everything! How about as reusable fruit or vegetable bags for your groceries?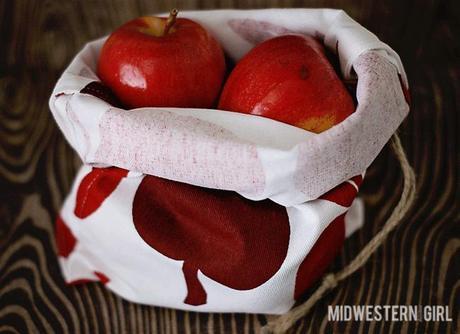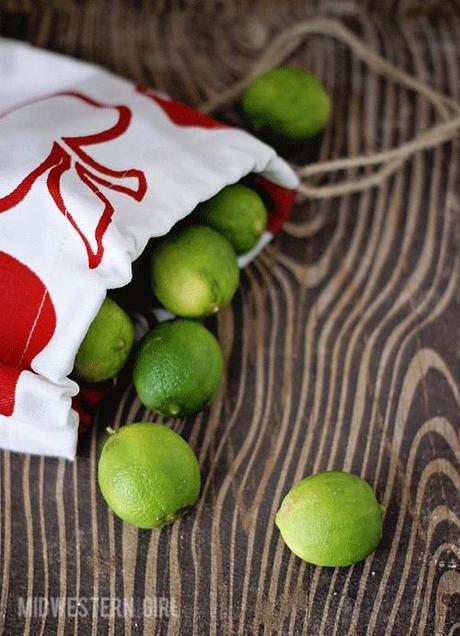 Or as a hostess gift filled your favorite kind of artisan bread? Oh, how I would love to receive one!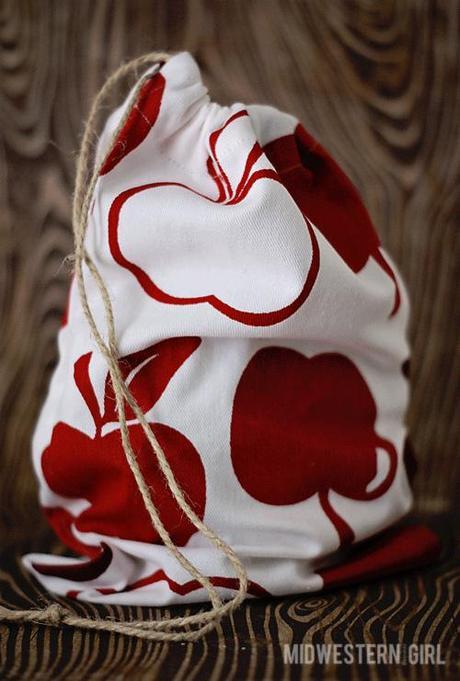 So what do you think? What would you use your little drawstring bag for? 
*I've tried my best to make this tutorial clear and easy to understand, but if you have ANY questions at all about it, please make sure to contact me at [email protected] - THANKS!*


Here's where I'm linking up this week!