One of the abstract painters I was aware of early in my art career was Helen Frankenthaler. Her paintings were  more subdued and lyrical than many of the abstract expressionists working at that time.  She had her own direction and left a legacy of "stain painting" -- a distinct version of  color field painting.  Intrigued by Pollock's method of dripping paint on a canvas, she found a new way to do it: she used very thin paint and poured it on unprimed canvas so that it soaked into the material rather than sitting on top of the primed finish (see ARTINFO story). 
Helen Frankenthaler died at 83 on December 27, 2011. 
I have worked at times on unprimed canvas, and when I make my own canvases, I apply a very thin gesso to the unprimed cotton duck.  Here's one of my recent paintings that most reminds me of Helen Frankenthaler's influence on my art: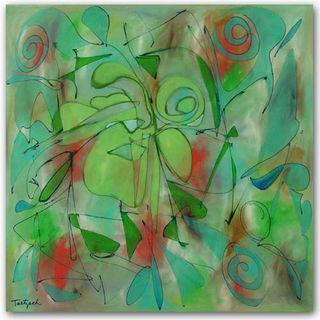 Laughing Lotus, 48" x 48" acrylic on canvas.