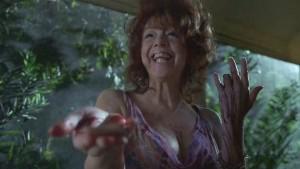 The Inside True Blood blog posted the third fan question and answer yesterday, and this time around we get the inside scoop on what the strangest thing Gianna Sobol (Inside True Blood's blogger and assistant to True Blood creator Alan Ball) has encountered on set:
"I walked over to the commissary to grab lunch one day, and the woman in line in front of me handed me the salad tongs when she was finished with them. When I looked up at her, there was Jane Bodehouse looking like she just stepped out of a Bon Temps bacchanal – hair disheveled, black eyes, and a big smile on her face. I totally freaked out, nearly dropped my plate. Patricia Bethune, forgetting what she looked like, had no idea why. I had to apologize and remind her that she looked like a crazy person. Oh, the Maryann days…"
Can't say that we blame her, really…Jane Bodehouse certainly nailed creepy when she was under Maryann's influence!
Source: Inside True Blood - Third Fan Question Answered…
Photo Credit: HBO, Inc.