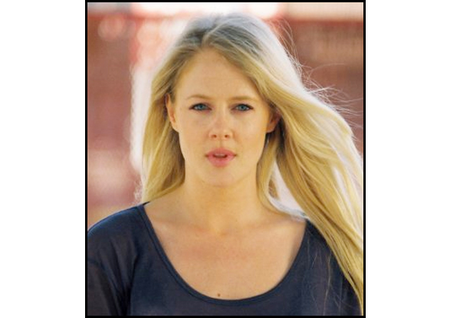 Recently Gianna Sobol, assistant to True Blood creator Alan Ball and scribe of the Inside True Blood blog recently interviewed Tess Alexandra Parker better known as Rosie, Andy Bellefleur's (Chris Bauer) secretary at the Bon Temps Police Department. They discussed how Tess got her role as well as her big scene revealing the secret romance with Deputy Kevin Ellis (John Rezig) during the season 3 episode "Everything is Broken," which airs tonight.
When Tess first moved to Los Angeles, her acting teacher made her write a list of all the people she wanted to work with for class. As it turns out Alan Ball was first on her list! So how did she get the part?
"I waited in a room full of twenty girls, who were mostly dressed in pencil skirts and cardigans due to the secretary description. But I was there with big hair and a red lace bra poking out, because I saw Rosie with Louisiana sass. I was one of the last girls to read, Alan Ball was in the room along with everyone else and although the audition scene was quite short, I got a genuine laugh from everyone. So I'm feeling good about it and I get in my car and drive home, which is like fifteen minutes from the lot, and before I get out of my car, I get a call from my manager that I got the part!"
Sounds like it pays to be an individual! Of her big reveal, Tess says that she cried for six hours and produced more snot than she thought possible. Oh and she also ended up bruising her forehead from repeatedly banging her head on the desk due to Rosie's desperation for losing Kevin. Tess says she's usually not that method however.
To read her interview in its entirety click here. And remember Truebies, tomorrow you can watch the first 3 minutes of  Season 4′s premiere episode, "She's Not There" if you have HBO Go!
Source: Inside True Blood Blog- "Tess Alexandra Parker on Impressing Alan Ball"
Image Credit: HBO, Inc.