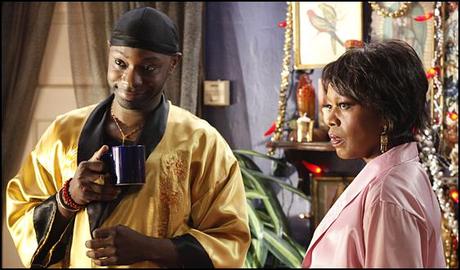 Tonight, HBO will air episode 8 in  True Blood season 3 entitled "Night on the Sun." This is the last episode of the season in which we see Lafayette's (Nelsan Ellis) mother Ruby-Jean (Alfre Woodard). In honor of this, Gianna Sobol of the Inside True Blood blog decided to ask  Raelle Tucker about Ruby Jean and her relationship with her son.
Writing what she did for the scenes in the mental hospital, Tucker says was difficult because she feels very protective of all of the characters. Not to mention it was hard to shake off some of the things that had to be said:
"… Even just typing them made me want to shower.  But I love that arc because we walk away with a deeper understanding of who Lafayette is, what motivates him… how and why he became the fabulous creature he is now… and in a way, what a miracle it is that  he survived all that with as much sanity as he has.   It's exciting that 3 years into the show we  still find opportunities to dig deeper and reveal new facets of these characters.  And that's what excites me most about True Blood –  beneath the fangs and bloody pecs, the show is really all about character."
In addition to doing some research about tonight's episode, Gianna also posted a picture that she took on set Wednesday night. One of the costumers was painting a wound onto a costume for someone. Can you guess who it is?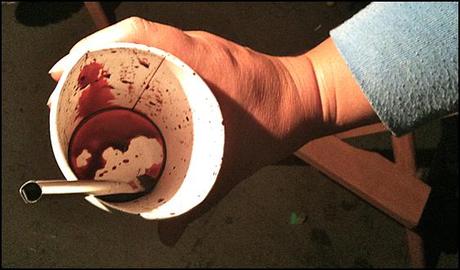 a) Ginger (Tara Buck)
b) Jesus (Kevin Alejandro)
c) Tara (Rutina Wesley)
d) none of the above
What did you think of Lafayette's mom? Who the heck is that blood for? Let us know in the comments below!
Sources: Inside True Blood Blog- "Cup o'Blood"
Inside True Blood Blog- "Remembering Season 3: Ruby Jean"
Image Credits: HBO, Inc.