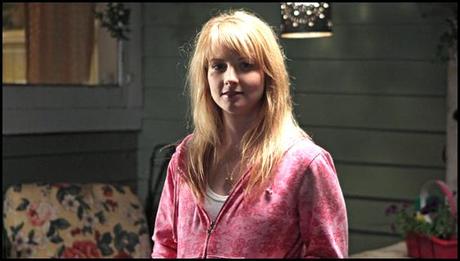 Super sweet Summer may have annoyed Jessica and Hoyt fans in Season 3 of HBO's True Blood, but her biscuits made friends on their own.  The Inside True Blood Blog run by Gianna Sobol, spoke to Melissa Rauch and the famous biscuits about their time on True Blood and even the Team Bill vs. Team Eric debate. 
Melissa told Gianna that working with Ryan Kwanten (Jason Stackhouse) and Jim Parrack (Hoyt Fortenberry) was a blast and that they were both very warm and welcoming.  The biscuits also weighed in saying:
"Ryan was a great sport as he had to eat a ton of me, but I know he loved it. Jim had one of me after we were done shooting, and I can tell he was really impressed. I'm not surprised… I'm delicious."
When Gianna asked Melissa if she had any favorite memories from her time on True Blood she replied that she enjoyed all of her time on the show but her most amusing moment came when she discovered a "merkin".  One day when Melissa was in the hair trailer she saw a tiny hairpiece which she thought was really cute.  She asked if the small piece was clip-on bangs and was surprised to discover that it was a merkin – it is a hair piece alright but its not for your head. 
Melissa tells Gianna that we will "hopefully" be seeing Summer again but there is no mention of whether that appearance will be during Season 4.
Finally Gianna asks if Melissa is Team Bill or Team Eric and Melissa is a true diplomat saying she loves them both.  The biscuits however, do have an opinion:
"I think Sookie should get rid of both of them and fall madly in love with a batch of round, soft, doughy, leavened flour-based goodness often served with butter and jam."
Click here to see the entire interview.  Fans of Melissa Rauch can catch her on The Big Bang Theory, where she is now a series regular.  Check your local listings for details.
Source:  Inside-True-Blood-Blog.com
Photo Credit: HBO, Inc.