Gianna Sobol, who works closely with Alan Ball on HBO's True Blood, has been providing us with insider secrets from the True Blood set while they have been hard at work filming Season 4.  Recently Gianna spoke to Dave Scott, who is a "Video Assist" on the set.  Basically the Video Assist assists the director throughout the filming.  Scott spoke to Gianna about what it is he does on the set, filming at night, and what he was working on that day.
When asked what his job is on the set, Scott says his primary role is to make sure that every take ever shot is available on set for immediate reference if needed.  He also helps out when they are shooting scenes that will require visual effects describing this process:
"I manage a few carts of modified computers, monitors, routers and other quirky gadgetry. At one cart sit the director, writer and producers to observe the exact live camera framing of the shots as they occur a few feet away.  I meanwhile sit at my own cart and make sure I don't miss anything!  As the camera shoots film, that image is simultaneously split into a video 'tap' that I get my feed from.  I also get an audio feed from the Sound Mixer and in fair trade, send the Sound Mixer an image from each camera.
When asked what it is like to film all those night scenes, Scott says he doesn't really feel that they work that many more nights than the average show or film.  The night shoots are frequently done on a stage and they often film all night long.
When Gianna asks Scott where they are currently shooting he reveals that they are at Hancock Park during the day.  She goes further and asks him to share any details about the scene that they are shooting and Scott said that the scene made him cringe a little bit and that there was a lot of blood involved.
When asked if he had any fond memories from the set Scott tells us about a scene where someone was beheaded (the Magistrar perhaps?) and there was a VFK element where there had to be a splat of blood on the floor.  He describes the effort that went into making that splat of blood saying:
"Sounds simple enough, just fill a balloon with fake blood and throw it on the floor, right?  Apparently they used a pretty thick balloon as it took about fifteen throws to get the poor thing to finally break.  It became comical to the point that I put a video loop up on the screens of a spinning head."
The final question Sobol asks him is if he is Team Bill or Team Eric.  Scott takes the diplomatic approach saying he is undecided and that he would need to learn each mans motivation.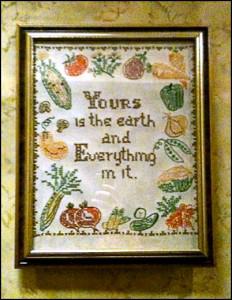 In today's Inside True Blood Blog we got a peak at a sign that hangs in Jason Stackhouse's hallway.  The sign (pictured above) reads "Yours is the earth and Everything in it."  When asked about this picture Rusty Lipscomb, the former Set Decorator had this to say:
"I found many wonderful things for the set when I shopped the antique stores in Paso Robles. Taking into consideration the rural locale (in Louisiana), the house being as it was when Jason's parents lived there, and the 60′s style, the colors, the sentiment and the stitchery made it one of many great finds for this interior." 
Not something you would picture in Jason's house but it somehow works!
Source:  Inside-True-Blood-Blog.com – Answers From The Set
Inside-True-Blood-Blog.com – A Peak Inside Jason's Hallway
Photo Credit: Inside-True-Blood-Blog.com