COSTA BOOK OF THE YEAR 2017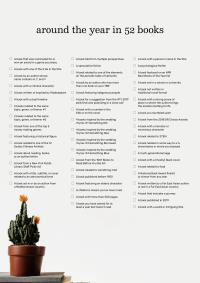 Winner of the 2017 Costa Poetry Award
To be alive is to be inside the wave, always travelling until it breaks and is gone. These poems are concerned with the borderline between the living and the dead - the underworld and the human living world - and the exquisitely intense being of both. They possess a spare, eloquent lyricism as they explore the bliss and anguish of the voyage.
Inside the Wave, Helen Dunmore's tenth and final book of poetry, followed The Malarkey (2012), whose title-poem won the National Poetry Competition. Her other books include Glad of These Times (2007), and Out of the Blue: Poems 1975-2001 (2001), a comprehensive selection drawing on seven previous collections.
***
[Untroubled, the anaesthetist / potters with his cannula / as the waterfall in the ante-room / grows steadily louder - COUNTING BACKWARDS]
***
(Bloodaxe Books, 31 May 2017, first published 27 April 2017, ebook, 72 pages, Around The Year In 52 Books 2019, a book that was nominated for or won an award in a genre you enjoy, bought from @AmazonUK)
***
***
I'm a fan of Dunmore's fiction and poetry so I was really looking forward to reading this collection. I was not disappointed. Dunmore knows how to write poetry and choose the perfect words to convey the exact meaning she wants. Inside The Wave contains poems that cover a wide range of subject and uses a diverse selection of styles. I particularly enjoyed Shutting the Gate, Inside the Wave, Leave The Door Open, The Place Of Ordinary Souls and Mimosa.