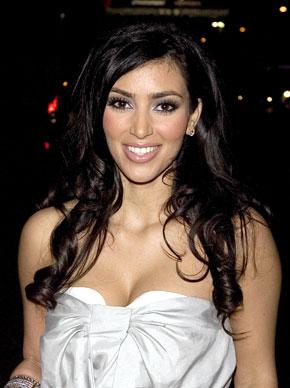 You didn't think Kim Kardashian's mom and sisters would miss the opportunity to embarrass her at some point during her bridal shower, did you?
E! News cameras were there to exclusively cover the swanky soiree at Keeping Up With the Kardashians matriarch Kris Jenner's Calabasas, Calif., home on Saturday. The festivities started off ordinarily enough, with Kim greeting guests such as Demi Lovato, Serena Williams, Mel B, Brittny Gastineau and Rachael Ray, who devised the menu.
Party favors were daintily wrapped in pink boxes, champagne was flowing, and then it was time for mama Kris to make a speech about babies.
Wait, what?!
"Welcome to Kimberly Kardashian's, almost Humpries', fabulous…I almost said baby shower! Wishful thinking, wedding shower," Kris began. "We're so happy for you."
The man who got the engagement ball rolling, Kris Humphries, also showed up to help his fiancée open presents.
Stealing kisses in between gifts, the couple opened one that held a framed ticket from the basketball game where Kim first met her husband-to-be, a very romantic little present.
Then they moved onto another box.
"What is this…OMG," Humphries said, as he plucked out a pair of furry handcuffs and slapped one end on his bride-to-be's wrist.
We didn't see those on the registry at Gearys!