There is an abundance of food delivery startups, but what separates them is to do something unique within its market. With that thought Box8 was started to meet India's fastest growing on-demand food delivery market. Box8 stands on 3 pillars namely of taste, technology and logistics, to ensure their goal of a delightful end-to-end customer experience every single time.
Box8 is known for its innovative products like the All-in-One meal box, which covers new-age Indian meals, which are convenient to eat anytime, anywhere. They have given an interesting twist to Wraps, Sandwiches and Salads with a fusion of Indian and western flavors and have the most authentic, indigenous taste in Biryani's and Curries. With an equal emphasis on technology, packing and delivery, along with food, Box8 makes ordering food a first class experience.
Box8 has now grown to 50+ outlets empire spread across Mumbai, Pune & Bangalore, making it one of the fastest growing food startups in the country. There online ordering platform and super-fast integrated delivery management system helps deliver piping hot food right at your door steps. You can also order from Zomato and other food related websites. The order reached on time and was neatly packed in boxes. Tried a range of their products like:-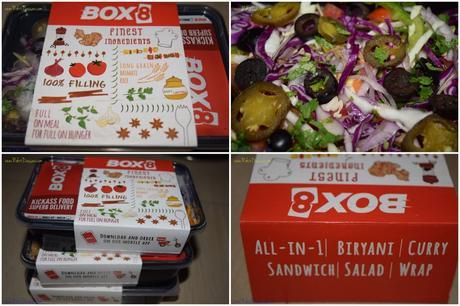 Farmer's Market Salad – Made from Mushrooms, Baby Corn, Onions, Red Cabbage, Olives, Jalapenos with a special salad dressing, this salad is one of their best products and a must try. The salad is made with fresh vegetables and the taste is simply stunning.
Subz Handi Curry with Tawa Paratha – The Subz Handi Curry was made from an exotic mix vegetables like Mushrooms and Baby Corn in Mughlai style gravy. Goes really well with their Tawa Paratha. The quantity was quite generous and the taste was fabulous.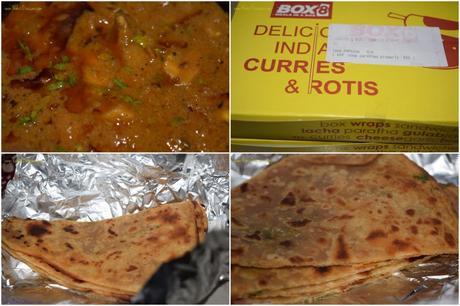 Paneer Makhani Meal – This all-in-box meal is enough for a person and you have a choice to try it with either Tawa Paratha or rice. The meal consisted of Paneer Makhani Curry with large cubes of cottage cheese along with rice, salad and chutney.
Shahi Paneer Biryani – Box8 version of Paneer Biryani, comes with minty curd. Great in taste with delicious tender Paneer cubes to relish.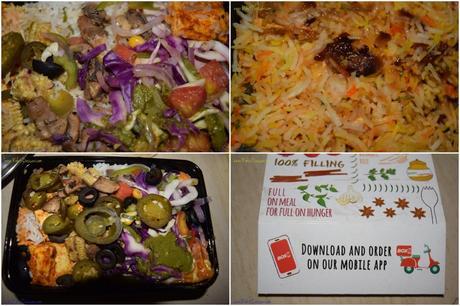 Ice Tea – Amazing appetizer with subtle tea flavor and sugar.
Masala Lemonade – Another great tasting product made from lime and black salt.
Gulab Jamun – Soft small gulab jamun's are simply amazing here. Just melts in the mouth. Do try them when they are warm.
Moong Dal Ka Halwa – Indian delicacy made from pure ghee, quite heavy on the stomach but still lip smacking.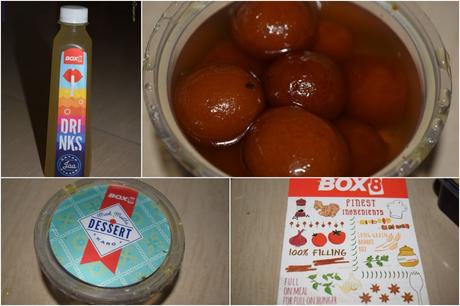 The Scorecard:-
Food/Taste – 8/10
Service – 9/10
Value for Money – 8/10
Packing – 8/10
Quantity/Quality – 8/10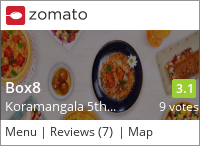 Overall Rating – 4.1/5
Innovative food delivery.