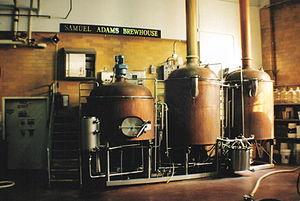 Boilers at the Samuel Adams brewery in Boston, Massachusetts. (Photo credit: Wikipedia)
The term "Indy" has become a hot topic lately. The eBook revolution, Indy music, craft beer – they all hold true to the roots of independent creating and a dedication to doing things their own way. The craft brewing world has certainly come a long way since it started growing several years ago and throughout it all many breweries have managed to not only find success, but to grow despite the ongoing economic problems. How have they managed to do that? It's by keeping things fresh. Not necessarily the beer, though that's fresh too, but by implementing innovation in their operations and keeping their brewery fresh in the minds of beer drinkers. What kind of innovation is going on in the craft brew world?Interesting Ingredients
One of the ways in which brewers are capturing and holding the attention of drinkers is by using unique ingredients to give their brews a flavor that really stands out. While a wide range of spices, herbs and other additives have been used in brewing historically, most American beers are pretty plain. To ramp things up a bit, craft brewers are increasingly using additives to promote different flavors and tempt your taste buds.
What are brewers putting in their recipes? You'll find things like rye used in conjunction with wheat, coriander, orange peel and even mint. Innovation is all about finding a nice balance between "unique" and "good taste", and brewers are definitely not afraid to experiment.
Aged Beer
Wine is aged before it's consumed, but beer usually only ages long enough for the fermentation to complete and the liquid to clear. However, many brewers are finding that aging their beer has some pretty interesting results, both in terms of flavor and in terms of sales. While aged beer really only appeals to a small segment of the market, that innovation still helps brewers to identify themselves as innovators and creative artists not afraid of trying something new.
Beer is usually aged in oak barrels – used barrels at that. The barrels once held whisky, or even wine. Why bother with that? Using these casks allows the beer to absorb different flavors from the alcohol-permeated wood. It also allows the beer to add extra strength, body and flavor. There's nothing quite like enjoying a glass of aged beer, and you'll find that several breweries are taking to this method.
Collaborative Brewing
Around the world, most brewers hold tight to their recipes and their brewing traditions. For instance, the brewing industry in Belgium is all about tradition and keeping secrets from your competition. Here in the US, things are a little bit different. There is a spirit of creativity and collaboration here not found elsewhere. That leads to some interesting pairings between breweries.
Of course, there has been bad blood between some craft breweries, and litigation has ruined some perfectly good relationships. With that said, more and more breweries are finding that joining forces for collaborative brewing projects has some serious benefits. What might they gain?
Obviously, two heads are better than one as the old saying goes. By joining forces even for a short time, brewers are able to benefit from the experience, knowhow and imagination of the other. This comes out in some interesting ways – unique beer types are born all the time. Each of these collaborations also helps to spread both breweries' reputations with a market segment that might be unfamiliar with their offerings.
Fan Contests
Indy marketing has long relied on getting your audience involved. That holds true with pretty much any independent endeavor, whether it's craft brewing, web comics or independent authors self-publishing their works. By involving your fans, you are able to achieve a number of goals:
You make the fans feel as though they are part of the process – you're giving them a chance to make an impact.
You make the fans feel as though they have a stake in the finished product.
You help spread the word via each fan. They tell their friends and family and then those people do the same. Word of mouth marketing is still one of the most  effective tools out there.
You leave a lasting imprint in your customers' minds.
You provide something fun and enjoyable for your fans/customers to do other than consuming your products.
These are only a handful of the benefits found when you are able to bring your customers into the production process in any way. How are breweries doing that, though?
One of the most common options is a "name the beer" contest. Fans are able to vote (usually through social media outlets like Facebook) on the name that they like best for a new brew. In some instances, the brewery also lets fans suggest their own names and then chooses the most popular to grace the bottle's label.
Other contests have involved deciding on the next type of beer to be brewed, choosing ingredients and selecting recipes. There are tons of options in this vein, all of which will help a brewery ramp up their marketing and boost customer loyalty.
Why Does Innovation Matter?
So, why has there been so much focus on innovation? There's plenty of good reasons to be innovative, particularly in the world of craft beer. The sheer growth of the industry has made it essential that breweries find a way to stand out from the crowd. While brewing super-strong beer or using unique packaging options can help do that, there are many other was to achieve better recognition with consumers.
Another reason that innovation is so important is that it keeps alive the spirit of creativity that has so far been one of the major hallmarks of the craft brew industry in the US. Without creativity comes stagnation and an adherence to "tradition" – something that would turn craft beer into the same thing as what major beer producers put out. That's never a good thing. Hopefully, the drive to innovate will never leave the craft brewing scene.
Poto Cervesia,
Dustin Canestorp
Dustin Canestorp is the Founder and General of the Beer Army. Join the ranks of the Beer Army at BeerArmy.com. Take a stand and let the world know your position. If you are going to drink, drink BEER!