copyright, 2020, Maria Liberati
I am in love with the sun ... it gives me warmth
I am in love with the wind... it caresses me
I am in love with life... it makes me laugh
I am in love with flowers.. they make my mind drunk with beauty
A cold blustery day in NYC, too cold to linger outside ..decided to visit the Arthur Avenue Market in the Bronx for some ingredients and..
and I found my favorite pear ..called made in Blu from Emilia Romagna..perfect for the recipe ..
Torta Di Pere, that mixes dark chocolate and fresh pears for a scrumptious taste experience! One bite of this and you can not help but utter the Italian word 'innamorata' from your lips..or you may want to serenade the torta with a rendition of the song Innamorata.. https://playback.fm/charts/top-100-songs/video/1956/Dean-Martin-Innamorata-Sweetheart
Torta Di Pere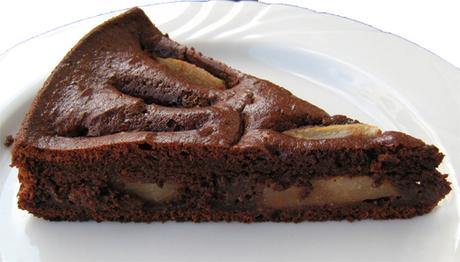 The Basic Art of Italian Cooking: Holidays & Special Occasions
2 fresh pears-peeled, cored and cut into small cubes
5 dried dates chopped
2 tablespoons of Cognac
2 tblsps of unsalted butter
1/3 cup sugar
1 -1/2 cups flour
1 tsp baking powder
3 egg yolks
3 egg whites beaten or whisked till soft peaks form

16 ounces baking or dark chocolate (minimum 65 % cocoa)
For decoration
1 fresh pear ,peeled and sliced thinly
1 tablespoon butter melted
1 tablespoon sugar
2 tablespoons of pear or apple jelly
In a food processor place in the chopped dates and pears, and Cognac, blend well. In a bowl, place in 2 tablespoons of unsalted butter,sugar,flour, baking powder,egg yolks, fruit from food processor with liquid and whipped egg whites. Blend well. Butter and flour an 8 " cake pan and pour in the mixture. Bake in an oven preheated to 350 degrees for 45 minutes. remove from oven and let cool
Melt baking or dark cocoa in double boiler and use this to glaze top of cake. Measure butter and melt, add in sugar. Dip thinly sliced pear in butter and sugar and then dip one side of pear slice in pear jelly and arrange as a decoration on outside of cake with pear slices placed all around, stuck to border of cake. Place chocolate glaze on top. Put in fridge till chocolate glaze is hardened.... and become....... innamorata .....
Get more recipes to make any day a Special Occasion in The Basic Art of Italian Cooking: Holidays & Special Occasions
,second edition..... publisher/copyright Art of Living/PrimaMedia,Inc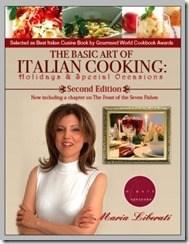 Get your copy of the Gourmand World Award Winning Book The Basic Art of Italian Cooking: Holidays and Special Occasions-second edition..