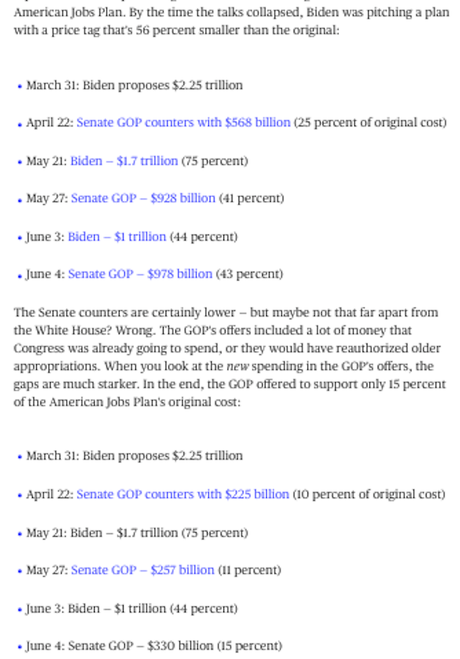 The infrastructure negotiations between Biden and the GOP representative (Sen. Shelley Moore Capito) have been called off by president Biden. He finally realized that the Republicans weren't serious about negotiating. They were just stalling.
The top part of the chart above (from MSNBC.com) is what the Republicans would like you to believe was happening -- that they had come within 43% of what President Biden wanted. They were lying (something they've become very good at doing).
The bottom part of the chart shows what really happened -- that while Biden was willing to cut his proposal in hall, the Republicans were only willing to give him 15% of what he was asking for! It turns out that much of the spending they were including in their proposal was for projects already approved by Congress -- not new projects.
Now there are more negotiations happening with a bipartisan group of senators. This won't go anywhere though. The first thing they said was that there will be no new taxes (on the rich or corporations). But what is needed is too expensive to do with new revenue, and there is broad support by the public to raise taxes on corporations and the rich to pay for infrastructure.
There will be no infrastructure bill unless the Democrats use the reconciliation process and go it on their own. The question now is how long it's going to take to get Senator Manchin on board for that. He's currently in that bipartisan group of senators now negotiating.