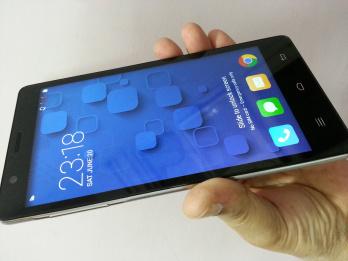 M330 is the second InFocus smartphone that I got the opportunity to try out. The first one was InFocus M2, an entry-level device offering superb value for money. As I had liked M2 quite a lot, I was very eager to try out M330 as well. And I'm not disappointed.
M330 costs less than Rs. 10,000 and offers a good bundle of specifications and features. Of course, it is a mid-range device so you can't expect it to give a premium feel. But overall, it is pretty decent and worked efficiently as I tried it out.
So here's my InFocus M330 review:
Appearance: M330 is a big screen phone. It has 5.5" IPS HD high-resolution display. The phone feels very sturdy to hold. The back is smooth plastic but the sides have a nice metallic frame which add to the beauty of the device. I enjoyed holding the phone in my hand, despite its size. The chunky black frame around the camera lens on the back adds to the style. Not all would like it though. I didn't, at least. The Power Key on the right side is very small and protrudes so little that it took me some time before my finger could discover it at once. But it looks nice.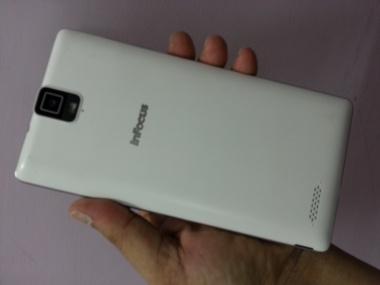 Display: The display is impressive. It is protected by full lamination Gorilla 2 glass. It is also equipped with high transmittance and anti-glare features which supposedly help in enhancing the images.
User Interface: Many Android users love installing custom launchers on their phones as they give added customization options. One of the most popular of these options is the variety of screen transitions that custom launchers have. Well, M330 has Launcher+ which makes available many screen transition options for the Home Screens as well as the App Folder. These include Random option. Launcher+ is not loaded with too many customization options though, only the bare essentials. Users can switch between the One Layer or Two Layer modes depending upon whether they want an App Folder or want all their icons on the Home Screens only. The App Fold can be edited and the app order can be changed. But no folders can be created in App Folder and no app can be hidden from it.
Folder can be created on the Home Screen though and are paginated if there are many apps within the same folder. The Function Shortcuts panel above the notification panel is also customizable. There are also customizable shortcuts on the Lock Screen as well.
The UI is simple and easy. All customization options can be accessed by just pressing the left soft key which is the Menu Key. Tapping it brings up a menu bar that has buttons for launcher preferences, system settings etc.
However, I do have complaint with the widgets and utility apps like calendar, calculator etc. that I find in InFocus smartphones. They are too plain and don't look visually appealing. The pre-installed wallpapers are really nice though. The phone also allows the use of Video wallpapers, and of course, the live wallpapers.
M330 also has the EZ launcher for those who want easier and simpler user interface.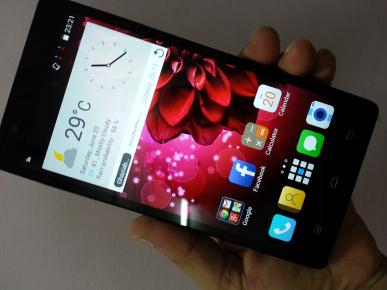 Gesture Commands: One of the highlights of M330 is that it allows Black Screen Gesture Commands. That is, just trace your finger on the sleeping screen and it wakes up and leads you straight to the app. The gestures are all customizable and the various commands like Double Tap, Swipe Up, Swipe Down or C, M etc can be setup to perform various functions like unlock the phone or launch an app.
In addition to these Black Screen Gestures, there's also slide a finger downwards on the Home Screens to easily open up the Notification Panel. This option can be activated from the Preferences Menu on the bar that rises up upon pressing the left Menu Key.
The Camera too has its own Gesture Command. I will tell more about that below.
Motion Commands: In addition to the Gesture Commands, M330 also has some Motion Commands like Turn Over To Reject Call, Volume Quiet on Pick Up, Shake to Next Song etc. These can prove very handy and convenient as well.
Camera: Considering its price, M330 has very boastworthy camera specifications. It has 13MP rear camera and 8MP front Camera. Yes, 8 MP front camera! The rear camera is high resolution auto-focus camera that has F2.2 aperture. The front camera too is auto-focus and has the added Beauty Shot features that can be activated with just one finger tap. The camera modes include Panorama, Motion Track, Beauty and the Live Photo Mode which captures and joins a photo along with a very brief video footage.
The camera can be controlled with Voice Commands like Capture and Cheese. And as I hinted earlier, it also has a gesture command to click pictures with. Just show it the sign of V. As soon as the camera detects the gesture, it starts a timer and the photo is clicked in a couple of seconds after the gesture is detected. These voice and gesture commands can be easily activated or deactivated.
Performance: As I was only using a review device, it was not really loaded with all the apps that I have on my own phone. But I did install on it my all time favorite games like Temple Run and Fruit Ninja. And they worked without a lag. The internet browsing seemed efficient too. And the phone did not lag while opening or closing the apps. The battery performed well too and easily lasted me for about two days.
Specifications: As I mentioned in the very beginning, InFocus M330 has a very impressive set of specifications, especially considering its price.
Important specifications of InFocus M330 are:
Display: 5.5" IPS HD high-resolution displaywith full lamination Gorilla 2 cover glass
Processor: Octa-Core 32 - bit CPU and Mali-450 Quad Core GPU
RAM: 2 GB RAM
Storage: 16 GB internal storage (expandable with microSD card)
Battery: 3100 mAh
Camera: 13MP rear camera / 8MP front Camera
Price: INR 9,999
Availability: InFocus M330 is Available on Snapdeal (affliated link)
All in all, InFocus M330 is a very nice device and offer good value for money. It has a simple user interface with some interesting cusomization options like screen transitions. The widgets and system apps can use a bit of make-over though. And I never like seeing third-party apps pre-installed on a device. Other than that, I have no complaints against M330. It is a good device for the price of only Rs. 9,999.
For more information, you can check out this video review of InFocus M330: