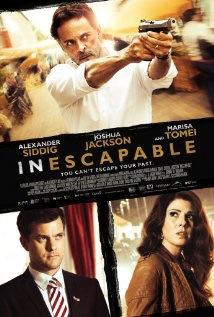 Director: Ruba Nadda
Writer: Ruba Nadda (Screenplay)
Starring: Alexander Siddig, Joshua Jackson, Marisa Tomei, Oded Fehr, Saar Siddiqui, Fadia Nadda, Bonnie Lee Bouman
Plot: Years after he left Damascus under suspicious circumstances, Adib Abdel Kareem must confront what he left behind when his daughter goes missing.
There may be spoilers the rest of the review
Verdict: Very Slow
Story: Inescapable start by introducing us to Adib (Siddig) living in Toronto in 2011 showing off his tricks he learnt in a former life. When a personal friend comes bearing bad news about Muna his daughter who has been looking into Adib's past. Adib wants to find out more about why she went to Damascus. Adib is former military intelligence agent who escaped his previous life.
Adib uses his former connection Fatima (Tomei) to get him into Syria and getting across the border will be the first of his tasks. Adib learns that his leaving didn't just affect him but hurt the people he loved and his search for his daughter brings him to the Canadian Embassy meeting Paul (Jackson) a man who wants to help but questions how Adib got there so fast. Adib goes to meet an old friend Sayid (Fehr) for information about his missing daughter. Adib finds out that his daughter has got herself stuck in the middle of a wed of conspiracy through the country.
Inescapable sounds on paper like it could be a very good action packed thriller, in the end we get a slow moving talk fest. It is hard to find anything good about this film other than the concept being good, it is put together to roll out very slow and never gives us a chance to be pulled in to suspect any of the support characters and even by the end I don't really know what happened. This one will easily be forgotten and you can see why it took so long to get released. (3/10)
Actor Review
Alexander Siddig: Adib ex military agent who goes into Syria to look for his daughter who has been kidnapped where he must face up to his former life that he has been away from for 20 years. Alexander struggles to make an impact in the leading role. (4/10)
Joshua Jackson: Paul the Canadian embassy employee who has a connection to the missing daughter but tries to help once he learns he is missing. Joshua doesn't bring anything to the party remotely interesting. (3/10)
Marisa Tomei: Fatima old connection and old flame that helps Adib get into the country but still hasn't forgiven him for leaving. Marisa has an Oscar right? What happened to her? (3/10)
Oded Fehr: Sayid colonel and old friend of Adib who knows the truth but has risen to power in the country. Oded looks the part of a potential villain but there isn't enough introduced to make us care if he is or not. (3/10)
Support Cast: Inescapable has a supporting cast that is full of people trying to stop Adib and a few helping him it gets confusing to who was helping who really.
Director Review: Ruba Nadda – Ruba struggles to put this together to make it interesting at all. (2/10)
Mystery: Inescapable does give us a mystery to try and solve but in the end not enough to make us interested. (5/10)
Thriller: Inescapable should really be an edge of your seat film, simple put it isn't. (3/10)
Settings: Inescapable uses the settings well to show the perils of something so simple in a secretive country. (8/10)
Suggestion: Inescapable is one to miss, I don't think many people will enjoy it that much at all. (Skip It)
Best Part: Hard to pick anything.
Worst Part: So Slow
Believability: No (0/10)
Chances of Tears: No (0/10)
Chances of Sequel: Please no
Post Credits Scene: No
Oscar Chances: No
Budget: $4 Million (CAD)
Runtime: 1 Hour 33 Minutes
Tagline: You can never escape your past.
Overall: This is so slow moving it just doesn't pull you in at all.
Rating