When I ask you to name popular operating systems, you might say Android, iOS and Windows without any difficulty. But after these three, you might have some difficulty recalling names of more operating systems. If you are more technologically aware, you might also add to the list OS like MIUI and Cyanogen. These are commonly considered as the most popular smartphone operating systems. But did you know that there is a 'made in India' operating system that is winning over all these, except Android?
Yes, as per Counterpoint Market Research, Q1 FY 2016-17, Indus OS has surpassed most of the operating systems and has emerged as second most popular operating system in India. As per the report, out of 24.8 million smartphone devices sold in India in Q1 FY 2016-17 , 1.4 million smartphones had Indus OS. Indus OS is seeing about half million activations per month. Yes, per month. And it is growing at a rate of 150%. No wonder that the company expects to double its activations within next 6 months and to power 1 in 6 smartphones in India by 2017.
The reason for this rapid popularity of Indus is the emergence of Indian brands like Micromax (uses Indus in several smartphones) in Indian mobile market. It is easy to see that homegrown mobile brands that are bringing out cheaper smartphones are giving a hard battle to bigger brands like Samsung, LG etc. And as more and more Indian brands pick up Indus, its reach is only going to increase. As far as I know, Indus is as yet present in only about 25 smartphones. But the huge popularity that these smartphones are enjoying has shot Indus up the ladder of popularity too.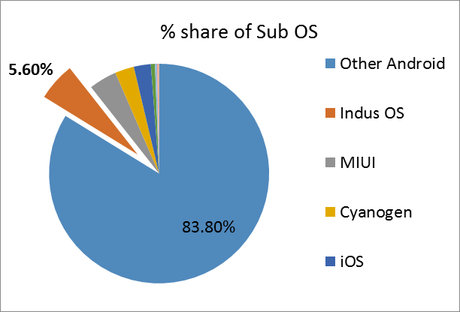 Indus OS is an altered version of Android. It is world's first Regional Smartphone Operating System. It has been designed especially for the regional language speaking users of the rising markets like India.
The highlights of Indus OS is that it is easier to use. It has been designed for users who want to use smartphones but aren't technologically inclined enough to understand complicated user interface. The simplicity of Indus OS helps such people use their smartphones easily.
To make it even easier for users, the Indus OS is available in India in 12 regional languages. These are: Malayalam, Telugu, Tamil, Odia, Assamese, Punjabi, Kannada, Gujarati, Hindi, Urdu, Bengali, Marathi. Indus OS has a complete regional ecosystem which includes patented keyboards, auto-correction technologies for regional languages, transliteration support and also matra-prediction features. This makes it easier for people to user regional languages on their smartphones.
Indus OS also has the support on Government of India. In fact, in December 2015, Indus OS collaborated with Ministry of Communications and IT's DeitY (Department of Electronics and IT) to develop text-to-speech technology for regional languages. With so much focus on the development of smartphone technology for regional languages, Indus OS seeks to help more and more people to become smartphone users with ease.
I think users of phones with Indus OS should be able to download Android apps as Indus is based on Android too. However, Indus OS has its own app store too. It is called . It claims to be world's fastest growing regional marketplace of smartphone apps. It already has more than 25,000 regional language apps, and the number is steadly growing. The App Bazaar allows users to download even paid apps without using any credit card or email identification.
In short, Indus OS is a regionally developed operating system aiming to make it easy for people to start using and enjoying their smartphones. It has support for 12 regional Indian languages and its App Bazar has plenty of regional language apps to give its users all the necessary smartphone functionalities. No wonder it is gaining such rapid popularity among brands that focus more on bringing out cheaper mobiles for budget buyers and first time smartphone users.
The success of Indus OS can also be judged from the fact that it has won the TiE50 (Silicon Valley) Top Start-Up Award 2016 and also the Economic Times Telecom Award 2016 for 'Innovation in Developing OEM Product'.
Know more about the Indus OS
Check out App Bazar