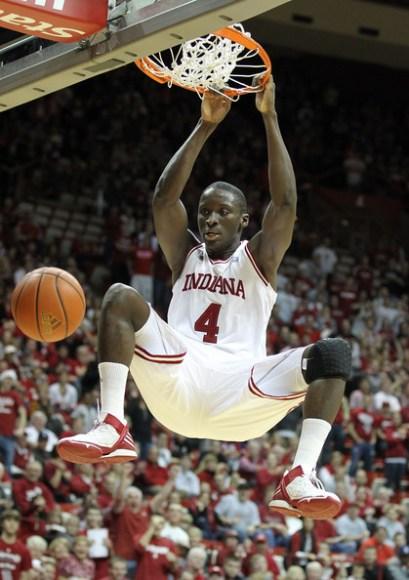 If he keeps this up, Victor Oladipo may just take home this year's POY honors.
Seeing how I gave both teams a pretty respectable pre-March Madness review, I thought I'd take some notes on two potential final four teams as they went head-to-head in a marquee matchup on Tuesday night. It was a phenomenal game, the energy in the Breslin Center was electric and it felt like a final four game. Cheers.
7:02 PM- Just tuned in, great to see Magic Johnson on the commentating crew with Dick and Mike. Energy is already hyped up and fans are looking sufficiently sauced and ready for a potential classic.
7:05- Tipoff, house is rocking. I miss college, these kids look inebriated and loving life. At UCSB we had the Thunderdome, these guys have Magic Johnson calling the game, a little disparity there.
7:08-Strong start for both teams, I can already tell that Indiana has come to play. ESPN has correspondents all over the place, definitely a hyped matchup.
7:14- Spartans up early 11-10 with 15 minutes left in the half. Watford hits a three, sound familiar Kentucky fans? If Watford can consistently make that shot I see Indiana going to the final four, cutting down the nets down in Atlanta also a strong possibility.
7:16- Yogi Ferrell's step-back jumper from 15 feet out makes me think the same as well.
7:16- Adreian Payne with a wide open 3-ball? Please and thank you. He is NBA material. Always loved his toughness. He has the physical frame that could take him far and provide him with a steady career if he stays healthy.
7:17- I predicted 65-53 (Michigan St), and this feels like an offensive slugfest at the moment. Most Big 10 super matchups either start out insanely fast-paced offensively or at a snails pace. This is the former. I have a feeling scoring will take a back seat in the second half and the game will tighten up and become a good old fashioned Big 10, deep into the shot clock, half court set dogfight.
7:34- More of the same for the last few minutes. These are definitely two number one seeds. Good transition defense, guard play is outstanding, a slugfest in the making. IU 25, MSU 20
7:37- Oladipo with the slam. Showing why he is a frontrunner for POY, pure athleticism and has incredible decision making skills. With 5:05 left in the half he's accrued 7 points (3-3 fg), 3 rebs, and a steal. He had a bad turnover right after the slam, showing he still has some holes, but who doesn't.
7:46- Valentine's no look dump off to Nix was supreme sauce.
7:52- Good no call by the officials. Letting the boys play a little bit, I am a fan. IU 36, MSU 30.
At the half some comments. Many missed shots by both teams, started hot but IU's defense held MSU down a little bit. Fast paced half that was exciting to watch. Quality shots taken by both teams, overall very solid defense by the Hoosiers.
Some adjustments,
Indiana: Zeller needs to get the ball on the block but Michigan State's two big man combo of Nix and Payne has proved effective for the most part. Oladipo is going to have his game, taking Hulls out of the equation and keeping Watford from being the X-factor are musts if the Spartans want to get win.
Michigan State: Payne needs more touches, so does Nix. They have some size down low and they need to exploit that. Keith Appling has been a no-show thus far, he needs to step up or this could get ugly in the second half. Payne is the key here, he is too big and too strong for Zeller, getting him involved (and I don't mean three pointers) is a must. Like the way Valentine has been involved thus far, and Nix is competing down low. Make some shots and play smart with limited turnovers while containing Oladipo/Zeller combo and the Spartans have a chance.
8:09- 2nd half starting, laughing at how drunk the older guys (alumni probably) are sitting directly behind Dick, Mike, and Magic are. Pretty excited.
8:10- What a pass from Payne, that will be there all day with IU having to double Nix on the left block
8:11- Wide open Zeller, a #1 seed cannot give up that shot to a POY player with any sort of consistency and expect to win.
8:18- Harris with the huge steal and dunk, saved the easy lay-up, shifted momentum, a huge play by the freshman stand out.
8:25- Whistles have gotten tight after this Oladipo foul.
8:28- Harris for a 3, followed by an IU turnover, transition lay-up by Dawson finally gives the Spartans the lead. MSU 49, IU 48
8:30- Zeller gives Costello a taste of his shoulder yet they call it a blocking foul on Costello. A foul plus the bucket gives IU the lead. IU 51, MSU 49.
8:31- Magic says Zeller is the most complete player in college basketball, I don't think I have a problem with that, except that Victor Oladipo is on the same team and is a better player IMO.
8:35- Ref's really need to ease up on the whistle, this isn't twitter but, #lettheboysplay
8:39- 2 shots for sophomore Remy Abell. Magic makes a great point, IU pushes the ball relentlessly, giving the Spartans little time to set up defensively. Abell makes both. IU 57, MSU 51.
8:40- Adreian Payne slams home the monster dunk and gets the crowd on it's feet once again. Showing why he is a lottery pick IMO. IU-57, MSU 55.
8:42- Oladipo crosses up the defending from 20 feet out, goes down the middle and switches hands mid-air for the acrobatic lay-up. Dick says "Jordan baby", Magic says "A Jordan and D-Wade comb). Easy there guys, I know he is exciting right now, but, easy…
IU 59, MSU 55.
8:43- Payne with a huge 3 pointer. Good lord he is coming up huge tonight. If the Spartans pull out the win he is definitely player of the game (although Gary Harris is making a strong case, this kid has some talent).
8:47- Yogi at the line for 2, misses them both! Huge misses by Ferrell. IU 59, MSU 58.
8:48- Payne is an absolute beast right now, down the lane for 2, giving MSU the lead. MSU 60, IU 59.
8:48- Moving screen called on IU, but MSU turns it over quickly, stolen by Oladipo with a monster slam on the other end, this looks like it could be a momentum shifting play. Oladipo has 5 steals currently, IU back on top, after the MSU miscue.
8:51 Victor shoots a pretty bad 3-ball, unnecessary, don't try and do too much man, be patient. This bad shot leads to 2 FT for the Spartans. As they say, a bad shot is the first pass on a fast break. 4:26 left to go in the contest. Valentine hits both for the Spartans, giving them the lead again. MSU 62, IU 61.
8:56- Turnover by Watford after a bad pass by Zeller out from the low block. A POY candidate like Zeller should not make a pass like that in the final 5 minutes of a huge, huge game.
8:57- Nix with the work down low, following his misses and the basketball gods reward him on his fourth attempt. Spartans up one.
8:57- Nix again down low! What a beast. MSU 66, IU 63 with 2:19 left.
9:05- 2 Shots for Gary Harris, he has had a huge game, missed the first. Huge FT coming and he calmly drains it. 4 Point lead for the Spartans
9:06- Watford down the middle and converts, plus the foul. Loving Watford's skill set, strong and physical with a nice shot to back it up. That's 4 fouls on Adreian Payne, have to be smart if you are him right now. Watford connects on the FT, cutting MSU's lead to one with 1:20 left.
9:07- Bad foul on Zeller at half-court going after the steal on Appling. 1-1 for Keith with 1:09 left. IU making offense-defense substitutions, (Jordan Hulls for Sheehey). Appling where the hell have you been tonight?
9:08- Bad-set up by the Hoosiers right now. 54.1 seconds left, wise timeout called by Tom Crean. They go right to Oladipo, Ferrell misses the shot but Oladipo is there for the tip-in with 39.5 seconds to go! IU 68, MSU 67.
9:10- Timeout Spartans, this is getting intense, this game, without a doubt has a tournament vibe to it. The Breslin Center has got to be one of the best places to be in the country right now (maybe except Vegas, just because its Vegas, I want to go with my girlfriend again, soon perhaps!).
9:11- Nothing going for the Spartans, Timeout Izzo and his crew. 21.8 seconds left (11 on the shot clock).
9:13- Clock did not start!!! Official review, get comfy kids.
9:15- 13.8 left, IU ball, MSU needed to foul yesterday.
9:18- Oladipo gets free, beats Gary Harris down the court ending in a dunk to give the Hoosiers a 3 point lead.
9:19- 7.0 seconds left, timeout Spartans. IU 70, MSU 67.
9:20- Gary Harris is fouled on the 3-point attempt!! Talk about pressure for the freshman. He missed the first, wow speechless. I feel bad for the kid. He makes the second, and the Spartans definitely need a forced missed with a desperation tip-in (Virginia Tech this weekend, if saw/remembers). Harris misses the 3rd, no play on the ball, Oladipo careens ahead for 2 more.
9:21- Game is over. IU wins 72-68. A very hard fought victory for IU. Very impressed, with this win they definitely are solidifying themselves as the overall number 1 seed for the tournament. Time will only tell, however.
Player of the Game: Definitely giving this to Victor Oladipo, 18 points, 8 rebounds, and added 5 steals to go with that. Controlled the tempo of the game and provided huge momentum shifting plays while staying solid defensively. He played better than Zeller and was able to will his team forward, something a POY has to do. Loving the energy this kid provides. My kid brother said, "if he were bigger physically, I'd say his game is modeling after Lebron's", what a huge compliment but scary bold claim to dish out.
Hope you enjoyed, I look forward to watching these teams play again, very entertaining and interested to see where they fall in the brackets, if anything two Big 10 teams are deserving of number one seeds. Take it easy, readers.