This post may contain affiliate links. Please read my disclosure.
This Indian Stew with rice and lentils create a complete protein in this one pot vegetarian meal. A combination of fresh vegetables and Indian spices give this stew a rich depth of flavor. Perfect for an easy family dinner!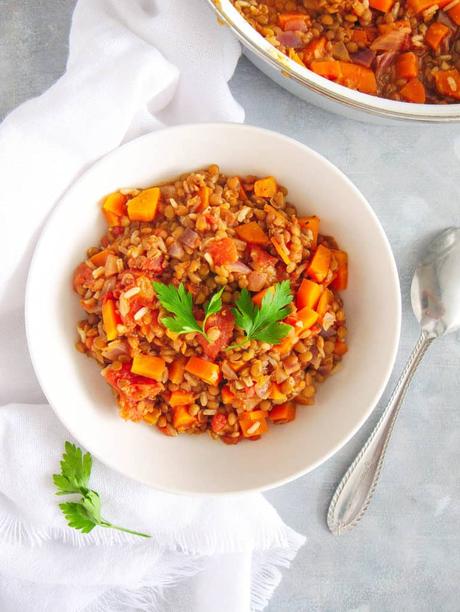 Lately I've been all about one-pot meals. They're easy to prep, easy to clean up and usually taste great since all of the ingredients simmer together on the stovetop! Rice & beans is a favorite in our family, especially with my kids (they could eat it every day - forever!) - but I wanted to change things up for myself! This version of rice and beans uses lentils instead of beans - and adds in warm, rich Indian spices to make it feel more a curry or a stew. It turned out to be absolutely delicious! It was super filling, tasty, and kid-friendly too.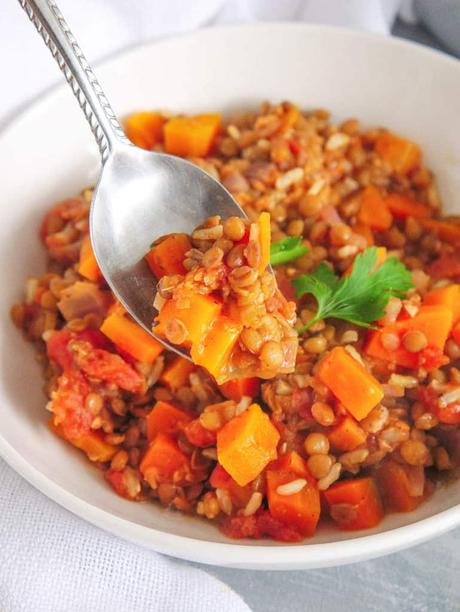 Tools and Equipment You'll Need For This Recipe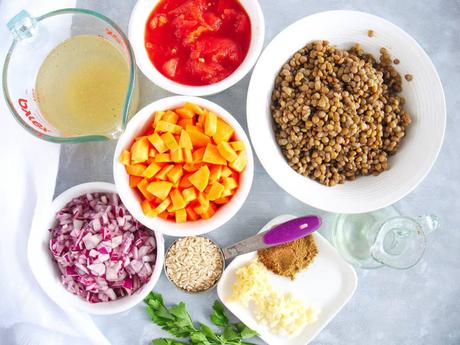 How to Make Indian Stew with Rice and Lentils - Step by Step
Step 1: Bring lentils and 4 cups of water to a boil in a large pot or Dutch oven. Reduce heat to low, and simmer 15 minutes, or until lentils are firm-tender. Drain and transfer lentils to a bowl.
Step 2: Wipe out pot; heat oil over medium high. Sauté onion in oil for 4 minutes, or until golden.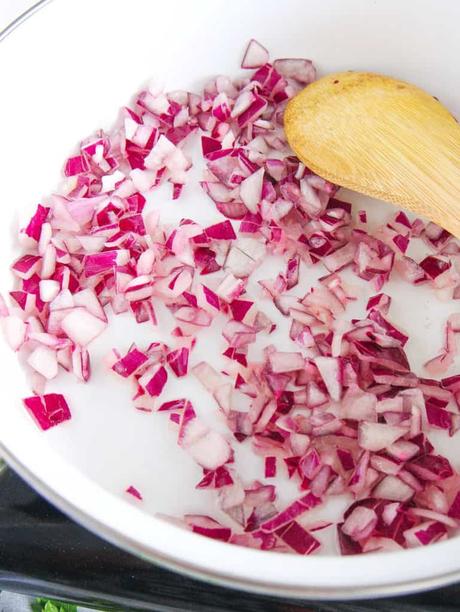 Step 3: Add carrots and rice, and cook 3 minutes, or until rice is toasted and fragrant, stirring constantly.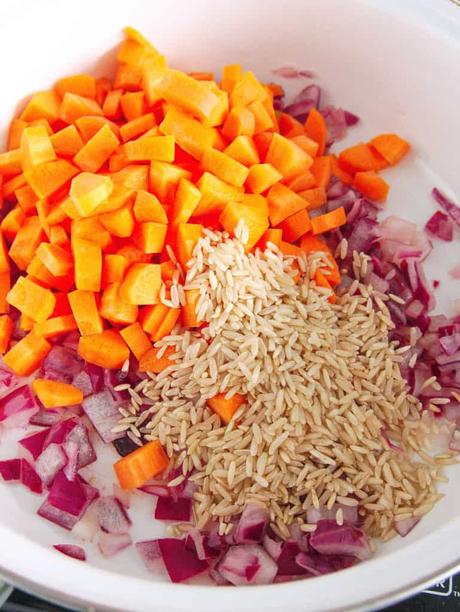 Step 4: Add garlic, ginger and garam masala, and cook 1 minute more.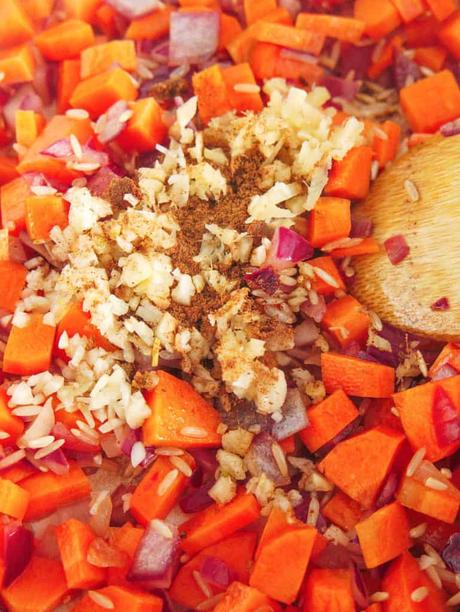 Step 5: Stir in tomatoes, broth, salt, and lentils, and bring to a boil. Cover, reduce heat to low, and cook 20 minutes, or until liquid is mostly absorbed and rice is tender.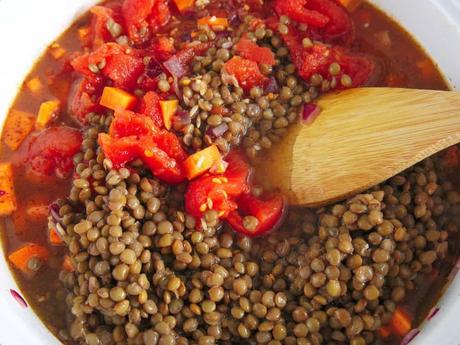 Step 6: Season with salt and pepper to taste. Remove from heat, cover, and let stand 5 minutes.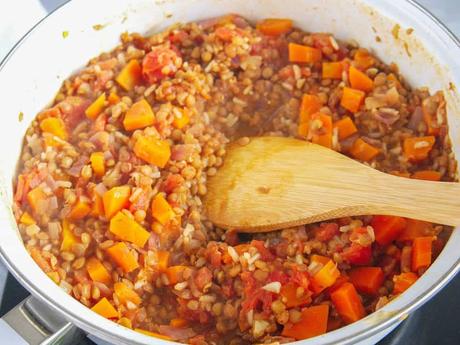 What makes this Indian Stew with Rice and Lentils healthy?
A Complete Vegetarian Protein Source: Lentils and rice when combined together in a meal create a complete protein source. One serving of this dish contains 9 grams of protein.
High in Fiber: One serving of this dish also contains 12 grams of fiber. That's nearly half of your daily recommended fiber in one meal! Fiber is essential for your digestive health.
Heart Healthy Ingredients: Rice, lentils, and veggies are all heart healthy ingredients. Using low sodium vegetable broth reduces the overall sodium.
Will kids enjoy Indian Stew with Rice and Lentils?
Lentils and rice is similar to rice and beans which is a kid friendly combination. The kids will enjoy the subtle spices. If you're not sure how the kids will like the spices you can reserve some of the lentils and prepare a side of plain rice, then serve with steamed carrots.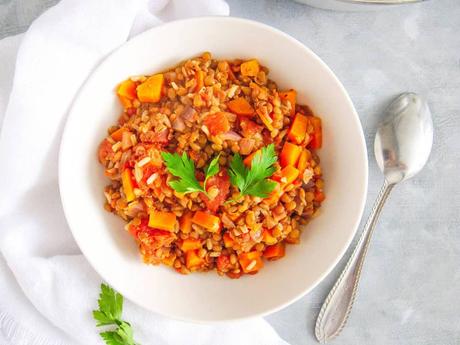 Why do you pair rice and lentils together?
When you pair lentils with rice you create a complete plant-based protein. Not all plant protein sources contain all of the amino acids to create complete protein source. However, when you pair two plant-protein sources together such as rice and lentils the two provide all of the amino acids to create a complete source of protein. They also taste delicious together too!
What is Mujadara?
Mujadara is an Arabic rice and lentil dish made with caramelized onions, herbs, yogurt, and often comes with different sides of sauces. While this recipe has rice and lentils it does not have the same flavoring and spices as mujadara.
What do you serve with Indian Stew with Rice and Lentils?
This recipe is a complete meal all on its own. It contains a complete protein source with the combination of rice and lentils, as well as added veggies in the form of onions and carrots, and fire roasted tomatoes. To increase the veggies I recommend the following sides...
Grilled Asparagus
Steamed broccoli
Roasted Cauliflower
Sweet Potato Hash
You can also serve this with sprouted wheat tortillas or whole wheat naan on the side!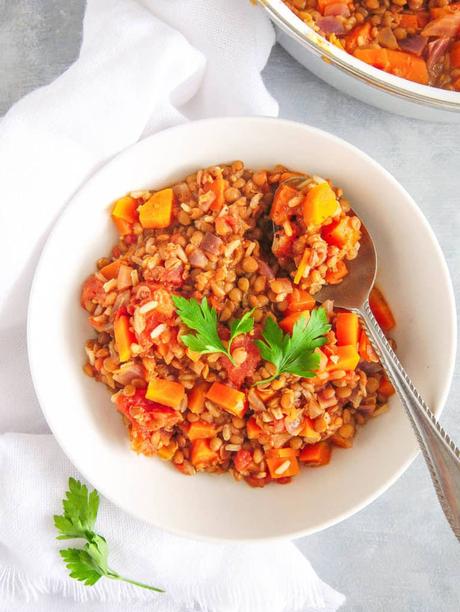 Top Tips for Making Indian Stew with Rice and Lentils
To save time use pre-prepared lentils (like the steamed lentils from Trader Joe's)
Use low-sodium vegetable broth to reduce overall sodium.
If you'd like to make this more of a pilaf than a stew reserve 3/4 cup of the lentil cooking water, and add it to the pot when you add the tomatoes and broth.
If you want to add more veggies, add 6 oz (about 6 cups) of chopped fresh baby spinach to this recipe. You can add in the spinach at the same time you add in the broth and tomatoes.
If you're making this for kids, feel free to reduce/adjust the spices or make them a plain version without spices on the side!
Check Out these Other Lentil Recipes!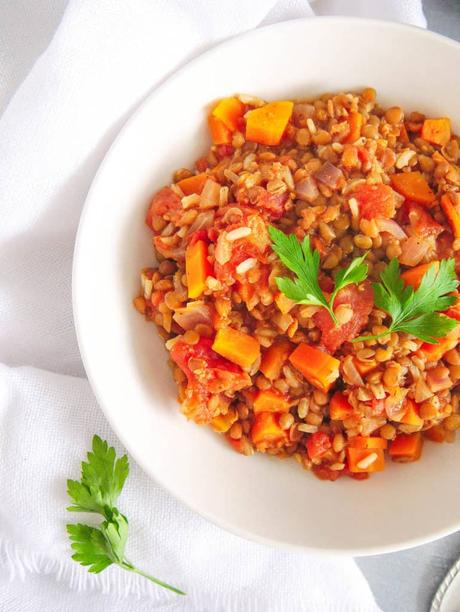 If you have tried this Rice and Lentils recipe, or any other recipe on my blog, then please rate it and let me know how it turned out in the comments below! You can also FOLLOW ME on FACEBOOK, TWITTER, INSTAGRAM and PINTEREST to see more delicious, healthy, family friendly food!
Rice and Lentils with Indian Spices