This post may contain affiliate links. Please read my disclosure.
This Indian Spiced Vegetarian Chili (or Rajma Masala) is thick and creamy: simmered in a rich tomato sauce with onions, garlic and ginger. It's easy to make, healthy, vegan, vegetarian and gluten-free, but so satisfying that it will please everyone at your dinner table!
What is Rajma Masala?
Rajma masala was one of my favorite dishes growing up. Made with red kidney beans, tomatoes and a blend of warm spices like ginger, garlic, cumin and garam masala - it's comforting, delicious and the perfect one-pot meal.
If you're new to Indian Food, think of Rajma as an Indian spiced vegetarian chili, usually served with rice or naan. Typically Rajma is made with raw kidney beans which are soaked and then cooked - but to save time I used canned kidney beans in this recipe. There are so many spice combinations you can use to make Rajma - that recipes can really vary. Some combination of dry mango, nutmeg, coriander, cumin, ginger, garlic, cardamom, pepper, etc. is typical. I used garam masala - which has many of these spices already combined to make this recipe even easier!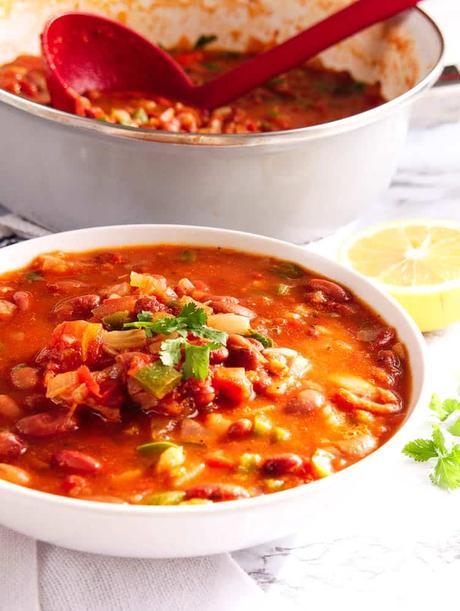 Traditionally Rajma has butter, cream, etc. added to it - but you don't need those ingredients to keep this recipe tasting great! My Indian Spiced Vegetarian Chili recipe is much healthier than the traditional version, without sacrificing any of the flavor.
How to make Indian Spiced Vegetarian Chili - step by step
Step 1: In a large saucepan set over medium heat, add the oil, onions and pepper, and cook, stirring occasionally, for 5 minutes.
Step 2: Add the garlic, tomatoes, ginger, cumin seeds, Garam Masala, lemon pepper, and dried red pepper flakes
Step 3: Simmer the mixture, stirring occasionally, for 10 minutes.
Step 4: Add the beans and salt and pepper to taste, and cook, stirring occasionally, for 10-15 minutes more.
Step 5: To achieve a thicker curry, you can mash some of the kidney beans with a potato masher and simmer on low heat for another 5 minutes, uncovered. Stir in the lemon juice and cilantro, and let it heat through for 1-2 more minutes.
Step 6: Serve warm with a sprouted wheat tortilla or naan on the side. Or serve with brown rice or quinoa.
What makes this Indian spiced vegetarian chili (Rajma masala) healthy?
Thanks to the kidney beans, this dish is a nutritional powerhouse: each serving has 9g fiber, 9g protein but only 200 calories! That means you can go back for seconds and even thirds with no guilt! Kidney beans are also:
Rich in vitamins and minerals like folate, iron, copper, manganese, potassium, and vitamin K1
High in fiber and protein
Low glycemic (keeps your blood sugar steady)
Heart healthy
Can you freeze this recipe?
Absolutely! It will keep in the freezer in an airtight container for up to 3 months. To reheat, just defrost it in the microwave on low and serve!
Is this Indian Spiced Vegetarian Chili Kid-Friendly?
Absolutely! This easy one pot meal is great for the whole family. It is full of flavor but not overly hot. Depending on how sensitive your kids are to "hot" spices like red chili flakes, you could leave out the red chili flakes + lemon pepper before giving it to your kids, and add it in just for the adult portions.
What can you serve with this Indian Spiced Vegetarian Chili?
Rajma masala is typically served with naan or white rice - but since those are basically refined carbs, I recommend serving it with some combination of:
Brown rice
Quinoa
Whole wheat pita bread
Sprouted wheat tortillas
Whole wheat naan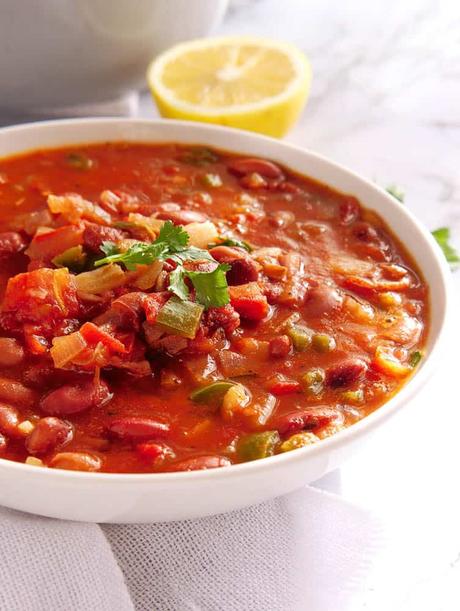 If you use dried kidney beans, soak them for at least 5-6 hours (ideally overnight) before cooking.
Cook the beans until they are well done. They should be slightly mushy in texture but still retain their shape (this will help for mashing the beans if you choose to - see the next point below 🙂 ).
For a thicker curry, mash the beans before adding in the lemon juice/cilantro and let it simmer for an extra 5-10 minutes uncovered on low.
Like most curries, this recipe actually tastes even better the next day! So if you're making it for a large group - I'd recommend making it the night before and refrigerating it before heating and serving the next day.
You can make a batch of this and freeze it - let the chili come back to room temperature after cooking and place in a freezer safe container. Defrost fully before reheating in the stove.
This dish is a great way to use up any extra veggies you have in the fridge - just dice them up small and throw them in the pot. Spinach stirred in at the end of cooking would also be tasty!
Top tips for making Indian Spiced Vegetarian Chili
If you have tried this Indian Spiced Vegetarian Chili recipe, or any other recipe on my blog, then please rate it and let me know how it turned out in the comments below! You can also FOLLOW ME on FACEBOOK, TWITTER, INSTAGRAM and PINTEREST to see more delicious, healthy, family friendly food!
Check out these other vegetarian curry recipes!
Indian Spiced Vegetarian Chili (or Rajma Masala)