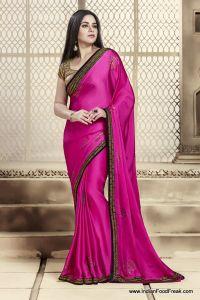 A traditional Indian garment, the saree is one of the most sensual items of clothing worn by women across the country. With variations in drapes and fabrics every state has its own to offer in both. Examples of drapes from the four corners of India starting from the North include:
North style – Ulta pallu also known as Nivi is the most popular way of draping a saree.
A glamorous style where you take the pallu from front over your left shoulder and leave it loose. The design on the pallu shows beautifully in this drape.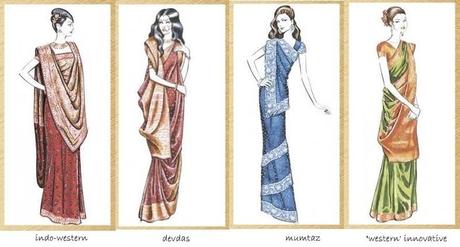 Bengali style – Two large pleats are tied in front and the pallu wrapped twice around the top.
In the traditional style, women wear it with a house key tied to one corner of the pallu.
Bengali handloom sarees are very popular and look beautiful draped in this style.
Maharashtrian style – Draped in a similar manner as the Maharashtrian dhoti, this style of draping is called kaashtha. The saree is tucked at the back and is usually worn using a single nine-yard cloth.
Kerala style – Mundu Neriyathum is a traditional saree of the women of Kerala. This comprises of two pieces ;  Mundu which is the lower garment wrapped around and tucked at the waist and Neriyathum which is the upper garment and draped over the blouse.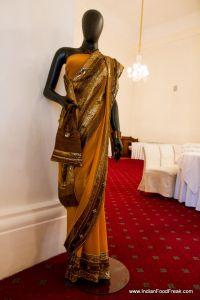 Although each style of drape has its own beauty and grace, my personal favorite has always been the
ulta pallu
or
nivi
style with the
pallu
being long and flowy.
India is very rich in textiles and each state has its own variety to offer in sarees whether woven, embroidered or using various techniques. Some of the popular Indian handloom sarees are Paithani, Kanjeevaram, Maheshwari,Kotah,Tussar, Chanderi, Baluchuri, Benarasi and Bandhini. Some popular embroidered sarees include Kantha work from Bengal and Chikan which is an embroidery style from Lucknow. Various techniques such as block printing, screen printing, tie-dye, batik and hand painting are also applied to design sarees.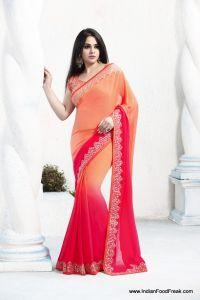 For years, handloom sarees ruled the scene until the trend of mill made fabrics like chiffon, georgette, crepe, satin and net sarees became popular. All these fabrics have a beautiful fall, drape well and look graceful and alluring. The sheerness of chiffon, net and georgette compliment a woman's body beautifully – one doesn't have to reveal to look sensual.
Personally, I think a woman who carries herself well in a saree stands out over those wearing the best of international brands, gowns or dresses which are in vogue. Westernisation has seeped into Indian culture so much that Indianness seems to be disappearing from all areas. As an Indian fashion designer I have only one thing to say and that is that nothing comes close to the look, feel and richness of Indian outfits especially the saree. I don't know any woman who doesn't look good in it.
Bollywood has always had a great impact on the taste and sensibility of people whether here in India or NRI's across the globe. Am I glad that directors and designers frequently present heroines in sarees, and beautiful ones at that, inspiring women across the globe to wear them.
I have always admired film actress Rekha's collection of Kanjeevarams. And when one of the most glamorous actresses wears this very glamorous garment, it is impossible to take your eyes off her.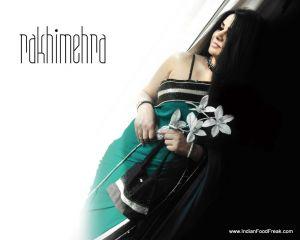 As a designer, when I launched my own label in year 2012, I couldn't think of any collection better than that of sarees to launch with. Nothing can compare with its versatility and grace.
As a child, I always admired the Indian Airlines air hostesses in their crepe printed sarees so neatly tied and so elegant. If I remember correctly, the uniform was primarily in two colors –  navy blue and maroon printed sarees. It makes me wonder why all the airlines that came in after Indian Airlines and Air India chose to have western wear as uniforms for their air and ground hostesses. I wish these ladies who do such an excellent job of attending to and serving passengers from across the world, would represent India in this very beautiful item of clothing.
Whether worn casually, or at weddings or as a uniform, the saree simply looks lovely. It is glamorous, elegant and graceful. It has a feel good factorand what's more, it can be worn by any size. So ladies….wear the saree, flaunt it, look good and feel good.
– Rakhi Mehra
Designer and Fashion Consultant