I don't go long without eating. I never starve myself: I grab a yummy snack.~ Sheeba Asariah
I bet you cant have just one!!!. This sure is a very yummy and addictive treat!! They are made using a rosette iron, its called 'achi' in tamil. Click here to buy one.
It is a traditional classic recipe. We as a family would make huge batches for
Christmas
. We used to have over 100 people visiting us for Christmas. It was a tedious process but it sure was worthwhile.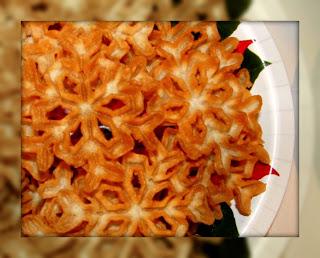 Rosecookies
Prep & Cooking: 1 hr
Cuisine: Tamil Nadu
Ingredients:
1  1/2 Cup maida
1/2 Cup Rice Powder
1 1/4 Cup Granulated sugar
Vanilla essence few drops
3 Eggs
water as required
salt to taste (a pinch is good enough)
oil for deep frying
Procedure

Whisk together eggs, , milk, granulated sugarand vanilla in a large bowl, then add salt and flour , do not overmix.

Heat oil in a pan with rosette iron in it until thermometer registers 370 to 375°F. Carefully lift out iron. Dip all but top edge of iron into batter for 3 seconds, then submerge iron in oil and fry until golden brown for few seconds. The iron should not touch the bottom of the pan.Shake the iron slowly and the rossettes will slide into the oil. Take it out and let dry on a paper towel. Make  rosettes by heating the iron in oil 10 seconds before dipping it into batter each time.