When my husband was around, and when I was still eating gluten, we used to go out almost every weekend.  We would look up and try new restaurants as often as we could, and Toronto certainly has a lot of them to try!   I would find a little place hidden in the mass of commercialism that is downtown Toronto, we would make a reservation and were usually pleasantly surprised with the food and ambiance of the smallest, least known restaurants.  In fact, personally, I tended to prefer the no-name restaurants to the big, famous, fancy ones.
Since I went gluten-free I don't eat out as much, though, and since my husband left for the UK last year September, I've not gone out much at all.  This is why I was so happy to get an opportunity to have a tasting dinner at the Indian Rice Factory with five other fabulous Toronto based bloggers.
I happened to catch a tweet from the Indian Rice Factory about wine made in India – and since my husband and I consider ourselves a bit of wine connoisseurs, I decided to ask about it.  I had never heard about Indian wine and was intrigued.

This is how I met Aman Patel, the owner of the Toronto legend,
Indian Rice Factory
.  You may not have heard about it, but Indian Rice Factory is actually about 42 years old and has been treating Toronto foodies to authentic and well-made Indian dishes for the entire time.  Originally opened by Aman's mother, Mrs. Amar Patel (now deceased, R.I.P.), Indian Rice Factory has stayed open through almost half a century of Toronto history and remains a successful and exciting restaurant to be discovered.
It's face has changed a bit physically, as it has had to grow with the times, just as we all do.  The food, however, the food remains authentic and delicious and the atmosphere remains friendly and welcoming.  Aman and his wife Deepa do a spectacular job of keeping their customers satiated and entertain in true Indian style.  You do not feel as if you are walking into a business place, but rather, get the impression of being welcomed into someone's home.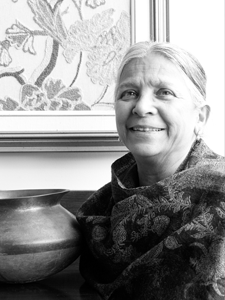 Mrs. Amar Patel
This is not to say that the restaurant itself is not professionally done.  The decor is modern and fresh and nothing at all like most of the other Indian restaurants around the city that tend to be dark, brooding and slightly depressing.  The artwork on the walls include originals done by anglo-Indian artistes, family heirloom pieces and personal photographs of the Patel family (mostly taken by Aman).
Indian Rice Factory has a spectacularly intriguing menu, with treats that you will not see in other Indian restaurants around Toronto.  The food is made from the freshest ingredients, many of them organic and is spiced perfectly so that you get the flavor without overbearing heat.  I have to thank Aman, because when he said he was going to do a tasting menu for us, I expected one or two plates.  Instead, he surprised us with a bountiful banquet of almost his entire menu.  He also matched two spectacular wines and a  high end sake with the plates he presented to us.  That's right.  Sake.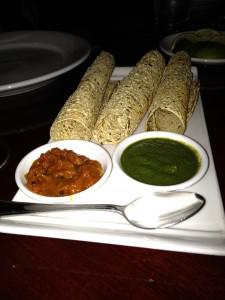 Pappadum with freshly made chutneys
Aman believes that you should get a holistic experience when you go to his restaurant, and he does not allow himself to be kept back by outdated, traditional concepts of food and alcohol pairings.  This is why he offers only the best alcoholic beverages he can find to compliment the flavours of his food.  He does not stick to the red wine with red meat mantra, but instead picks and chooses what alcohols would best suit a specific dish, not conforming to the typical and allowing himself the freedom of being able to choose from a wide variety of wineries from a huge demographic (including high end sake and indian wine for example!).
Also, I felt right at home in Aman and Deepa's company, they were very pleasant hosts and graciously were able to accomodate all (and you know there are many!) food allergies by making dairy free versions of some dishes, and even adding one extra bread dish that was gluten free for me to try.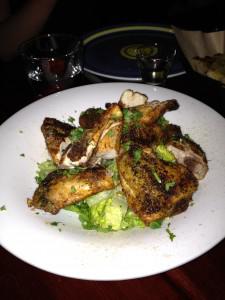 Cornish Hen
So, on behalf of Toronto foodies and any foodies that choose to visit Toronto any time within the next few years, thank you Aman and Deepa and all the staff at Indian Rice Factory for offering us the inspired experience of true Indian entertaining and for welcoming us into your family.
As for the meal that we were served, please see the following list for some of the dishes that Aman served us during our tasting *cough* banquet *cough*.  Also, please see my comments in italics next to my favorite items
STARTERS
crab cakes
papadam plate
chappli kebab – *drool* I think I need to go back just for these!
arbi tikki
pakora
goan vindaloo sausage
MAINS
tandoori fish (daily fresh sea bream) – So yummy!  One of my favourites but I didn't get a photo sorry    Was too busy eating.
shakari maas (local, conscientiously raised, hormone & antibiotic free beef)
butter chicken
choti murgi (fresh cornish hen) – Usually I don't like cornish hen, but this was really yummy!
lamb toronto (lamb with smooth spinach curry) – Lamb is another favorite of mine – and this lamb was spectacular!
guar - Possibly the most original and spectacular vegetable I've ever had.  I must find out more about this – and figure out how to cook it myself!
petha (asian pumpkin) – Pumpkin is always a crowd pleaser – and this version definitely did not disappoint!
chicken biryani two ways – I love biryani – brings back so many memories of university days!
pilao rice (lactose free) - I've never had such good rice.  I took the leftovers home (it was the only thing I insisted on having.  I let the others enjoy the rest of the leftovers!)
SIDES
naan (plain)
masala naan
garlic naan
raita
mint chutney
DRINKS
red wine: andeluna 2010 malbec, mendoza, argentina - I'm a red wine lover – and this was no disappointment!
white wine: silvio carta 2009 badde alva vermentino di sardegna, italy
gekkeikan black & gold junmai ginjo sake, california, usa - I usually  hate sake but this one had no burn and barely any bitter aftertaste.  I would actually drink this!