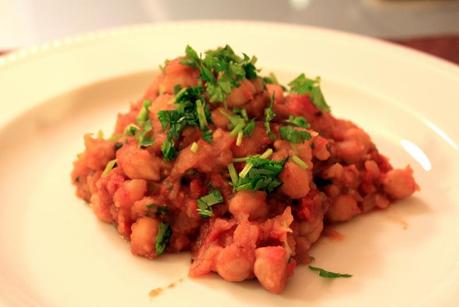 One of my favorite classic North Indian dishes is Chana Masala. It's basically chickpeas stewed with spices, curry and tomatoes.
When cooked correctly, it is delicious. But when cooked incorrectly (or when ordered from a $5-meal-open-all-night-Indian-takeout-place) it can end up being way too oily, way too spicy, and a great inducer of stomach-aches.
I've made Chana Masala in the past, and have often served it with a vegetable dish and either naan or rice for a well-rounded meal. But a few days ago, I wanted a quick one-pot meal that resembled Chana Masala, but had some veggies in it so I could forgo the extra dish.
I was inspired by this recipe from Eating Well. It combines the delicious flavors of Chana Masala with some veggies for a thicker-stew-like consistency. It's pretty quick to pull together, and after that you can just let it simmer on the stove until you're ready to eat.
The Ingredients
Makes 6 servings, 1 1/4 cups each
1 tablespoon extra-virgin olive oil

3 large onions, coarsely chopped (4 cups)

4 cloves garlic, minced

1 teaspoon cumin seed

1 teaspoon ground cumin

1 teaspoon ground coriander

1/2 teaspoon ground cinnamon

1/4 teaspoon cardamom

1/8 teaspoon cayenne pepper

Curry powder to taste

1 pound new potatoes, scrubbed and quartered

1 1/2 cups water

1/2 teaspoon salt 

1 19-ounce can chickpeas, rinsed

1 14-ounce can crushed tomatoes, preferably fire-roasted

3/4 cup chopped fresh cilantro

3/4 cup low-fat or fat-free plain greek yogurt (optional)
The Directions
Step 1: Chop all your veggies. Heat oil in a Dutch oven (or a large pot) over medium heat.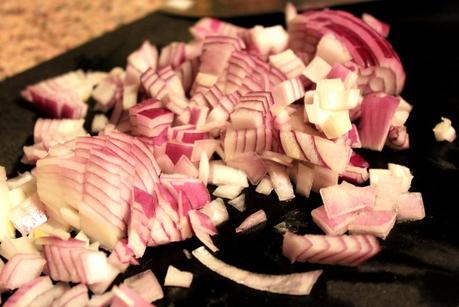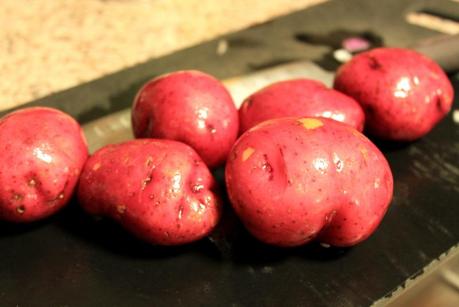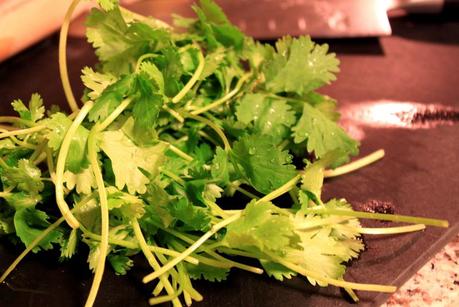 Step 2: Add onions to the pot and cook, stirring often, until fragrant and beginning to brown, 5 to 6 minutes. Add garlic and cook, stirring, until fragrant, about 1 minute. Add cumin seed, ground cumin, coriander, cinnamon, cardamom and cayenne; cook, stirring, until fragrant, 30 to 60 seconds. Add potatoes, water and salt; bring to a simmer. Cover and cook for 10 minutes. Add chickpeas and tomatoes; stir to combine.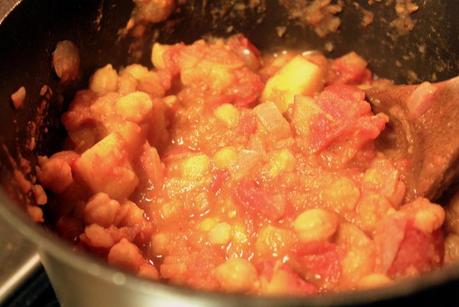 Step 3: Bring the stew to a simmer. Reduce heat to low and simmer, partially covered, stirring occasionally and adding 1/2 cup water, if needed, until the potatoes are tender, 30 to 35 minutes. Stir in cilantro.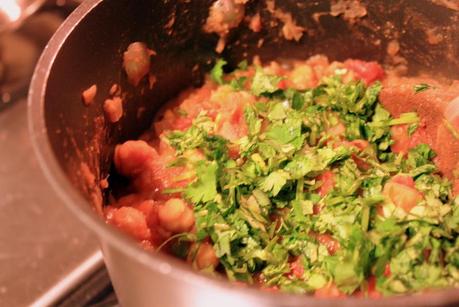 Once you're ready to eat, you can serve this with naan, rice or yogurt. An alternative way to serve this is to toast up some whole wheat burger buns, and use this as the burger "filling" along with some yogurt drizzled on top to moisten it and some chopped red onion for texture.
I chose to have mine plain, with naan on the side.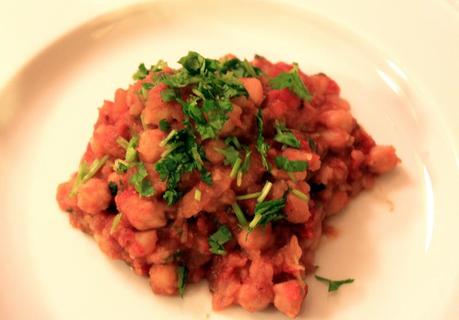 This dish makes great leftovers as well, because the flavors just get more pronounced the longer it sits! It's also extremely healthy: each serving has only 264 calories, 4g fat, 9g protein and 10g fiber. It really is a one-pot meal!