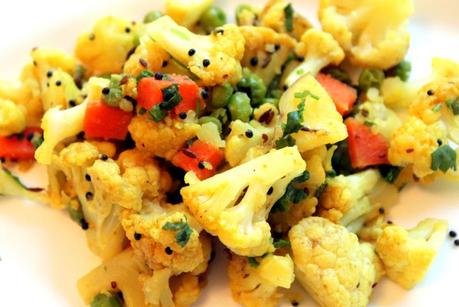 "Sabji" is one of my favorite types of Indian food.
It's basically different vegetables cooked with spices and curry flavors, and when it's made well, it can be a great way to get TONS of veggies into your diet. It's low in calories, high in fiber, and you don't even realize how much veggies you're eating because it is so flavorful!
Keep in mind, this is the home-cooked version of Indian food – a far cry from the creamy, heavier dishes you'd see at most Indian restaurants.
The "Indian restaurant" dishes are good for once-in-a-while special occasions, but this is the perfect recipe for a hearty Indian dinner at home. Oh and it's super easy to make – takes less than 30 minutes!
Just pair it with a whole wheat tortilla or brown rice, some lowfat greek yogurt or cooked lentils, and you have the perfect dinner ready to eat.
This recipe for Cauliflower "Sabji" comes straight from my dad's kitchen – it is a classic.
The Ingredients
2 tsp canola oil
1 tsp mustard seeds
1/2 tsp cumin seeds
1/4 tsp hing (aka Asafoetida)
1/2 tsp turmeric
1/2 green chile (like a serrano chile, kept whole, not diced)
1 small potato, diced
1 cauliflower head, cut into florets
1/2 cup frozen peas or 1/4 cup frozen peas + 1/4 cup frozen carrots
3/4 tsp salt
1/4 tsp ground cumin
Cilantro, chopped (as a garnish)
The DirectionsStep 1:
Cut the cauliflower and potato into bite sized pieces and set aside. I like to cut them into a similar size, then they cook at the same pace.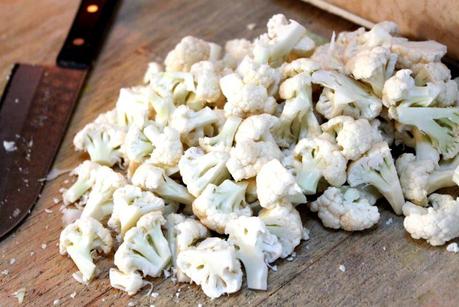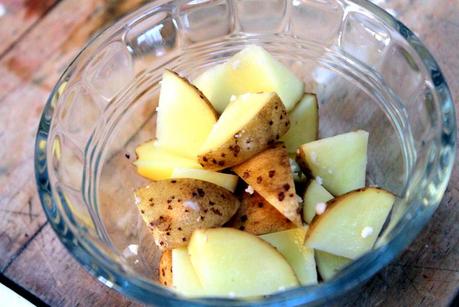 Step 2:
Heat the oil on medium high heat in a large skillet, add the mustard seeds and cumin seeds until they pop. Then add the hing, turmeric, green chile and potatoes. Stir for 15-30 seconds to combine. Then add the cauliflower, carrots and peas and stir again.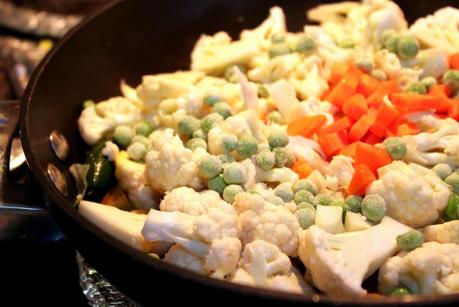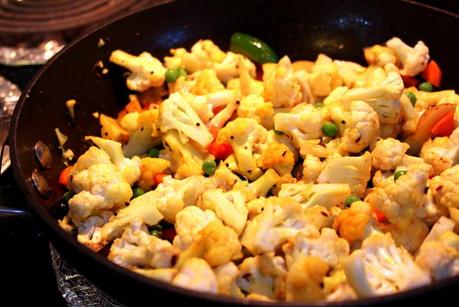 Step 3: Add the salt and cumin powder, cover and let cook on medium-low for 10-20 minutes (depending on how cooked through you like your veggies). Meanwhile, chop your cilantro.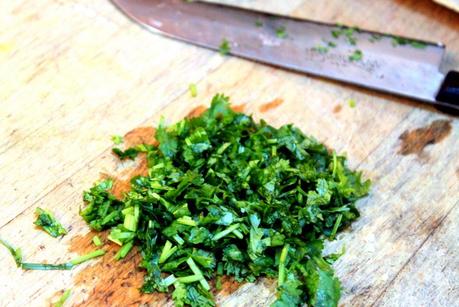 Step 4: Right before you're ready to serve the sabji, add the cilantro.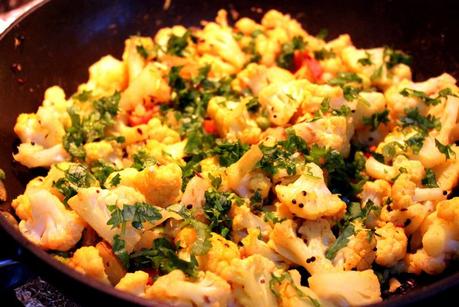 I love the colors in this dish! So vibrant and beautiful.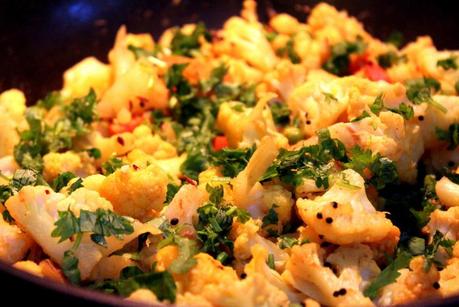 There's no way you won't like veggies after preparing them this way.
The husband loves this sabji – it's one of his favorites out of all my dad's sabji recipes. I'm equal opportunity when it comes to vegetables cooked with Indian spices – I love them all.
Sometimes I like spreading a bit of yogurt on a whole wheat tortilla and using the sabji as filling for a wrap, other times I'll eat it in the traditional way with rice and lentils and roti (basically freshly made tortillas), and quite often I'll eat it straight – as a snack when I'm passing through my dad's kitchen.
No matter how you eat it though, there's no denying how tasty and flavorful this recipe is. And for those of you who are new to Indian cooking – this is so easy to make – once you have the spices that's all you need to make this dish taste amazing.
I hope you love this recipe as much as me and my family do!