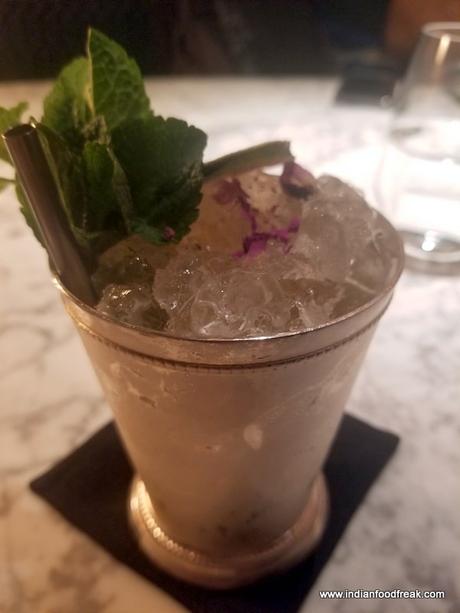 Having it's presence in India, New York and London, Indian Accent has been ranked the number one restaurant in India 3 years in a row. This stylish restaurant serving Indian cuisine with contemporary twists by Chef Manish Malhotra held number one position at the Condè Nast Traveller Top 50 restaurants of India 2017 as well. Nestled in London's Mayfair on Albemarle street, Indian Accent, as also in India is counted amongst one of London's posh restaurant offering customers a fine dining experience on progressive lines.
As you walk in through the main entrance, the welcome desk is right in front to greet you. A simply divine idol of Lord Shiva in a meditative mode is placed in a corner and cannot be missed , something rare that you do not get to see in this foreign land. The staff at the reception checks your reservation and takes your coats/ jackets that enhances your dining experience and you know you are in for a classy time. A glass cabinet in the lobby houses a large selection of whiskies. Dim lights, a combination of brass, marble and pearl lustured walls along with emerald green upholstery sets the tone of the restaurant.
A bank holiday weekend with scrumptious Indian cuisine in a restaurant with your family can be a lethal combination. Courteous staff with a warm smile hands over a menu card and you discover it is not a traditional menu but a contemporary one which had me pleasantly surprised. The menu speaks more of an International accent than Indian. So, picked up few keywords and some with the help of the knowledgeable and friendly staff selected the menu. If you are all set to have traditional food i.e from the tandoor or biryanis then you have hit the wrong place and will leave disappointed like my husband and son.
For lunch, they offer a two-course and three-course meal along with a' la carte. Two-course lunch includes first course, one main and one accompaniment plus additional courses at a la carte prices. Whereas three-course includes additional dessert apart from what two course offers. We opted for the two-course meal plus additional a la carte.
Our meal begins with Sticky wicket consisting of spiced pomegranate, Srilankan Ceylon cinnamon and Fresh pineapple followed by Albemarle Swizz (named after the street the restaurant is located on) that is designed especially for us, Londoners. Lemonade is our drink to go along.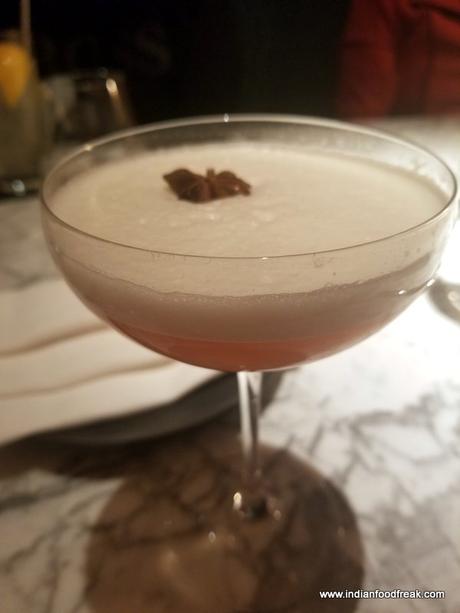 After drinks, complimentary Pumpkin and coconut shorba was served, a spiced pumpkin soup served in black mini ceramic mugs paired up with mini blue cheese stuffed naans. A nice gesture on the chef's part to show appreciation towards their guests that definitely works its way to customers hearts.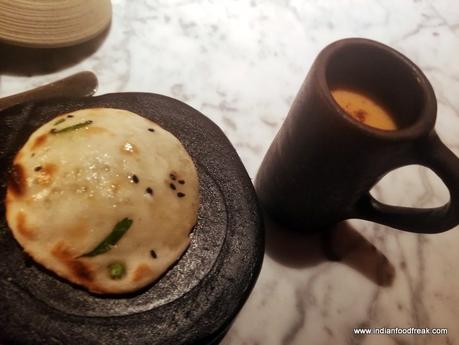 Our first course included Soy keema with quail egg served with lime leaf butter Pao. This was ordered on the lady servers recommendation. Every plate at Indian Accent has a story behind it. As Chef Manish Malhotra was raised in a pure vegetarian family, his mother would replace keema with soya granules, serving similar kind in an English country makes the flavor and texture resemble somewhat like Bolognese. The second thing we ordered was Potato sphere chaat with pea mash served beautifully in a black plate. It had a perfect blend of spices and flavours.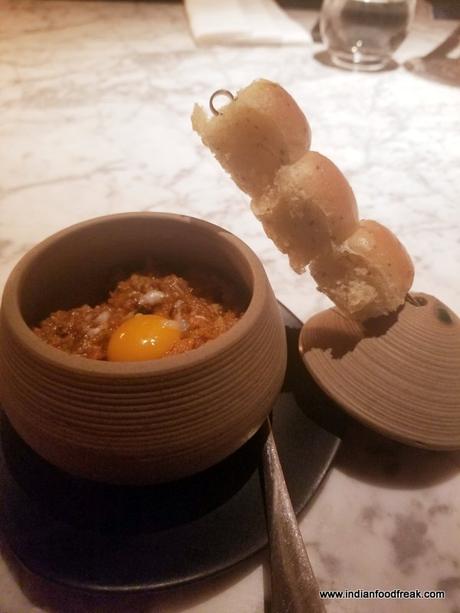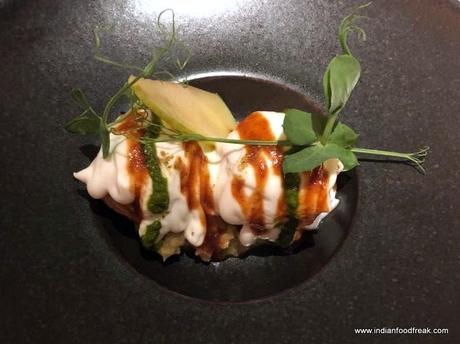 Next on the menu, under mains was Paper roast dosa. A combination of mushrooms and water chestnuts within paper roast dosa was quite unique. I liked the mild flavours but some dishes taste great as a one off trial and it's one of those. Not sure if I will equally like it on my next visit. Another dish was chicken kofta, Punjabi kadhi and onion Pakodas.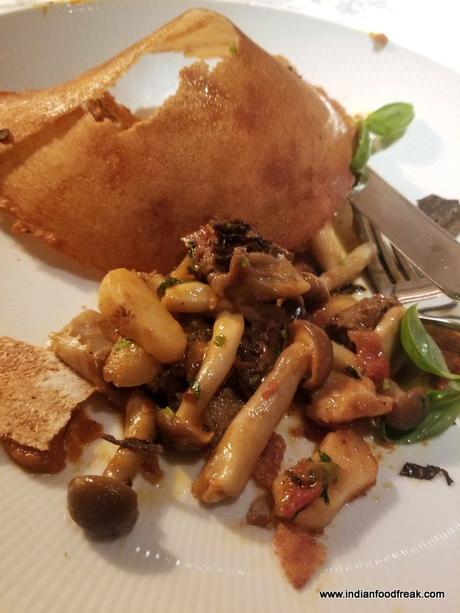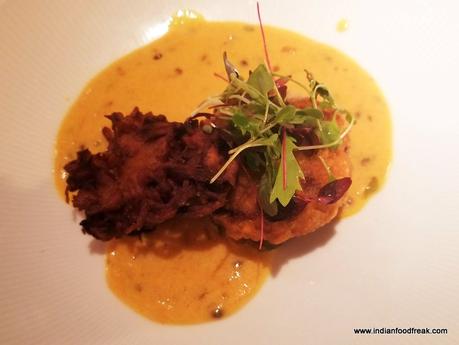 Under accompaniment we chose black dairy dal and naan. The portion size for the dal was really small. Not really enough for one that leaves your tastebuds delighted yet wanting for more. I am told my Indian friend that in India they are served unlimited portion till one is still hungry when they go for a set meal. I did not check nor anyone informed me if the same serving is available in London too.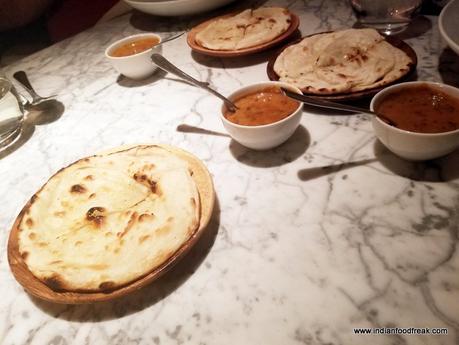 Last but not the least to end on a sweet note is a Punjabi speciality Dhoda burfi. Back home my aunt used to specially get it for me from Ludhiana. The dessert I ordered was Doda burfi treacle tart with vanilla bean ice cream. Must say I loved it and equally liked its sassy presentation.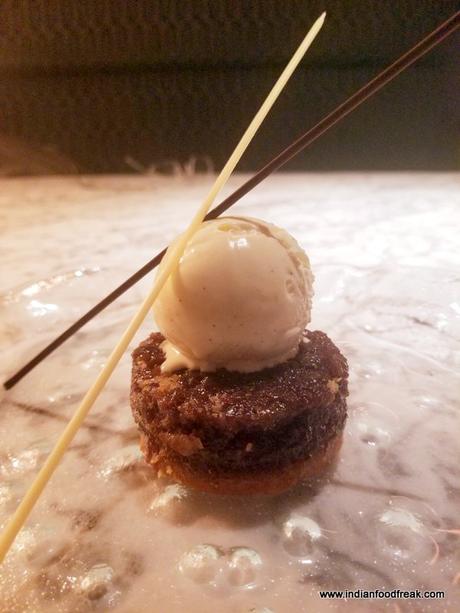 From drinks to desserts, the presentation is outstanding with impeccable hospitality and a customer friendly approach. Yes! quite a different experience from the usual traditional restaurants. The restaurant speaks of style and class and after my visit I realize why it is ranked number 1 in India with having gained popularity on foreign lands as well.
Ratings (out of 5):
Ambience: 4.5 | Food: 4.5 | Service– 4.5 | Overall: 4.5
Lunch for three: £123.75 | Credit card: Yes
Address: Indian Accent, 16, Albemarle Street, Mayfair, London, W1S 4HW | Phone: +44 207-629-9802
Disclaimer: This was an anonymous visit and full price paid by the reviewer
Deepa Sumbaly Kaul