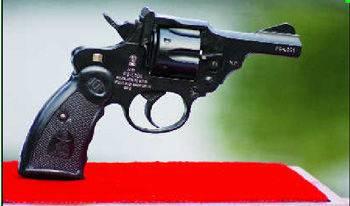 (Made by ordnance factory, Nirbheek weighs 500 grams and can fit into a purse.)
The Times of India reports
Giving more power to women to defend themselves and as a tribute to December 2012 gangrape victim Nirbhaya, the Indian Ordnance Factory, Kanpur, has manufactured Nirbheek, a .32 bore light weight revolver, India's first firearm designed for women. At 500 grams, it is also the first IOF handgun made of titanium alloy.
An Indian gun manufacturer has made its first gun intended to help women defend themselves against sexual violence.
The lightweight titanium alloy revolver is designed to fit easily in a handbag and was named in tribute to Nirbhaya, the pseudonym of a 23-year-old victim of a 2012 brutal gang rape that took place on a bus, reports the Times of India.
The gun was released on Jan. 6, and has received 20 orders. It is priced at 122,360 rupees, or around $2,000. Reports of sexual assault rose 6.4% in 2012 from the previous year, but some incidences are due to increased reporting, police say.
Now that's a helluva humanitarian effort to help the poor women of India, a gun priced at $2,000.
I guess gun manufacturers are the same all over, greedy bastards who pretend their product will help people.