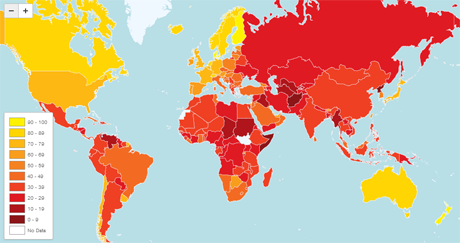 Since 1995, Transparency International's Corruption Perceptions Index has been putting corruption on the map by scoring the level of public sector corruption in countries around the world. What can we learn from this report — aside from the fact that corruption remains a widespread problem requiring urgent attention?
The top and bottom countries in this year's index are no surprise: once again, Denmark, New Zealand, and Finland are tied at the top of the list of cleanest countries, while Afghanistan, North Korea, and Somalia share the bottom spot as most corrupt. It is interesting to note the geographic, cultural, and economic diversity of the world's least corrupt countries. They include some of the wealthiest nations, such as Switzerland and Luxembourg; middle-income countries like Uruguay and Chile; small countries like Iceland and Barbados; and large, diverse societies like the United States.
One thing the least corrupt countries have in common: all but one of the countries in the top 20 is a democracy and is currently rated "Free" by Freedom House; Singapore and the territory of Hong Kong, also in the top 20, are rated "Partly Free." Thirteen of the top 20 also sit in the top 20 on the World Bank's Doing Business ranking. The bottom-ranked countries on the transparency index are also considered by Freedom House to be the world's most undemocratic, and, not coincidentally, are difficult places to do business.
Of course, few observers expected Denmark or North Korea to switch positions this year. But the failure of countries like Egypt, Tunisia, Libya, and Yemen to improve may be more more worrying. In 2011, popular revolts sparked by high levels of corruption (among other factors) led to a change of leadership in each these countries. The mandate for their new, post-Arab Spring regimes was clear: fighting corruption should be a top priority.
Unfortunately, the positions of these countries on the corruption index have barely budged since last year. Libya remains in the 160th spot, up from 168th in 2011. Tunisia dropped from number 73 to number 75, while Egypt fell from 112th to 118th. Yemen rose from 164th place in 2011 to 156th this year. Morocco, where protests in 2011 led to constitutional reforms, nevertheless dropped from 80th to 88th place.*
Real progress on corruption can take time. Nobody expected that solving the longstanding problem of corruption in these countries would be easy, and many are dealing with a messy and chaotic post-revolutionary political situation that requires setting up new institutions, writing new constitutions, and, in Libya's case, healing the wounds of a bloody civil war — all factors which increase opportunities for corruption in the short term.
But corruption is both an economic and a political problem, and the process of economic reform remains slow under these new regimes. Governments around the region and around the world must work to address the economic roots of corruption — including poorly designed laws and regulations that increase opportunities for bribery and extortion — if they hope to move up in next year's rankings.
* Note that Transparency International has changed its methodology in 2012 to make year-on-year comparisons easier. Therefore a small shift up or down in rank from 2011 to 2012 may not be indicative of a trend in any particular country.