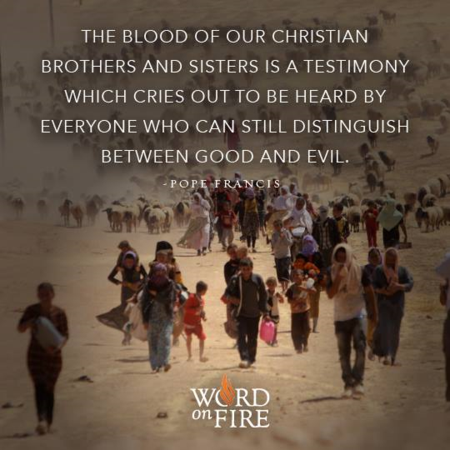 Kirsten Powers can still distinguish between good and evil as this brutally honest piece at USA Today attests:
Religious persecution of Christians is rampant worldwide, as Pew has noted, but nowhere is it more prevalent than in the Middle East and Northern Africa, where followers of Jesus are the targets of religious cleansing. Pope Francis has repeatedly decried the persecution and begged the world for help, but it has had little impact. Western leaders — including Obama — will be remembered for their near silence as this human rights tragedy unfolded. The president's mumblings about the atrocities visited upon Christians (usually extracted after public outcry over his silence) are few and far between. And it will be hard to forget his lecturing of Christians at the National Prayer Breakfast about the centuries-old Crusades while Middle Eastern Christianswere at that moment being harassed, driven from their homes, tortured and murdered for their faith.

A week and a half after Obama's National Prayer Breakfast speech, 21 Coptic Christians were beheaded for being "people of the cross." Seven of the victims were former students of my friend and hero "Mama" Maggie Gobran, known as the "Mother Theresa of Cairo" for her work with the poorest of the poor. She told me these dear men grew up in rural Upper Egypt and had gone to Libya seeking work to support their families. They died with dignity as they called out to their God, while the cowardly murderers masked their faces.

Rather than hectoring Christians about their ancestors' misdeeds, Obama should honor these men and the countless Middle Eastern Christians persecuted before them.

Monday, there was more horrifying news: ISIL terrorists released a video purporting to show more religiously motivated killing. According to CNN, before beheading and shooting two groups of Christians in Libya, a speaker said, "The Islamic State has offered the Christian community (the opportunity to convert to Islam or pay a tax for being Christian) many times and set a deadline for this, but the Christians never cooperated."

So they kill them.

Indeed, let's talk more about the Crusades.
Read the whole thing.
Pass it on.
She speaks truth.