By Susan Duclos
Archaeologists have found a "once in a lifetime" discovery in northeastern Guatemala. The carvings depic rulers and the gods, some decorated in jade. It is described as a well-preserved 26-by-8-feet frieze buried beneath a temple in Holmul. Approximately 200 years later a pyramid was built on top of the frieze.
According to National Geographic, the frieze "dates back to about A.D. 590, which corresponds to the Maya classical era, a period defined by the power struggles between two major Maya dynasties: Tikal and Kaanul."
The two kingdoms competed with one another for resources and for control of other, smaller Maya city-states. Until now, however, it had been unclear which dynasty Holmul owed its allegiance to, but an inscription on the newly discovered frieze reveals that the temple was commissioned by Ajwosaj, ruler of a neighboring city-state called Naranjo, which archaeologists know from other discoveries was a vassal city of the Kaanul kingdom.
"We now know that Holmul was under the influence of the Kaanul dynasty," Canuto said.
Concerned about preserving the frieze, they have re-buried the entrance tunnel to keep the humidity and climate around it stable.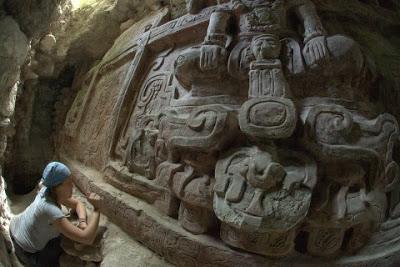 Frieze depicts human figures in a mythological setting

The frieze depicts three human figures wearing elaborate bird headdresses and jade jewelry. They are seated cross-legged over the head of a Maya mountain spirit. A cartouche on their headdresses identifies each of them by name. The central figure's name is the only readable one: Och Chan Yopaat, meaning "the storm god enters the sky."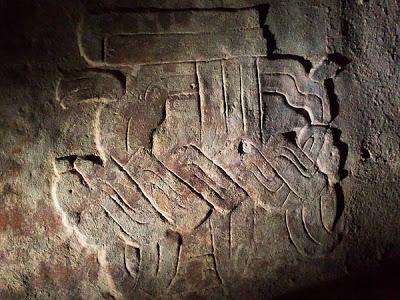 The emblem identifies the building as a royal lineage house that was probably dedicated to local rulers who were worshipped in the city as gods, Estrada-Belli explained.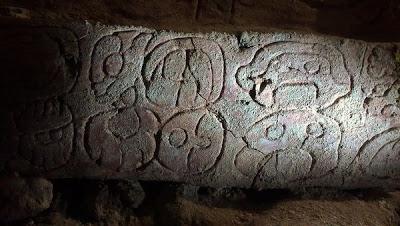 The inscription includes an unusual Maya verb that means "he put in order," followed by the name of an obscure deity that Estrada-Belli and his team speculate was a local patron god associated with the Kaanul dynasty.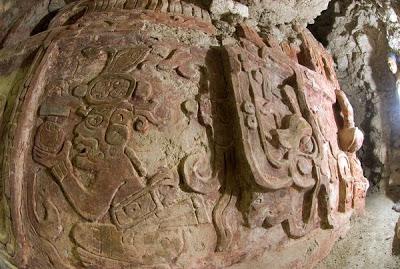 An ancestral deity holds a sign in both hands that reads naaah waaj, or "first tamale"—a reference to a sacred food offering—in this view of the south side of the frieze.