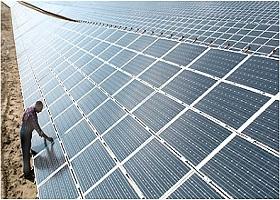 Research News Headline:
We discussed how heat waves fry the electric grid in an earlier article. Solar cells lose voltage in the form of heat--'wasted energy' when stacked together. Do you agree this novel technique can counter this, and improve the overall efficiency of solar energy devices?
North Carolina State University researchers developed, and published the technique in the journal Applied Physics Letters. This research claims it could reduce the cost of solar energy production, and allow solar cells to operate at solar concentrations of 70,000 suns' worth of energy without losing much voltage.
"We have discovered that by inserting a very thin film of gallium arsenide into the connecting junction of stacked cells we can virtually eliminate voltage loss without blocking any of the solar energy. Now we have created a connecting junction that loses almost no voltage, even when the stacked solar cell is exposed to 70,000 suns of solar energy. And that is more than sufficient for practical purposes, since concentrating lenses are unlikely to create more than 4,000 or 5,000 suns worth of energy. This discovery means that solar cell manufacturers can now create stacked cells that can handle these high-intensity solar energies without losing voltage at the connecting junctions, thus potentially improving conversion efficiency." Said Dr. Salah Bedair, a professor of electrical engineering at NC State and senior author of a paper describing the work (
reference
).
This should reduce overall costs for the energy industry because, rather than creating large, expensive solar cells, you can use much smaller cells that produce just as much electricity by absorbing intensified solar energy from concentrating lenses. And concentrating lenses are relatively inexpensive.
Do you find this research innovative? Let us know in the comments.
Read Research Publication HERE -- Image
Source
---
ENJOYED THIS ARTICLE? Subscribe via Email--Like Us on Facebook/Google+