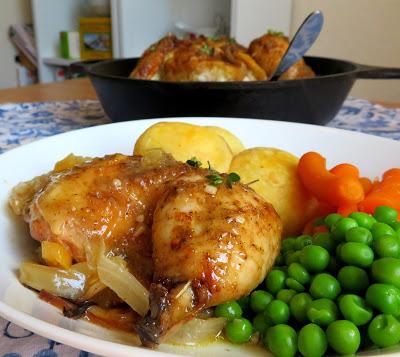 I totally adore Roast Chicken.  Its not something we had very often when I was a child, but a rare treat. I remember reading a book from the school library called "Chicken Every Sunday." It was a book about a boarding house and the landlady cooked a roast chicken every Sunday.  Ever the foodie I guess, I used to long for a roast chicken in our house every Sunday!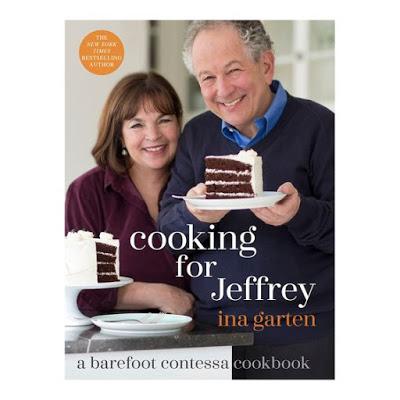 The recipe I am sharing today was adapted from the Ina Garten cookbook entitled Cooking For Jeffrey.  I bought my first Ina Garten book back in 2003 when I was hired to cook at the Manor.  I think it was her party one.  I wanted to be able to cook American as the family I worked for was American.  I fell in love with Ina's recipes and style of cookery.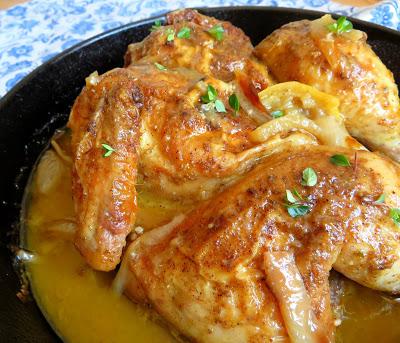 I have gone on to collect about 10 of her cookery books through the years, which is by no means the full extent of what she has published, but I am happy with what I have.  I have somewhat of a cookbook addiction.  (Amongst my many other loves!)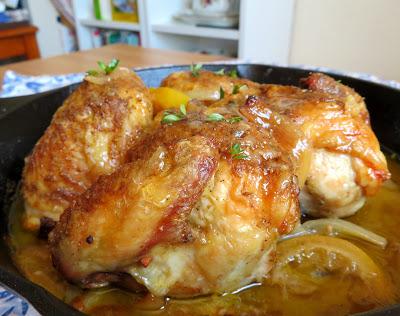 The first cookery book I feel in love with was my mother's Money Saving Cookbook by Ida Bailey Allen. Mom finally ended up giving it to me and it is considered to be one of my most valued treasures.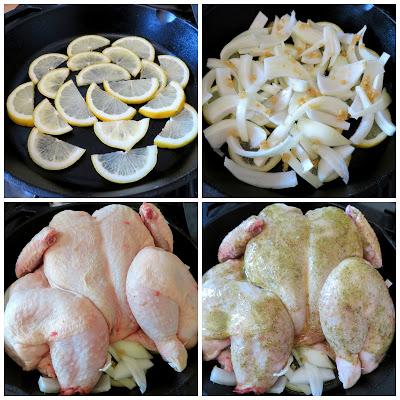 This is somewhat of an unusual recipe.  It is so delicious. You begin by spatchcocking a chicken and making a herbed olive oil.  You can see my
tutorial on spatchcocking a chicken here
.   It is really very easily done.  A good pair of kitchen scissors makes the job a breeze.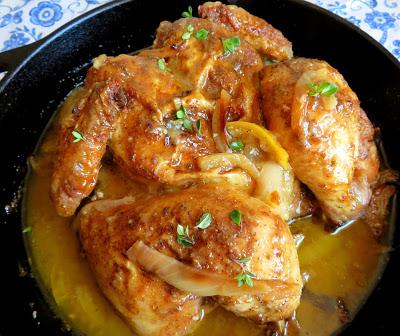 Sliced lemon and onion, along with some garlic are placed in a deep oven proof skillet and the butterflied chicken is placed on top, after brushing it throroughly on the underside with some of the herbed olive oil mixture.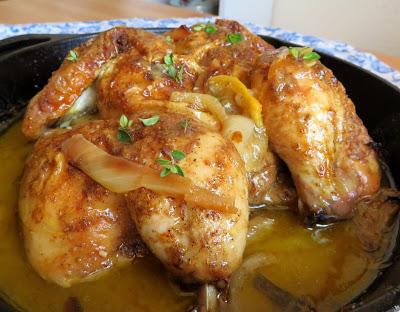 The herb mixture is made from fresh thyme leaves and dried fennel seed.  I ground it in my coffee grinder, but she recommends a small blender.  This gets mixed with salt and black pepper before stirring it into a good olive oil.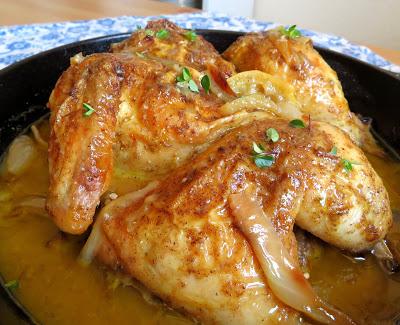 You brush the remainder of the herbed olive oil over top of the chicken.  And then you roast it in a very hot oven.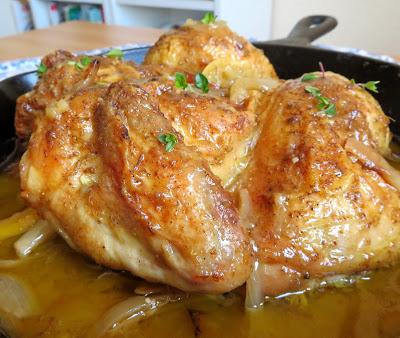 The temperature is pretty much as hot as my oven will go.  It cooks very quickly.  Half an hour on the high temperature and then you add some white wine to the skillet and cook it for 15 to 20  minutes longer.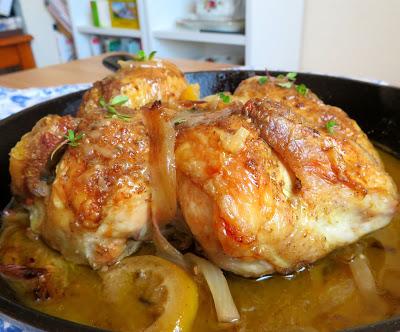 You will know when it is done.  The legs will twist easily and the juices run clear.  It will have a temperature of  72*C/150-160*F at its thickest point.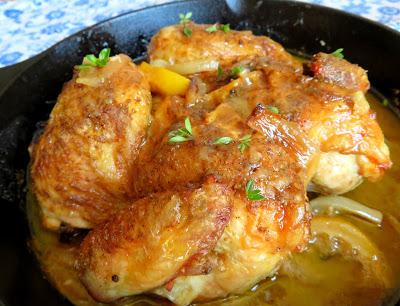 You squeeze the juice of a whole lemon over top of the chicken, cover the dish tightly with foil and then let it rest for a time.  Just long enough for you to get any sides in place that you may want to serve.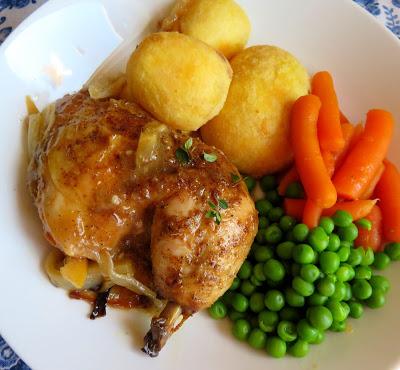 This is not a chicken with crisp skin  . . .  but it is a chicken with oodles of delicious flavour  . . .  so tender and  moist  . . .  succulent to the N-th degree . . .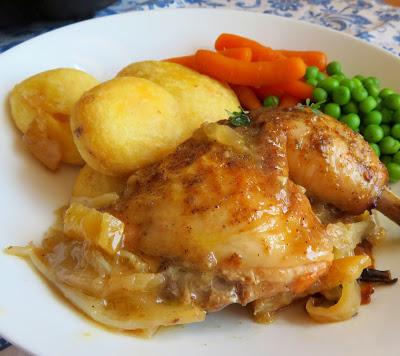 This is roast chicken to write home about  . . .  to dream about . . .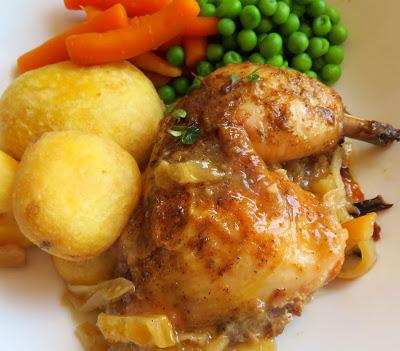 This is the roast chicken you will find yourself wanting to make again and again  . . .  I am not surprised that Jeffrey loves it.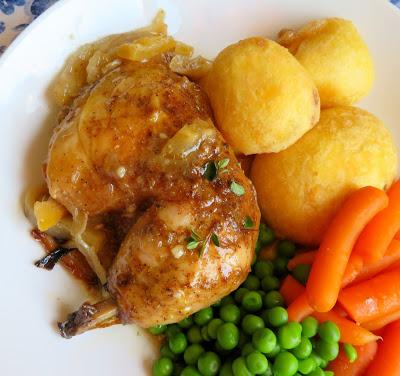 We love it too  . . . we
REALLY
loved it too!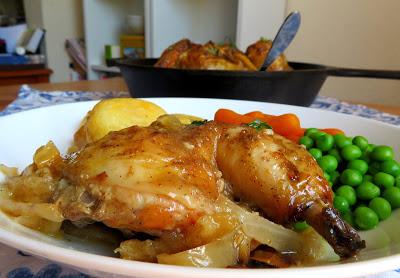 It was fabulous with the pan juices and some of the lemon and onion spooned over top.  I mashed the lemon up a bit . . .  oh boy, but it was some good!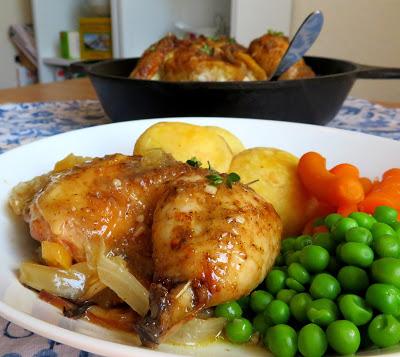 Ina's Skillet Roasted Lemon Chicken
Yield:
4
Author:
Marie Rayner
This is probably one of the most delicious roast chickens I have ever tasted. Adapted from a recipe in Ina Garten's cookbook entitled "Cooking for Jeffrey."
Ingredients:
2 tsp fresh thyme leaves
1 tsp whole fennel seed
fine sea salt and freshly ground black pepper
80ml extra virgin olive oil (1/3 cup)
1 whole lemon, plus the juice of one lemon
1 onion, peeled and then sliced into half moons
2 large cloves of garlic, minced
1 (4-pound) roasting chicken, backborn removed, and spatchcocked
120ml dry white wine (1/2 cup) (Pinot Grigio recommended)
Instructions:
Preheat the oven to 230*C/450*F/ gas mark 7.  Have ready a  deep oven proof skillet (or baking dish), large enough to hold everything. (I used my 10-inch cast iron skillet.)
Place the fresh thyme leaves, fennel seed, 1 TBS of salt and 1 teaspoon of black pepper into a mini food processor or spice grinder.   Process until ground. I did mine very fine. You can leave it a bit coarser if you want.  Measure out the olive oil and then stir the herb mixture into it.
Slice the whole lemon in half from top to bottom.  Lop off both ends and discard.  Cut the halves crosswise  into 1/4 inch thick halfmoons.  Place these into the bottom of the skillet.  Top with the sliced onion.
Spatchcock your chicken.  You can freeze the neck to make stock at a later date.  Brush the underside of your chicken all over with the herb/olive oil mixture.  Place skin side up on top of the lemons and onions.  Pat dry.  Brush all over with the remaining herb/olive oil mixture.
Roast in the preheated oven for half an hour.  Pour the white wine into the skillet around the edge, missing the chicken.  Roast for another 10 to 15 minutes, until the chicken tests done. (leg should move easily in it socket, juices run clear and temperature in the thickest part measure at 72*C/155-160*F
Remove the chicken from the oven. Sprinkle it with the juice from the other lemon.  Cover tightly with aluminum foil and let rest for 10 to 15 minutes.  Quarter the chicken, or cut into 8ths.  Sprinkle with some salt and serve hot with some of the pan juices, lemon and onions spooned over top.  Delicious!
Did you make this recipe?
Tag @marierayner5530 on instagram and hashtag it #EnglishKitchenCreated using
The Recipes Generator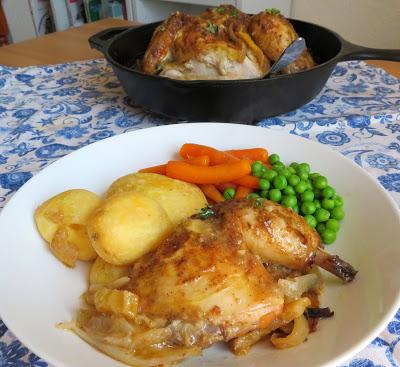 I served it simply with some roasted potatoes, carrots and peas.  It went down a real treat. So much so that I couldn't wait until Sunday to share it with you.  You NEED to make this.  If you love roast chicken and you love lemons, prepared to fall totally and completely in love with this recipe.  I guarantee! 

Follow my blog with Bloglovin