Getting to know some of our visitors was the inspiration for a new blog series, Visitor's Choice. In this series, we ask our regulars about their favorite artworks and why they like them. Since everyone has a unique relationship with art, some of the posts will be more in-depth than others, some might reflect the artist's intent, and some might have more of a personal meaning.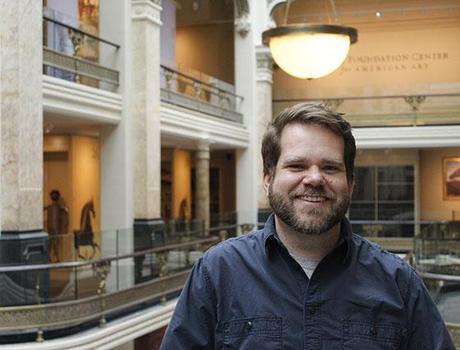 Cory Oberndorfer
Today, for our second Visitor's Choice, we spoke with local artist Cory Oberndorfer. We often see Cory wandering the galleries and he has also participated a few times in our Luce Foundation Center programs. He's spoken about Wayne Thiebaud's work, and most recently, he led our Drawing at Dusk program where participants sketched cupcakes!
Cory loves sweets and food, if you haven't noticed the trend. When I asked Cory about his favorite piece, this is what he said:
I am a big fan of food, pop art, and everyday items. On my last visit, I found Claes Oldenburg's Tea Bag in the Pop Art Prints exhibit and was taken by his use of materials. I also spend a lot of time searching for surprises in the Luce Center. One of my recent favorites has been Betty Spindler's Hot Dog, an oversized ceramic dog on a bun, complete with mustard and relish. It always brings a smile to my face and an urge to visit the street vender outside the museum.
Spindler apparently enjoys her hot dogs with mustard and relish, no ketchup. Like Cory, Spindler's work focuses on food and everyday objects. She hand builds her clay artworks and fires them before adding bright glazes.
Do you have a favorite piece in our collection? If you do, please stop by the Luce Center information desk. We'd love to hear about it!