If you haven't noticed, we are very excited about the upcoming exhibition 40 under 40: Craft Futures in honor of the Renwick Gallery's 40th anniversary as the museum's branch for craft and decorative arts! In anticipation of the July 20th opening, we at the Luce Foundation Center thought we'd join in on the celebration by highlighting two craft objects on display in the Luce Center by young artists in our permanent collection.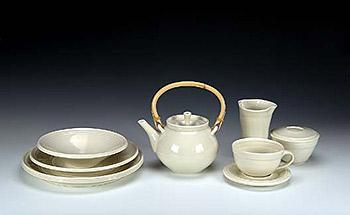 Dan Schmitt's Bowl, Creamer, Cup and Saucer, Large Plate, Medium Plate, Sugar Bowl, Teapot
Potter Dan Schmitt creates functional dinnerware and vases. The titles are rather basic as are the "white on white" colors that separate them from the other tableware in Case 54a. But in this simplicity lies the true beauty of his delicate porcelain works. Since the items are absent of ornament, we can focus instead on the elegant forms, the ridges that show their handmade quality, and the subtle glazes that cleanly finish the objects rather than decorate them. Schmitt also strongly advocates for the art of hand-crafted tableware. In an April 2002 edition of Ceramics Monthly, he states:
Handmade functional pottery gives people original objects that are expressive and interesting; they carry meaning and personality far beyond that of standardized products... Once we start looking at the making of handmade pottery more as a means to an end rather than an end in itself, we can better critique and discuss the role that making pots in a technological age really has.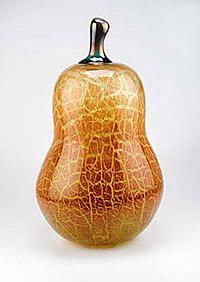 Bobby Bowes' Glass Pear
Two cases down in Case 56a, a brighter approach to contemporary craft takes shape. A pear shape, that is. Glass Pear by Bobby Bowes is exactly that: blown glass in the form of a large pear. What makes it distinct from the other glass-blown fruit in the case is its crackled brown-and-yellow color pattern, resembling the textures of real fruit. Yet the shiny, synthetic, glass surface contrasts the organic subject matter. Bowes learned to blow glass at San Jose State University and has since founded glass art studios, a non-profit entitled the Bay Area Glass Institute (BAGI), and a joint studio with his wife M.G. Walker. Like Schmitt, he also advocates for his craft, and his efforts to create a "harvest" festival of glass-blown fruit called The Great Glass Pumpkin Patch has become a major annual fund-raiser for BAGI and the Palo Alto Art Center, as well as a tradition for those in the area to experience an immense, unique expression of glass art.
Much of the Luce Foundation Center's 700+ wonderful works of metal, glass, wood, fiber, ceramics, and jewelry were created before Dan Schmitt and Bobby Bowes were even born! But like the pieces in 40 under 40: Craft Futures, Schmitt's tableware and Bowes' Glass Pear put the "contemporary" in our contemporary craft collection, providing a fresh take on mastered, traditional craft techniques.
Join the conversation about the upcoming exhibition on Twitter by following @americanart or using #renwick40. You may also help contribute to the museum's acquisition of works from the exhibition—a donation of $10 or more by July 15th will get your name in the exhibition credits! To browse more craft objects in the Luce Foundation's open storage areas, visit the craft section on our fourth floor or go to our website.
Happy 40th, Renwick Gallery!