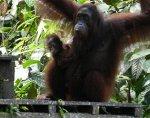 In the modern era, environmental news is high on the agenda for most organisations who report anything and everything from localised shrinking bee colonies to global
climate change
that affects almost everyone in the world. With so many different stories spanning the front pages and being in the headlines, we have collected a few of our top environmental and animal news stories from the week.
A blind orangutan has been released into the wild after a ground-breaking operation to restore her sight. Named Gober the rescued female was released into the forests of North Sumatra with her four year old twins. Sadly however, the male twin was abandoned with his mother on the first day and despite efforts by the Sumatran Orangutan Conservation Programme (SOCP) to help him adapt to the wild, he was eventually taken back to the rescue center where he can be cared for. To learn more about Gober and her story please click here.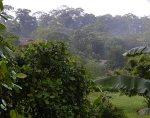 A breakthrough has been made by a team from Dundee in Scotland that could help to pinpoint the criminals that are poaching birds of prey. Discovering that they are able to recover fingerprints from the feathers of birds of prey that have been killed will hopefully mean that more people are brought to justice over the illegal poisoning, trapping and shooting of birds of prey not just in the UK, but all across Europe. To find out more please see the full article.
A new species of marine reptile has been found in fossils found on the Isle Of Skye. Thought to have lived around 170 million years ago, the creature named Dearcmhara measures 4.2meters from snout to tail and would have hunted fish and small reptiles in the shallow seas surrounding Scotland. The fossils have been collected from the island over the past 50 years which is a place that would have mostly been underwater during the Jurassic period. For further details please visit the BBC News Website.
According to a recent article by National Geographic, mass animal die-offs are on the rise with outbreaks of disease and increased human interference thought to be the main reasons why. After reviewing historical records between 1940 and 2012, researchers looked into 727 mass die-offs and found that over this period of time, such events became more common for birds, marine invertebrates and fish. If you would like to learn more about this growing issue then please see the National Geographic Website.
A small remote-controlled vehicle which looks like an baby penguin is being used to help researchers study emperor penguins in their natural environment. As these birds are very shy by nature they have proven tricky to study in the past so it is the hope of experts from the National Centre for Scientific Research in Strasbourg that the robotic penguin chick will provide a less invasive and stressful way to collect data on these species. To see this cute little chick in action please visit the CBBC Newsround website.