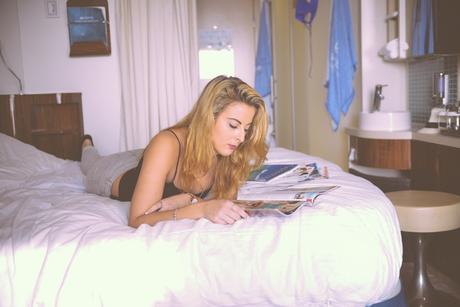 Millions of women admit their relationships are suffering - as a result of PMS, a study has found.
Half of women who suffer from painful cramps, bloating and mood swings associated with PMS, have seen it lead to rows, cancelled date nights, sleeping on the sofa, and silent treatment from their partner.
One in ten women even claimed it was the cause of a break-up, with another 18 per cent admitting that it has come close to ending their relationship.
And one in five men claim that their partner will not have sex with them while they are suffering from PMS.
The poll of 2,000 women, by Efamol, found 85 per cent of them suffer from some kind of PMS or its related symptoms - 47 per cent of which say this happens every month.
And 84 per cent say that their symptoms have affected their day-to-day life at some point.
But, while most admit that their symptoms are minor, 23 per cent class them as severe.
Forty-eight per cent of these women feel that their relationships have suffered at some point due to their PMS, while three quarters of those say that they often end up having lots of petty arguments with their partner due to their constant symptoms.
But it's not just women who are suffering; 52 per cent of men polled stated that their partners were more moody than usual during "their time of the month," with a further 30 per cent believing that they can't say anything right during this time.
Despite these obvious issues, PMS remains a taboo subject with 78 per cent of women admitting to suffering in silence and almost one in four shying away from talking to their partner about it.
Half of those put this down to feeling too embarrassed to talk to their partner about PMS or their period.
In fact, 45 per cent say that they don't think their partners want to know about it as it's "women's stuff."
One third of men polled said that they too shied away from talking to their partners about this, with 28 per cent stating that they find this too embarrassing to discuss with their partners, while 30 per cent don't want to embarrass their partners by bringing this subject up.
A spokesman for Efamol said, "While some women sail through their menstrual cycle with no problems whatsoever, for others, it can really affect all areas of their life.
"Our partners are often the ones who bear the brunt of our moods and emotions when we are suffering, and it seems this is having a lasting effect on our relationships.
"Unfortunately for most, PMS isn't a once-off occurrence like an illness; it can regularly hit you every month - and it's often something women will suffer through in silence.
"Even for the most understanding of partners, it can be difficult to know what to do.
"Incorporating food supplements, such as Efamol Pure Evening Primrose Oil, as part of a healthy diet and lifestyle, may help with symptoms of PMS, such as hormone imbalance, which affect your life at certain times of the month."
Our survey reported that cramping pains are experienced by 75 per cent of women, followed by bloating, fatigue or tiredness, and irritability, according to those polled.
More than a third of women polled reckon that PMS affects their social life, while 16 per cent believe the same can be said about friendships.
Dr Dawn Harper added, "It's obvious from the survey that there are many women out there suffering in silence every month from PMS symptoms.
"These symptoms are seriously affecting their relationships and daily lives.
"Encouragingly, 88 per cent of those polled admitted that their symptoms were alleviated with the help of medication or a natural remedy. I think of treating PMS a bit like finding the 'little black dress.'
"It isn't a 'one size fits all,' and there is clearly a role for alternative treatments with regards to PMS.
"Taking a supplement such as Efamol Pure Evening Primrose Oil has helped many of my patients."
Top ten most common PMS symptoms
1. Cramps
2. Bloating
3. Fatigue or tiredness
4. Irritability or emotional outbursts
5. Mood swings
6. Swollen or tender breasts
7. Spots
8. Headache
9. Food cravings
10. Backache
ENDS