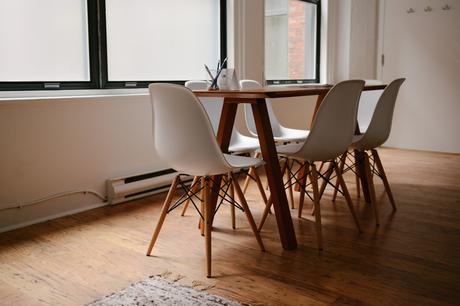 The average dinner table will endure over 2,400 family meals, 100 roast dinners, 10 Christmas lunches, 132 arguments and 93 'bombshell' revelations new research reveals.
A study into the eating habits and routines of 2,000 people pinpointed the heart of British meal times to reveal the buzz of activity our tables witness over the years.
The typical table will also endure 1995 drink spills, 1160 food stains and play host to 594 homework sessions, the study shows.
And it's not just the kids working hard; The research, which was commissioned by Giovanni Rana, Italy's most loved fresh pasta maker, shows the average UK adult will also complete an incredible 1,890 hours of admin or work on their dining table over their lifetime - the equivalent of 236 eight-hour work shifts!
Results showed that when sitting down to their evening meal Brits cover five different topics of conversation with film and TV the most common topic followed by general gossip then politics.
On average, Brits sit down to their dinner at 18.24pm and will take one hour four minutes preparing their food, but just 10 minutes to actually clear their plate. They'll then leave the table after 10 minutes.
Dr Nihara Krause, clinical psychologist, said: "Making time to incorporate a family meal together is a simple, enjoyable and effective way of building emotional resilience and social connection.
"It provides a regular opportunity for family members to communicate, which not only builds bonds, but also aids emotional development and reslience."
The dinner table will also see 1,101 meals go unfinished, host 259 tantrums and provide comfort for people falling asleep 312 times.
Nearly a third says they often avoid the dining room table because it's covered in papers or reminds them of work.
This might explain why it takes just over four minutes to set the table properly ahead of a meal -mounting up to nearly 25 hours across a year.
For a special meal, food preparation time jumps to well over an hour of prep to get things right.
And for dinner parties, Brits stay at the table for one hour and 40 minutes on average-far more than the 20 minutes spent at the table for a normal meal.
While bonding really takes place best at the table-more than half of those polled said they enjoy more conversation and find out more about their loved ones and how their days were at the table together than at any other time.
Maybe that's why nearly a quarter of people say the dinner table is the heart of their home, according to results.
Giovanni Rana, Founder and President of Giovanni Rana, said: "I have always passionately believed that the dinner table should be a place for sharing fresh and nourishing food and flavours with friends and family.
This has been my belief since I decided to become a pasta maker more than 50 years ago".
Antonella Paternò Rana of Giovanni Rana said: "Before Giovanni Rana's pasta 'revolution' in the 1960s fresh filled pasta was a dish served solely for special occasions at which the whole family gathered, such as Christmas.
"Giovanni Rana's creativity, focus on quality ingredients and skill as master pasta maker however, successfully changed the Italian way of living and mind set and fresh filled pasta, such as tortellini, is now a daily dinner time staple.
"Giovanni Rana solved the problems of modern life by making it possible for fresh and flavoursome pasta to be enjoyed every day, rather than purely on special occasions.
"He strongly believes that eating food quality, delicious food enables people to gather around the dinner table with joy and happiness - making special every single moment spent together."